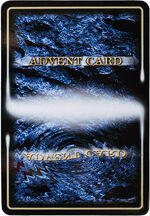 Advent Cards (アドベントカード, Adobento Kādo?) are the cards used by the 13 Riders in Kamen Rider Ryuki and Kamen Rider Dragon Knight.
These cards can be scanned via Visors. There are a wide array of different Advent Cards that are attributed to each Rider. Some are unique, but most Riders share a select few amongst each other.
These cards allows the Riders to summon their Contract/Advent Beasts as well as offensive and/or defensive weapons or use special abilities in their battles.
Advent Cards
AttackRide Cards
When Kamen Rider Decade transforms into Ryuki, he does not use Ryuki's Advent Cards and the Drag Visor, instead using his own special AttackRide Cards which are based off of Ryuki's Advent Cards. As with all of Decade's Rider Cards, they are inserted into his Decadriver belt.
Wizard
The Advent Cards, along with the other Rider Powers, were stolen from Ryuki by Amadum in the world within the Magic Stone, who explained that they were already his due to the Riders' powers being from the same source as evil. However, the power was soon returned thanks to the appearance of Kamen Rider Gaim, with the return of the Advent Cards immediately transforming Ryuki into Survive Form. Neverending Story
Arms Weapon
The Drag Saber is the Arms Weapon wielded by either an Armored Rider or a New Generation Rider when they transform into Ryuki Arms, which is assumed by Kamen Rider Gaim in Kamen Rider Battle: Ganbarizing.
Notes
These are the first Collectible Devices in Kamen Rider history, as well as the first of three collectibles to be in the form of cards, followed by Rouze Cards and Rider Cards.
Regardless of whoever scans the cards into their Visors, so long as the owner is still around, the weapon will gravitiate to the original user. With Final Vents, the principle is presumably the same, with the original owner performing his Finishing Move. This is shown when Shinji/Kit scans Kitaoka/Drew's cards for him, and Zolda/Torque's weapons go to Kitaoka/Drew instead of him.
The Advent Cards seem to have a similar function to the Gosei Cards from Tensou Sentai Goseiger as both sets of cards allow the main heroes to either summon weapons, use attacks, or summon their animal based mechs they are themed after.