Amazing! The Gamma's World! (驚異!眼魔の世界!, Kyōi! Ganma no Sekai!) is the twenty-first episode of Kamen Rider Ghost. This episode marks the first appearance of Edith, a magistrate of the Gamma World, and the Eyecon Driver G in its prototype development stage.
Synopsis
Takeru discovers that Makoto's real body still exists in the Gamma's world, and once that disappears, Makoto will as well. To save Makoto, Takeru enlists the help of Akari who tries to use the Gazai Gamma to figure out a way to save Makoto, but Makoto has already gone off on his own to settle matters his own way. ​
Plot
to be added
Cast
Guest Cast
Suit Actors
Ghost Eyecons
Eyecon Used:

Ghost

Ore, Toucon Boost, Goemon

Specter

Damashii Used:
Errors
Notes
Closing Screen Ghost Eyecon
Count at episode end

Takeru's days of life remaining: 69
Eyecons in Ghost's Possession: 0
Eyecons in Specter's Possession: 3
Eyecons in Necrom's Possession: 2
Eyecons in Igor's Possession: 10
Eyecons connected: 8 (Ryoma, Musashi, Robin, Himiko, Newton, Benkei, Nobunaga, Edison)

This episode marks the first appearance of the Eyecon Driver G in its making. This belt would eventually give Kamen Rider Ghost access to his Super Form, Grateful Damashii.
This is the first time since his debut that Alain doesn't transform into Necrom.
This is the last time Ghost changes from Toucon Boost Damashii to Goemon Damashii.
This is the first time Makoto wields the Gan Gun Hand untransformed.
This is the first time Alain says Makoto's name. He would later keep saying it throughout the series starting with episode 28.
DVD/Blu-ray Releases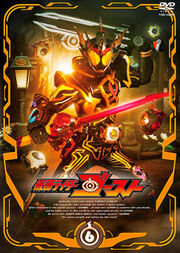 Kamen Rider Ghost Volume 6 features episodes 21-24: Amazing! The Gamma's World!, Conspiracy! Adel's Trap!, Intimate! The Giant Eyecon! and Appearance! The Mysterious Warrior!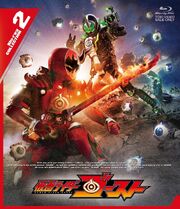 Blu-ray Collection 2 comes with 12 episodes.

External Links
References
Ad blocker interference detected!
Wikia is a free-to-use site that makes money from advertising. We have a modified experience for viewers using ad blockers

Wikia is not accessible if you've made further modifications. Remove the custom ad blocker rule(s) and the page will load as expected.