Arijigokujin: Three Hours Before Tokyo Explodes (アリジゴクジン東京爆発3時間前, Arijigokujin Tōkyō Bakuhatsu Sanjikan-mae) is the thirteenth episode of Kamen Rider (Skyrider).
Synopsis
Hiroshi races against time to prevent a powerful nuclear bomb from going off in Tokyo and killing millions.
Plot
to be added
Cast
Notes
This is the final episode with Keitaro Shido as Hiroshi Tsukuba's mentor; he will depart via a letter at the start of the next episode where he will be replaced by Genjirō Tani.
DVD Release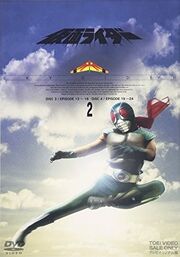 Skyrider Volume 2 features episodes 13-24.[1]

References