The Astroswitches (アストロスイッチ, Asutorosuitchi) are mysterious devices that are the source of Kamen Rider Fourze's powers. They are infused with Cosmic Energy to materialize armaments known as the Fourze Modules (フォーゼモジュール, Fōze Mojūru). Ten of them at a time can be carried in the Astroswitch Kaban. They can also be used to operate Foodroids as well as serve as power-ups for Kamen Rider Meteor. It is also notable that the members of Foundation X somehow managed to turn Kamen Riders themselves into Astroswitches.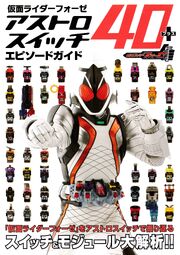 There are 40 known normal Astroswitches in total, 10 of which each correspond to one of the attachment ports on Kamen Rider Fourze's limbs, known as Module Basements (モジュールベイスメント, Mojūru Beisumento).
Circle Module Basement (

サークルモジュールベイスメント

Sākuru Mojūru Beisumento

): Right Arm. Circle Astroswitches in nature tend to be close-combat weapons, as well as having the capacity to change Fourze's States if its number is a multiple of 10.
Cross Module Basement (

クロスモジュールベイスメント

Kurosu Mojūru Beisumento

): Right Leg. Cross Astroswitches in nature tend to be mid-ranged weaponry.
Triangle Module Basement (

トライアングルモジュールベイスメント

Toraianguru Mojūru Beisumento

): Left Leg. Triangle Astroswitches in nature tend to be themed after transport.
Square Module Basement (

スクエアモジュールベイスメント

Sukuea Mojūru Beisumento

): Left Arm. Square Astroswitches in nature tend to be battle-support items.
Background
Rokuro originally developed the Astroswitches from studying the Core Switch (コアスイッチ, Koa Suitchi, Circle), a mysterious crystal-like Switch that the alien race known as the Presenters sent to Earth's moon in hopes that humanity would reverse engineer their Cosmic Energy-power technology so contact between the two races can be made. Compared to Gamou's Zodiarts Switches designed to force evolve human users, the Astroswitches Rokuro designed were devised to enable the user of the Fourze Driver to safely transverse the cosmos. Though thought to been destroyed when the OSTO base exploded, the Core Switch produced a Core Child prior to the event that would complete the Fourze System and return to the Presenters with it. When used by Gentaro in his battles, some of the Astroswitches were destroyed while others were unlocked. It is unknown what happened to the other Astroswitches when Gentaro destroyed the Fourze Driver by throwing it in a furnace.
Fourze's Switches
Super Switches are Astroswitches similar to the original Switches but have more power, to the point of even allowing State Changes.
S-1. Rocket Switch Super-1 (

ロケットスイッチスーパーワン

Roketto Suitchi Sūpā Wan

, Circle): The Rocket Switch Super-1 allows Kamen Rider Fourze to use two Rocket Modules while assuming Rocket States. This special Switch is created by Kamen Rider Nadeshiko in desperation just prior to Kannagi converting her into the SOLU Switch. Even after Super Galaxy King's destruction and Nadeshiko leaving Earth as a sentient energy being, Gentaro kept the Rocket Switch Super-1 on his person. The Rocket Switch Super-1 is later used, along with the Drill Switch Super-3, to arm the two Rocket Modules on Go-Buster Oh's arms.
S-3. Drill Switch Super-3 (

ドリルスイッチスーパースリー

Doriru Suitchi Sūpā Surī

, Triangle): The Drill Switch Super-3 allows Kamen Rider Fourze to arm Go-Buster Oh's legs with two Drill Modules. This special Switch was created by Kengo to be used along with the Rocket Switch Super-1. By using the Rocket Switch Super-1 and Drill Switch Super-3 together, it creates a link between the Fourze Driver and Go-Buster Oh, the Go-Busters' MegaZord, arming it with giant versions of the Rocket and Drill Modules in a combination known as Rocket Drill Go-Buster Oh. In theory, Drill Switch Super-3 should be also able to be used on its own by Fourze to access a new State form just as Rocket Switch Super-1, allowing Kamen Rider Fourze to use two Drill Modules in what would be called Drill States (

ドリルステイツ

Doriru Suteitsu

). However, this form hasn't been seen.
Gate Switch (

ゲートスイッチ

Gēto Suitchi

, Cross): The Gate Switch is an Astroswitch which allows Kengo to enter the Rabbit Hutch through the locker in an abandoned part of the AGHS campus. It is eventually revealed that Tachibana was the one who originally delivered the Switch to Kengo. The Gate Switch resembles a golden Launcher Switch, leading to a release of it, however, it was via a special campaign and was only available by getting the first edition of the Fourze "Miracle Rider Box". The Gate Switch cannot be used by Kamen Rider Fourze.
Shin-chan Switch (

しんちゃんスイッチ

Shin-chan Suitchi

, Square): The Shin-chan Switch is a special switch which appears during the crossover with Crayon Shin-chan that allows Kamen Rider Fourze to transition into "anime". The Switch also transforms Shin-chan into a Rocket which wraps around on Kamen Rider Fourze's waist, the design of the switch seems to be based on the Legend Rider Switches as the face of Shin-chan is the activation button like how the mask of the Rider in the Legend Rider Switch series is the activation button.
Yuki Switch (

ユウキスイッチ

Yūki Suitchi

): The Yuki Switch is shown as a prize in the fictional Televi-kun issue that Ryusei purchases in Kamen Rider Fourze Special Bonus DVD: Astroswitch Secret Report.
Clear Drill Switch (

クリアドリルスイッチ

Kuria Doriru Suitchi

, Triangle): The Clear Drill Switch is a mysterious Astroswitch resembling the Drill Switch which was created from the excess Cosmic Energy from Kamen Riders Fourze and OOO's battle with Super Gingaoh, manifesting as a replica of the Drill Switch before landing in the Amazon rain forest from space, which is later found by Kamen Rider Amazon who gives it to Gentaro. The Clear Drill Switch allows Fourze to combine the Rocket and Drill Modules to create the Rocket Drill Module and transform him into Rocket Drill States. It's likely that this switch is based on other clear switches that can be found in special magazines or capsule machines.
Fusion Switch (

フュージョンスイッチ

Fyūjon Suitchi

, Square): The Fusion Switch is a special purple globe-looking Switch that allows Fourze to use the Meteor Switch to combine his powers with those of Kamen Rider Meteor and assumes Meteor Fusion States, a purple and gold, evolved version of Cosmic States and has similarities with Meteor Storm as well. The switch was created using data compiled from XVII and is charged up by the friendship energies of the forty people Gentarou's life touched and those people throwing the forty Astroswitches on at the same time. The Fusion Switch appears in Kamen Rider Fourze the Movie: Everyone, Space is Here!. It reappears in Kamen Rider × Kamen Rider Wizard & Fourze: Movie War Ultimatum, where Fourze uses it to combine Meteor and Nadeshiko's powers with his own to create Meteor Nadeshiko Fusion States.
Clear Launcher Switch (

クリアランチャースイッチ

Kuria Ranchā Suitchi

, Cross): The Clear Launcher Switch is an enhanced version of the Launcher Switch when Kamen Rider Fourze becomes Meteor Fusion States. However, this Astroswitch cannot give Fourze another States form.
Nadeshiko Switch (

なでしこスイッチ

Nadeshiko Suitchi

, Cross): The Nadeshiko Switch is a silver and metallic blue-colored Astroswitch that contains Kamen Rider Nadeshiko's power and allows Fourze to assume Meteor Nadeshiko Fusion States when used with the Meteor and Fusion Switches. When in used, it gives Fourze the ski-like Hovering Lifter Modules. It's a silver recolor of the Launcher Switch.
Meteor's Switches
The Meteor Switch (

メテオスイッチ

Meteo Suitchi

, Circle) owned by Ryusei, used to transform into Kamen Rider Meteor. It can also be used as a communication device to the M-BUS satellite to contact Tachibana, though the latter was rendered moot with Tachibana's death.
The Meteor Storm Switch (

メテオストームスイッチ

Meteo Sutōmu Suitchi

) has the ability to upgrade Meteor into Meteor Storm and equip him with the Meteor Storm Shaft. It is created by Tachibana, but he feels Ryusei's not ready for it yet, due to his conceited nature. Ryusei later earns it when he goes to save the Kamen Rider Club instead of getting it when he was given the chance.
Super Galaxy King's Switch
The SOLU Switch is a special Astroswitch full of Cosmic Energy created from Nadeshiko at the cost of her physical existence. The SOLU Switch is used by Lem Kennagi to transform into Super Galaxy King. Utilized by the Galaxy King Driver and the Future Core Medals. As with the Gate Switch being a golden recolour of Fourze's Launcher switch, the SOLU Switch is a silver recolor of the Magic Hand Switch.
Legend Rider Switches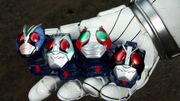 In the Kamen Rider Battle: Ganbaride arcade game, Kamen Rider Fourze is able to use special Astroswitches known as the Legend Rider Switches (レジェンドライダースイッチ, Rejendo Raidā Suitchi) to access special Legend Rider Modules (レジェンドライダーモジュール, Rejendo Raidā Mojūru) based on previous Kamen Riders. Each Legend Rider Switch has the "mask" of their respective Kamen Riders.
In Movie War Mega Max, Kamen Riders 1, 2, V3 and Riderman were turned into Switches and kept in a suitcase by a member of Foundation X. The Riders were able to return back to normal when Fourze inserted the Switches into his Driver and performed a Limit Break.
The Astroswitches based on Showa Riders Skyrider to Black RX and Heisei Riders Kuuga to OOO are exclusive to the Ganbaride game.
Module Basements
Wizard
The Astroswitches, along with the other Rider Powers, were stolen from Fourze by Amadum in the world within the Magic Stone, who explained that they were already his due to the Riders' powers being from the same source as evil. However, the power was soon returned thanks to the appearance of Kamen Rider Gaim, with the return of the Astroswitches immediately transforming Fourze into Cosmic States. Neverending Story
Legend Rider Weapon
Arms Weapon
The Rocket Module is the standard Arms Weapon wielded by either an Armored Rider or a New Generation Rider when they transform into Fourze Arms.
Kamen Rider Fifteen alternatively wielded the Cosmic Module Barizun Sword and Elek Module Billy the Rod when he assumed Fourze Arms in Heisei Rider vs. Showa Rider: Kamen Rider Taisen feat. Super Sentai.
Damashii
The Rocket and Drill Modules are the Legend Rider Weapons granted upon assuming Fourze Damashii, which is used by Kamen Rider Specter. Fourze Chapter Wizard Chapter Kamen Rider 1 (movie)

Ganbarider
The following Modules are among the various Rider Weapons used by Ganbarider in Kamen Rider Battle: Ganbarizing.
Notes
All of Fourze's Astroswitches are based off of either the laws of science or a scientific process.

Rocket - Aerospace engineering
Launcher - Kinetic bombardment
Drill - Scientific drilling
Radar - Radar signal characteristics
Magic Hand - Robotics
Camera - Law of reciprocity
Parachute - Aerodynamic breaking
Chainsaw - Horsepower
Hopping - Kinematics
Elek - Coulomb's law of electrostatics
Scissors - Dissection
Beat - Structural acoustics
Chain Array - Inertia laws
Smoke - The ideal gas law
Spike - Muscular system
Winch - Tension force
Flash - Incandescence
Shield - Projectile motion
Gatling - Gunpowder chemistry
Fire - The four laws of thermodynamics (Flame Mode) and fluid dynamics (Fire Extinguisher Mode)
Stealth - Stealth technology
Hammer - Force laws
Water - Hydrology
Medical - The laws of chemistry
Pen - Chromatography
Wheel - Wheel and axle motion
Screw - Marine engineering
Hand - Somatosensory system
Schop - Ecology
N/S Magnet - The Biot-Savart law of electromagnetism
Freeze - Newton's law of cooling
Claw - Skeletal system
Board - Balance
Giantfoot - Newton's law of universal gravitation
Aero - Bernoulli's principle
Gyro - da Vinci's Aeronautics
Net - Zoology
Stamper - Identification
Cosmic - Conservation of energy/mass laws
Fusion - Nuclear fusion

Astroswitches are similar to Gaia Memories, Lockseeds, Shift Cars, and Rider Gashats in design and function:

Both Astroswitches and Shift Cars are used to either summon a weapon/tool attachment, or change forms.
Both Astroswitches and certain larger sized Rider Gashats activate their finishers by pulling the Driver's lever again.
They are all used by villains. Dopants use Memories to transform, Zodiarts use Zodiarts Switches to transform, Inves use Lockseeds to become more powerful, Roidmudes' Viral Cores mirror Shift Cars and Mashin Chaser can use Shift Cars in the Brake Gunner, and Bugsters are born from games that have been made into Gashats, as well as the Collabos Bugsters using Gashats directly to gain armor.
Particularly powerful instances are much larger and sometimes come with unique functionality, such as the Fang Memory which transforms into a dinosaur and has its own Sengoku Driver-like finishers, the N and S Magnet Switches that combine into the NS MagPhone and can be used as gun triggers in Magnet States, the Kiwami Lockseed which connects to the Kachidoki Lockseed and can be turned to summon weapons, the Shift Tridoron Car which can summon its own unique Tires by combining existing ones, and the Gashat Gear Dual which contains two games, functions on its own, and can be used in the Gamer Driver for a super form.

Two of Fourze's Modules are similar to the arsenal of two previous Kamen Riders:
Fourze requiring all 40 Astroswitches to access Cosmic States is similar to how Kamen Rider Blade used all 13 of the Spade Rouze Cards to access King Form.
Since this series, along with the previous series, is the 40th anniversary of the Kamen Rider Series, there are 40 Astroswitches made by OSTO.
The shapes on Fourze may seem like just simple shapes (not to mention highly coincidental to that of the Playstation), but the order of them relates to how they are drawn: a circle is one line in a loop, a cross is two crossed lines, a triangle is three connected lines, and a square is four connected lines. Thus, it makes perfect sense for the first four Astroswitches to be a Circle Switch, Cross Switch, Triangle Switch, and Square Switch, respectively
The name and rocket-theme of the Super-1 Switch is possibly a slight reference to Kazuya Oki (Kamen Rider Super-1), who undertook surgery to become a man who can survive in outer space
The symbol of the Claw Switch looks similar to that to the symbol of SCRTC from Juken Sentai Gekiranger and the Order of the Claw from Gekirangers's Power Rangers counterpart, Jungle Fury.
The Nadeshiko Switch's symbol contains a lowercase n with the two lines forming rockets, which is possibly a reference to the fact that Nadeshiko created the means for Fourze to assume Rocket States.

Ironically, the Nadeshiko Switch is a Cross Switch, when Nadeshiko's Driver doesn't have the capacity to use either a Cross Switch or a Triangle Switch.