Pretty Cure Series is a magic girl show produced by Toei Animation, TV Asahi and Asatsu-DK. As a sister show of Kamen Rider Series started at 2004, some characters has a cameo in some spin-off media of Heisei Kamen Rider Series.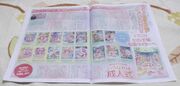 During the promotion of the 15 entry Hugtto! PreCure in 2018, a Japanese newspaper claimed that the Pretty Cure Series is a "girls version to the Kamen Riders" (女の子版仮面ライダーへ, On'nanoko-ban Kamen Raidā e).
Pretty Cures
Cure Blossom & Cure Marine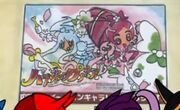 Cure Blossom and Cure Marine from Heartcatch Pretty Cure! had appeared in a poster in You Will Find the Ul*ra Planet from Imagin Anime with their mascots, Chypre and Coffret.

Cure Heart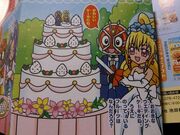 In a Televi-Kun exclusive manga, Cure Heart from Doki Doki! Pretty Cure announced that she was married to Mr. Wizard.

See Also