The Crisis Empire (クライシス帝国, Kuraishisu Teikoku) is a fictional evil organization from television show Kamen Rider BLACK RX.
Bio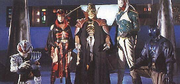 The Crisis Empire are group of aliens who attempt to invade Earth. They always attempt to justify their invasion and their plans to exterminate the human race. They also claimed that their home planet is being sucked into a black hole. Since they think that humans do not really care about the Earth, the Crisis Empire thinks it is right for them to take over Earth.

World of Black RX
The Crisis Empire also exists in the A.R. World of Black RX, where it is fought by a alternate Kamen Rider Black RX. This Crisis Empire also possess an army of Chap foot soldiers. Having already recruited the Gorgom cult from the World of Black,Dai-Shocker's Apollo Geist arrived in this world summoning Gorgom's Sai Mutant to convince Strange Demon Robot Schwarian, who sees himself as the ultimate machine in his branch, to join Dai-Shocker. He originally turned down Apollo Geist's offer to join Dai-Shocker until he sees his power first hand. Black RX teamed up up with the A.R. Kamen Rider Black from the World of Black, helping Decade and his friends stop Dai-Shocker. Schwarian was destroyed by Decade Complete Form with the aid of Agito Shining Form as Apollo Geist fled to another A.R. World. RX! Dai-Shocker Attack Black × Black RX
General Jark of the Crisis Empire served as one of Dai-Shocker's commanders as the organization, based in the World of Decade, began its invasion of the A.R. Worlds. Jark led a Dai-Shocker platoon pursuing Diend and Natsumi Hikari as Decade arrived, intent on fighting Dai-Shocker and saving his friends, Jark was then killed by Diend. Kamen Rider Decade: All Riders vs. Dai-Shocker
Jark reappeared as part of the new Dai-Shocker assembled by Tsukasa to wipe out the Super Sentai, ensuring the survival of the Kamen Riders. After Dai-Shocker's alliance with Dai-Zangyack is revealed, Jark is once again defeated along with Shadow Moon by the combined forces of Kamen Rider Black and the Hikari Sentai Maskman

. Kamen Rider × Super Sentai: Super Hero Taisen
Shocker Greeed
In an alternate timeline caused by Ankh leaving a O-Medal behind in the year 1971, Shocker achieved its goal of dominion of Japan with the Shocker Greeed. Crisis Empire, represented by General Jark, was among the various organizations that forms a partnership with Shocker. OOO, Den-O, All Riders: Let's Go Kamen Riders

Badan Empire
Both General Jark and Schwarian were among the resurrected villains part of the Badan Empire revival which fought the 15 Heisei Riders and 15 Showa Riders. Heisei Rider vs. Showa Rider: Kamen Rider Taisen feat. Super Sentai
Super Hero Taisen GP
To be added Super Hero Taisen GP: Kamen Rider 3
Membership
Among the members of the Crisis Empire are: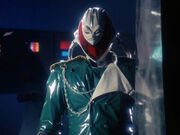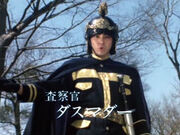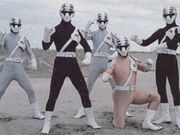 Kaiman Senshi
Main article: Kaiman Senshi
The monsters used by the Crisis Empire are referred to Kaiman Senshi which translates to "Demon Warriors." Each one belongs to the known Crisis Empire Units: The Supernatural unit, the Robot unit, the Man-Beast/Mutant unit, and the Alien Lifeform unit. Here are those monsters:
Supernatural Unit
This is the unit used by Colonel Maribaron:
Robot Unit
This is the unit led by Captain Gatenzone: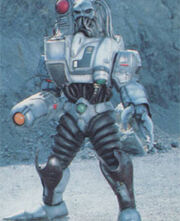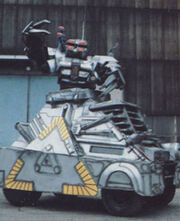 Man-Beast/Mutant Unit
This is the unit led by Naval Commander Bosgan:
Alien Lifeform Unit
This is the unit led by Captain Gedorian:
Others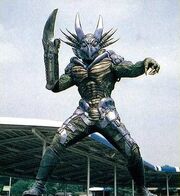 Appearances
External links
Ad blocker interference detected!
Wikia is a free-to-use site that makes money from advertising. We have a modified experience for viewers using ad blockers

Wikia is not accessible if you've made further modifications. Remove the custom ad blocker rule(s) and the page will load as expected.