The Daidaimaru (大橙丸, Daidaimaru lit. "Great Orange Circle") is the Armored Rider Arms Weapon granted either by accessing Orange Arms or via the summoning ability of Kiwami Arms. It is a sword with the blade looking like a slice of an orange. It is also granted by accessing Type Fruits (in the case of Drive), activating the Kourin Signal Kudamono (in the case of Mach and Chaser), via the Shift Fruits Car, accessing Gaim Damashii via the Gaim Ghost Eyecon and Gaccessing host Gamer via the Toukenden Gaim Rider Gashat.
Known Users
Combinations
The Daidaimaru can combine with the Musou Saber for the more powerful Naginata Mode (ナギナタモード, Naginata Mōdo).[1] Naginata Mode can also combine with the DJ Gun to create the stronger Sojinto Mode (双刃刀モード, Sōjintō Mōdo, lit."Double-Blade Sword Mode"), though this was never shown on-screen and thus is exclusive to the toyline.
Finishing attacks
Variants
Ganbarider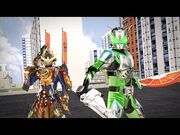 The Daidaimaru, from both Orange Arms and Blood Orange Arms is also among the various Rider Weapons used by Ganbarider, wielded with the Musou Saber, in Kamen Rider Battle: Ganbarizing.

Notes
This is the first Arms Weapon to be in the form of a sword, followed by the Duri Noko, the Yomimaru, and the Sword Bringer.
This is the first Arms Weapon to have multiple versions, followed by the Kagematsu.
Appearances
References
Ad blocker interference detected!
Wikia is a free-to-use site that makes money from advertising. We have a modified experience for viewers using ad blockers

Wikia is not accessible if you've made further modifications. Remove the custom ad blocker rule(s) and the page will load as expected.