For his Bujin counterpart, see Kamen Rider Bujin OOO.
"Seiya!"
―OOO's battle cry
"If there is a hand reaching for help, and I don't reach out my hand when I can, the regret would make me wish I were dead... I reach out my hand, because I don't want that."
―Eiji's motto
Eiji Hino (火野 映司, Hino Eiji) is Kamen Rider OOO (仮面ライダーOOO(オーズ), Kamen Raidā Ōzu), the main protagonist in Kamen Rider OOO. He made a cameo debut in the film Kamen Rider W Forever: A to Z/The Gaia Memories of Fate where he fought against the Luna Dopant.
In an alternate timeline where Shocker rules the world after the defeat of the Double Riders by Kamen Rider #3, he is referred to as Shocker Rider OOO (ショッカーライダーOOO (オーズ), Shokkā Raidā Ōzu). It is under this title that he participates in the Rider Grand Prix. Super Hero Taisen GP: Kamen Rider 3
History (Arranged in Chronological Order)
Past
Eiji Hino is the son of a politician who travels the world with his grandfather. During one his expeditions, he travels in Africa. During his time in Africa, Eiji attempted to use his fortune to help out a village. In turn, Eiji befriends a girl named Alfreed.  Following her to her village and learning the residents as well as their culture, he is dragged into a civil war between villages. During the tragic moments of the civil war, Alfreed is eventually killed in the war and Eiji is held captive for ransom. His family paid for his ransom, allowing him to escape Africa; but his family then used his tragedy to gain public support for his father's political platform. Though Eiji ultimately refers to this moment as his greatest regret,  the ordeal caused Eiji to lose any selfish desire and become willing to help those in need, going so far to even risking his life for complete strangers.
Kamen Rider OOO
"I've been here and there but... having to save people's lives... is practically difficult everywhere!"
―Eiji's claim when he is chosen to become Kamen Rider OOO.
He returned to Japan to fund for more of his travels. His latest part-time job, a security guard at the 
Kougami Art Museum
, ends due to the destruction of the museum around him due to him being drugged to sleep by some would-be robbers. Eiji takes a strange red coin he found while off duty which he thinks is his pay. This causes a disembodied arm to begin to follow him around, until the arm announces that it is called 
Ankh
 and is one of the ancient beings known as the 
Greeed
, and he needs Eiji's help to become King. When they are attacked by a monster called a 
Yummy
, Eiji risks his life to rescue Ankh, who in return saves him and gives Eiji two more strange coins, calling them "Medals", and a belt, enabling Eiji to transform into Kamen Rider OOO.
Eiji appears to aid Kamen Rider Double on a rooftop as OOO, providing him cover during the Futo Invasion by NEVER, allowing Double to reach the Futo Tower as OOO defeats Luna Dopant.
After destroying the Yummy and further encounters with the Greeed, people from the Kougami Foundation begin to approach Eiji, offering their assistance in the fight against the Greeed and Yummy, but their true motives are not clear. He also gets a job and housing at the Cous Coussier, after the owner Chiyoko Shiraishi finds out that he is a world traveler. In the process, joined by Akira Date, Eiji learns more of the Greeed's desire to become whole and the reason why Ankh is unable to assume his complete form. However, things changed when Eiji ended up becoming a host to half of a set of Purple Core Medals that react to his lack of selfish desires, the same presumed reason why he is able to use OOO's powers without any sign of going berserk so far like the First OOO, with dangerous consequences. Soon after, Eiji learns from Kousei Kougami, the Foundation's owner, that the only way to counteract the purple Core Medals is to acquire a desire of his own, something he is yet capable of.
Later on, he turns into the dinosaur-like Eiji Greeed after absorbing two more purple Core Medals from the other Purple Greeed, Kiyoto Maki, in a bid to make him go beserk. However, it was by then Eiji remembers his desire is to have the power to help others and later agrees to Kougami's suggestion to absorb all the Cell Medals in the Kougami Foundation's possession to achieve that desire. However, it does not halt Eiji's Greedification during his his final battle when he uses all the Cell Medals in his body in a risky attack that fails to destroy Maki. But before Eiji undergoes his Greeed transformation, Ankh gives Eiji his last three Core Medals, disappearing from Shingo and allowing Eiji to transform into OOO Tajadol Combo to defeat Maki, resulting in the disappearance of the Core Medals, with the Core Medal that houses Ankh's consciousness splitting in half.
As a now-normal Eiji falls back to the Earth, Ankh appears to him as his disembodied arm, bidding his farewells, before disappearing into half of the broken Taka Medal that once held his consciousness. Saved by Kamen Rider Birth, receiving the other half of Ankh's Core Medal that Hina found, Eiji leaves Japan and resumes his journey around the world, using Shingo's smartphone to keep in touch with his friends while trying to find a way to fix the broken Taka Medal with a spectral Ankh arm following him.
Movie War Mega Max
Eiji returns to Japan as he sees Ankh waiting for him in the airport, curious as he still holds Ankh's broken Taka Core Medal. Appearing to aid Date and Goto, he regains several of his Core Medals from Kamen Rider Poseidon, allowing him to trade blows with Poseidon until he realizes that Poseidon's host, Michal, is suffering. After meeting Michal, Eiji is able to separate the Poseidon entity from Michal. Giving advice to Michal, Michal regains the courage to assume his original form as Kamen Rider Aqua. Together, OOO Tajadol Combo and Aqua defeat Poseidon. Eiji gives his farewell to Ankh, realizing that he's from the future, but is reassured that he will resurrect Ankh one day. A moment later, Foundation X attacks Eiji, taking Poseidon's Core Medals. Recruiting Gentaro from the Kamen Rider Club, he meets up with Shotaro and Philip, explaining what Foundation X is after. Along with Fourze, the two free the Seven Legendary Riders as OOO and Fourze runs to the Exodus. Meeting with Aqua once again, OOO receives the Super Core Medals, effectively changing into the Super Tatoba Combo. Together with Fourze, the two defeat the Super Galaxy King and Eiji resumes his journey of restoring Ankh's Taka Core Medal.

In the aftermath of Mega Max, Eiji returns to Africa to stop the still ongoing civil war. Using the OOO Driver, he uses the Tatoba Combo as a diversion to draw fire, uses the Gatakiriba Combo to destroy the soldiers' guns, uses the Latorartar Combo to destroy tanks, and uses the Sagohzo Combo to stop rocket launchers. Using the Tajadol Combo, Eiji wipes out the air forces while rescuing the pilots from their deaths. In the dried out deserts, Eiji uses Shauta Combo in order to create rain. The enemy tribe slowly starts to fall back with Eiji's intervention and the war slowly ends.
Super Hero Taisen
"The friendship between Kamen Rider and Super Sentai might be the ultimate treasure in the universe."
"Yeah, as long as you reach out your hand, I'm sure it'll work this friendship between Rider and Sentai that stretches over the divide."
―Marvelous and Eiji accepting each others friendship.
During Super Hero Taisen, Eiji was attacked by the Dai-Zangyack army and is sent to the Dark Dimension. Eiji later reappears teaming up with the Gokaigers, lending them his Core Medals, which turned into Ranger keys. Joe refers to this as OOO's Grand Power. After the battle, he and Marvelous shake hands after reaffirming the friendship between the Riders and Sentai.

Movie War Ultimatum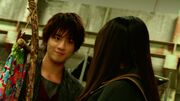 When Koyomi came under attack by Ghouls after all the Riders entered Yu Kamimura's Underworld, Eiji appears and fights them off. Explaining that Gentaro called for help, he explains that Riders should always do what they can to help each other out. This makes Koyomi's Please Ring glow, and within the Underworld, projections of Eiji (along with Shotaro, Philip, Ryu, and Goto) giving the kids Rider Rings. Touching the Rings on Haruto's Hand Author, a spell activates that summons OOO and the other Riders, giving Wizard and Fourze support as they defeat the Akumaizers. 

OOO appears with all the Heisei Riders from Kuuga to Fourze, led by Decade, in a special two-parter after the finale, The Kamen Rider Rings and Neverending Story. 
OOO first appears on his Ridevendor alongside Decade on his Machine Decader, summoned to the world within the Magic Stone through their Rider Rings by the alternate young Haruto, as the prime Haruto watches, to take him and his Koyomi back home to Antique Shop Omokagedo. The Kamen Rider Rings
OOO is later summoned with all the other Riders when the 13 Rider Rings are taken by Amadum, the evil wizard who rules the world of monsters, to defeat Wizard, only to find out that they will not obey him just because he possesses their rings, and that they will always fight for freedom and not merely justice. After the Riders destroy his initial guard of monsters, Amadum tries to escape with the boy Haruto, summoning his strongest and largest monsters to deal with the Riders. However, the Riders individually pull out their various tricks to deal with the giant monsters, with OOO assuming Putotyra Combo temporarily. With his monsters destroyed, Amadum attempts to force the boy to wish to leave so he can escape the world with him. The Kamen Riders attempt to stop him only to have their powers stolen by Amadum's true monstorous form when they try to fight him, with OOO having his medals absorbed. However, the young Haruto defies Amadum after hearing the words from Wizard of turning despair into hope, summoning a new Rider to his world. This new Rider, Gaim, gives himself the Kamen Rider name after being told by Wizard that they come to help when people request it. This revelation that the Kamen Riders aren't bounded by evil turns the tables on Amadum as he is beaten back by Gaim, forcing the powers he stole to be returned to the other Riders, transforming them to their ultimate forms, with the return of the Medals immediately transforming OOO to Super Tatoba Combo. OOO then participates in a successive barrage of Rider Kicks from all 15 Riders against Amadum which is finished by Wizard and Gaim. After Amadum is destroyed, OOO stands with the other Riders watching over the young Haruto as he wakes up before returning to his world. Neverending Story
Kamen Rider Taisen
OOO joins the Heisei Riders in their war with the Showa Riders in Zawame City.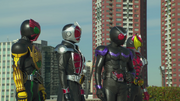 At the climax, OOO is one of the surviving Riders in the battle between Heisei and Showa. He attempts to perform his Tatoba Kick on Riderman, but is defeated by his Rope Arm, transforming into his Lockseed. Gaim is soon left as the last Rider standing before Ambassador Darkness of the Badan Empire reveals himself to be Ryo Murasame (Kamen Rider ZX). Together, they restore the other Riders and all 30 Kamen Riders defeat the Badan Empire. Heisei Rider vs. Showa Rider: Kamen Rider Taisen feat. Super Sentai

Due to the timeline alteration caused by Shocker, Eiji became one of the brainwashed Riders in that timeline, donning the name of Shocker Rider OOO. OOO was one of several Shocker Riders who volunteered in the Rider Grand Prix under Shocker Rider 3, who had been personally challenged by Kamen Rider Drive. During the race, OOO, along with Agito, Decade and Fourze, found that his Rider Machine, Ridevendor, had been immobilized by Mach's Signal Tomarle. OOO ultimately fell short of the Top 2 in which Drive prevailed over Rider 3.
Once Rider 3 was integrated into the Great Leader of Shocker's Rider Robo form, OOO was among the Riders who attacked Drive while being caught in the crossfire as the Rider Robo joined the fray. Ultimately, the Double Riders 1 and 2 made their appearance having survived their apparent demise from within the Rider Robo, and broke Shocker's brainwashing on the fallen Riders, enabling all Riders to unite in a final battle against Shocker.
Surviving the onslaught of the History Modifying Machine, OOO fought and destroyed Shocker's monster Shiomaneking with the Tatoba Kick shortly before the Rider Robo was destroyed along with the machine by Shurikenjin Tridoron

. Among the remaining Riders who witnessed the farewell of Kyoichiro Kuroi as the perversion of history was reversed, OOO's place in history was restored.

Kamen Rider Ghost: Legendary! Riders' Souls!
Kamen Rider Ex-Aid "Tricks": Kamen Rider Genm
Eiji Hino also appears as OOO, being summoned and brainwashed by Genm, due to his malevolent trick when using the Ganbaride Gashat.Legend Gamer Stage

Chou Super Hero Taisen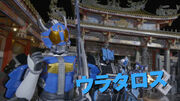 OOO Shauta Combo fights as part of the Kamen Riders' Blue Warrior Team. Eiji's had two other combos on two other teams, OOO Latorartar Combo fought as part of Team Highspeed while Tajadol Combo fought as part of Team Flying, however all three combos failed to win the title. Kamen Rider × Super Sentai: Chou Super Hero Taisen

Kamen Rider Heisei Generations FINAL: Build & Ex-Aid with Legend Riders
With Enigma causing trouble, Eiji reached out and began to investigate the mysterious phenomenon happening. He came to the conclusion that Foundation X was behind it. Later, Eiji manage to save Ryuga from the cliff with Emu's help which he informs them about the culprit behind mysterious phenomenon. As they reach to Foundation X's laboratory, they confront Kaisei Mogami who then uses the organization's replica version of the Core Medals which creates the Greeeds, including Ankh to fight them. As Eiji is having difficult time fighting the replica copy of Ankh, the broken Taka Medal started to light up causing the copy struggling until it falls to its death. Despite this, Eiji jumps out and uses the replica body as a new vessel to revive Ankh. With Ankh's help, they retrieve several Core Medals from the Greeeds which allows Eiji to become OOO as he fights the Greeeds while Ryuga and Emu deal with Kaisei. While fighting, OOO witness the Enigma being activated which he meets up with the other Riders. While OOO is fighting a army of X Guardians, Ankh lends him his Core Medals which causes his body to disappear having OOO to be shocked about it. After the battle, Eiji gives Ankh the ice pop before disappearing once more, hoping to see him again.

Personality
Despite often coming off as happy-go-lucky in his personality, Eiji is actually quite strong-willed and more clever than he lets on, and was easily able to pick up on the fact he could use Ankh's need for him and the OOO Driver to keep the Greeed in line. Another defining trait is Eiji will fight to protect anyone in need, even complete strangers and at the risk of his own life. This stemmed after his regret from not saving the little African girl he befriended during a civil war which his family fortune started. He keeps a collection of coins and almost always has pairs of underwear of different designs and colors which he at times even gives to others. This is revealed to stem from an optimistic outlook taught to him by his grandfather, who said that all a man needs is a pair of underpants for tomorrow.
Eiji possesses no selfish desires, which made him ideal for being OOO but also became a weakness once the Purple Core Medals sought out a host, as they immediately found him and took root. However, taking the advice of Akira Date, after becoming a Greeed, Eiji remembers the desire he had so long ago: Eiji wanted the power to protect people no matter where they are, which Ankh gave to him in the form of the OOO Driver.
Other appearance
Super Hero Taihen
OOO appears in the Super Hero Taihen net movie, Super Sentai Murder Mystery! You're the Great Detective! as one of the suspects for the murders of Shinken Pink

, Gosei Pink

, and Gokai Pink

, as the evidence collected suggests a "Hopper"-themed rider is behind it.
When it is revealed that net movie director Hiroyuki Kato

was the murder culprit, OOO holds up Gokai Red's

Ranger Key

and Mobilate

as one of several Riders and Rangers holding Super Sentai and Kamen Rider merchandise respectively, when the Go-Busters

explain to Kato that all the Riders love Super Sentai and vice versa.

Video Game appearances
Kamen Rider Climax Heroes
Kamen Rider OOO appears in the Kamen Rider Climax Heroes game series, beginning with his own installment (Climax Heroes OOO). In his first appearance, OOO only can use the Tatoba, Gatakiriba, Latorartar, and Sagohzo Combos (as well as any Random Combo using combinations of those Medals). In Climax Heroes Fourze, he gains Shauta, Tajadol, and Putotyra Combos, with Burakawani Combo as a special stand-alone character. Climax Heroes Fourze also has an exclusive Purple-Eyes version of Tatoba, representing Eiji going berserk under the influence of the Purple Core Medals; this character does not appear in the sequel, Super Climax Heroes.
All Kamen Rider: Rider Generation 1 & 2
Kamen Rider OOO appears as the main character of All Kamen Rider: Rider Generation, whose plot is loosely inspired by OOO, Den-O, All Riders: Let's Go Kamen Riders. He also appears in the sequel All Kamen Rider: Rider Generation 2, where he and Kamen Rider Double can perform the Golden Xtreme/Prominence Drop combination attack from Kamen Rider × Kamen Rider OOO & W Featuring Skull: Movie War Core.
Battride War
Kamen Rider: Battride War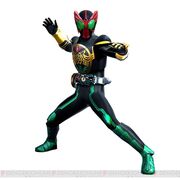 Kamen Rider OOO appears in Kamen Rider: Battride War, which unites the riders of the Heisei era from Kuuga to Wizard. OOO is the last Rider saved along the second story path, and breaks free of Mnemnosyne after reliving the memory of his final battle with Kiyoto Maki.
In Battride War, OOO has access to all his normal Full Combos, but will automatically transform back into Tatoba after a set period of time (reflecting the danger of over-using Full Combos). Additionally, only Tatoba and Putotyra possess more than one special attack, though the other Combos will use their special powers during their basic combos (for example, Latorartar's combo begins with the Liodias and Tajadol can launch fireballs from the Taja Spinner while in mid-air).
OOO's special attacks are:
Tatoba Combo: Tora Claw Multi-Slash, OOO Bash, Tatoba Kick
Gatakiriba Combo: Gatakiriba Kick
Latorartar Combo: Gush Cross
Sagohzo Combo: Sagohzo Impact
Shauta Combo: Octo Banish
Tajadol Combo: Prominence Drop
Putotyra Combo: Strain Doom (used after transforming), Tail Divider, Gust, Blasting Freezer
Kamen Rider OOO reappeared in Kamen Rider: Battride War II, summoned by Cinema along with the other Neo-Heisei Riders in order to create the "ultimate movie". OOO's stage was based off from Kamen Rider OOO Wonderful: The Shogun and the 21 Core Medals, with Gara as his main enemy. In addition to his abilities from the first game, OOO gains the Flash Feather attack for Tajadol Combo as well as Burakawani and Super Tatoba Combos (with the latter serving as OOO's Ultimate Form).
Kamen Rider OOO reappeared in Kamen Rider: Battride War Genesis

to be added
to be added
Forms
Combos
After Eiji inserts three Core Medals into the OOO Driver, he scans them with the O Scanner, and then holds the O-Scanner up to his chest, he transforms into Kamen Rider OOO. Like Kamen Rider Double before him, OOO has multiple combinations of forms he can access referred to as Combos (コンボ, Konbo).
Each aspect of a combination of Core Medals gives OOO different powers and weaknesses. In a fight, if a particular section of OOO receives a significant amount of damage, the power of that section will be disrupted. If it takes further damage, the power will cut off completely and the section's corresponding Medal will be forcefully ejected from the OOO Driver, canceling the transformation.
In addition, full Combos (that is, three from the same set) are incredibly taxing on Eiji's body, as they embody the full power of the corresponding Greeed. Fatal fatigue is risked when using more than one full combo (as first seen in episode 15). However, Eiji has developed a resistance over time, as he were capable to using all of the combos at his disposal and their individual Scanning Charges (スキャニングチャージ, Sukyaningu Chāji) in quick succession. Whenever a Scanning Charge is announced, Eiji will proclaim "Seiya" (セイヤ, "Seiya") seconds before the opponent is defeated.
Except for the Tatoba, Tamashii, and Super Tatoba Combos, the only combinations referred to as "Combo" are those of a single color. Mixed color combinations are referred to as Random Combos (ランダムコンボ, Randamu Konbo).
Tamashii Combo
"Taka, Imagin, Shocker: Ta-Ma-Shii! Tamashii, Ta-Ma-Shii! Rider Damashii!"
―Transformation announcement
Statistics:
Length: 197 cm
Weight: 87 kg
Ability Perimeters:
Punching power: 8.8 tons
Kicking power: 18 tons
Maximum Jump Height: 280 meters
Maximum Running Speed: 100 meters per 3.9 sec.
Tamashii Combo (タマシーコンボ, Tamashī Konbo) also known as the Soul Combo (魂のコンボ, Tamashii no Konbo) and the Monster Combo (怪人コンボ, Kaijin Konbo) is a Combo made up of the Taka, Imagin, & Shocker Core Medals.
This Combo's Scanning Charge finisher is the Tamashii Bomber (魂ボンバー, Tamashii Bonbā), which OOO executes by first gathering energy between his hands, which changes into the symbol of the Shocker Medal. He then launches the symbol at his opponent, and the symbol attaches itself to the chest of the opponent, and as it does, OOO gathers energy in either hand, which form the Taka and Imagin Medal symbols, respectivley, and then launches them at the opponent. The three symbols then merge into the symbol of Tamashii Combo and explodes.
Tamashii Combo only appeared in the film as OOO uses this Combo only once before it was lost forever, when the Shocker and Imagin Medals dissolved away when the timeline was restored.
This form is exclusive to OOO, Den-O, All Riders: Let's Go Kamen Riders.

Takapanba
"Taka, Panda, Batta!"
―Transformation announcement
Takapanba (タカパンバ, Takapanba) is a mismatch accessed through the Taka, Panda, and Batta Medals.
Its Scanning Charge, Panda Giant Storm (パンダ・ジャイアントストーム, Panda Jaianto Sutōmu), is similar to moves used in professional wrestling. It starts with OOO jumping up then crashing into the opponent with a body slam followed by using the Panda Claws to spin an opponent before a backbreaker and flinging the body into the air as it crashes into the ground.
This form is exclusive to Kamen Rider Battle: Ganbaride.

Takagaruba
"Taka, Kangaroo, Batta!"
―Transformation announcement
Takagaruba (タカガルバ, Takagaruba) is a mismatch accessed through the Taka, Kangaroo, and Batta Medals.
This mismatch is armed with the boxing gloves called the Gangan Gloves (ガンガングローブ, Gangan Gurōbu).
Its Scanning Charge is the Kangaroo Champion Puncher (カンガルー・チャンピオン・パンチャー, Kangarū Chanpion Panchā): OOO leaps through three energy rings that are formed in front of him, and double punches the enemy. Like with Tatoba, the ring colors match those of the combo. Later, this mismatch was lost when the Kangaroo Medal disappeared after usage.
This mismatch is exclusive to Kamen Rider OOO Hyper Battle DVD: Quiz, Dance, and Takagarooba!?.

Putotyra Combo
"Ptera, Tricera, Tyranno: (Screech) Pu-To-Tyrannosaurus!"
―Transformation announcement
Statistics:
Length: 205 cm.
Weight: 95 kg.
Ability Perimeters:
Punching power: 10.5 tons
Kicking power: 20 tons
Maximum Jump Height: 210 meters.
Maximum Running Speed: 100m per 3.3 sec.
Putotyra Combo (プトティラコンボ, Putotira Konbo), also known as the Invincible Combo (無敵のコンボ, Muteki no Konbo), is OOO's purple combination accessed by the Ptera, Tricera and Tyranno Core Medals.
Along with Tajadol Combo, Putotyra is easily one of the most powerful Combos in OOO's arsenal. Putotyra Combo has much higher kicking power, jumping height, and running speed than Tajadol Combo, along with marginally higher punching power. It is also capable of destroying or damaging Core Medals, making this Combo more dangerous and destructive. After Eiji temporarily becomes a Greeed, he can access this form in the usual way or transform directly from his Greeed form.
In this form, OOO uses wings on the Ptera Head, called the External Fins (エクスターナルフィン, Ekusutānaru Fin), to fly, as well as to freeze the opponent with a blast of icy air. The horns on the Tricera Shoulders, called the Wind Stinger (ワインドスティンガー, Uindo Sutingā), can stretch into various lengths according to Eiji's command. The claws on the Tyranno Legs, called Legsteranail (レグステラネイル, Regusuteraneiru), enhance his kicking. He can also combine the thigh armor to form a tail, called the Tail Divider (テイルディバイダー, Teiru Dibaidā), that can give off a devastating blow.
This form carried the risk of slowly turning Eiji into a mindless beast if he stays in the Combo for too long until he managed to gain control of the Purple Cores, but he still suffers from the physical strain resulting from Combo use. As a result of the purple Medals residing in his body, Eiji underwent a process known as "Greeedification", gradually turning him into a Greeed, which could be sped up by having more Medals enter his body.
Unlike the other combos, Putotyra Combo causes most of the OOO armor to become white and cannot form a mismatch with the other Core Medals, as the purple Medals are made in nature as the antithesis of desire, negating the power of the other Core Medals. The O Scanner announces this Combo by the long name of "Putotyrannosaurus" (プトティラノザウルス, Putotiranozaurusu) rather than just "Putotyra".
Also, like Tajadol Combo, this Combo has its own weapon; an axe/bazooka-hybrid called the Medagabryu.
This Combo's Scanning Charge finisher is the Blasting Freezer (ブラスティングフリーザ, Burasutingu Furīzā). When activated, OOO uses his Tricera Shoulders' Wind Stingers to stab his opponents in the shoulders to hold them in place, while he uses his Ptera Head's External Fins to freeze them immediately after, and the Tyranno Legs' Tail Divider to finish them off by smashing them into frozen shards.
After the final battle against the Kyoryu Greeed, the Putotyra Combo was thought to be lost forever as the Purple Core Medals shattered when they reached the Greeed-made black hole. However, in Super Hero Taisen, this Combo was restored. One theory as to why he has them back is that the Medals he has were the Medals still in the Kyoryu Greed upon his death and had traveled with the other Core and Cell Medals into the future, with Eiji obtaining the Purple Cores along with the other Medals in Movie War Mega Max.
Putotyra Combo's ending theme is entitled "POWER To TEARER".
Appearances: OOO Episodes 32-34, 36, 39, 41, 42, 44, The Shogun and the 21 Core Medals, OOO 47, 48, Movie War Ultimatum (Director's Cut), Wizard Episode 53

Burakawani Combo
"Cobra, Kame, Wani: (Snake hiss) Bura-Ka~~Wani!"
―Transformation announcement
Statistics:
Length: 198 cm.
Weight: 90 kg.
Ability Perimeters:
Punching power: 6 t.
Kicking power: 15 t.
Maximum Jump Height: 90 meters.
Maximum Running Speed: 100 m. per 5.8 seconds
Burakawani Combo (ブラカワニコンボ, Burakawani Konbo) is OOO's orange combination, using the powers of the reptilian-based Cobra, Kame, and Wani Core Medals. OOO used this Combo in Kamen Rider OOO Wonderful: The Shogun and the 21 Core Medals, but it was "mysteriously" lost after Gara Dragon was destroyed. However, Burakawani Combo reappeared during Kamen Rider × Kamen Rider Wizard & Fourze: Movie War Ultimatum.
Compared to Tatoba Combo, OOO has higher punching and kicking power, but lower jump height and running speed.
In this form, OOO's eyesight is doubled and gains infra-red vision. He is equipped with the tutle shell-like Goura Guardner (ゴーラガードナー, Gōra Gādonā), which can be joined together to create an energy shield called the Gora Shielduo (ゴーラシールデュオ, Gōra Shīruduo), and can use the Saw Deadscythers (ソウデッドサイザー, Sō Deddosaizā) on his legs to generate an energy crocodile head, which chomps his enemies with every kick. Burakawani Combo's body is also covered in a substance called Soma Venom (ソーマ・ヴェノム, Sōma Venomu), which makes him able to heal instantly after taking any attack. In addition OOO is armed witha a pungi called the Burahngi (ブラーンギー, Burāngī). When OOO plays a song into the Burahngi, he performs the Cappello Brush (カぺロブラッシュ, Kapero Burasshu), where a giant hooded cobra is summoned from the Cobra Head's "ponytail" to attacks enemies.
The Burahngi only appears in The Shogun and the 21 Core Medals, though oddly, it didn't come as part of the full Combo, but rather, it was a tossed-aside flute in Feudal Japan. How a pungi appeared in Japan is unknown.
This Combo's Scanning Charge finisher is the Warning Ride (ワーニングライド, Wāningu Raido), where OOO projects three orange rings in front of him before dashing through them in a foot-first slide before unleashing a powerful kick with the Saw Deadscythers, which generate a giant energy crocodile head to bite through the target.
It is unknown if orange Core Medals can be used for Random Combos, as Eiji never assumed one onscreen.
Appearances: The Shogun and the 21 Core Medals, Movie War Ultimatum

Super Tatoba Combo
"Super, Super, Super! Super Taka, Super Tora, Super Batta: Su~per Tatoba, Ta-To-Ba! Super!"
―Transformation announcement
Statistics:
Length: 198 cm.
Weight: 87 kg.
Ability Perimeters:
Punching power: 8 t.
Kicking power: 25 t.
Maximum Jump Height: 300 meters.
Maximum Running Speed: 100 m. per 3 seconds
Super Tatoba Combo (スーパータトバコンボ, Sūpā Tatoba Konbo) is OOO's ultimate combo and the evolved form of Tatoba Combo accessed by the Super Taka, Super Tora and Super Batta Core Medals. The colors of Super Tatoba are inverted compared to the original Tatoba Combo (meaning that he's mostly red, yellow, and green instead of black).
While this form's punching power is lower than both the Tajadol and Putotyra Combos, it has the highest kicking power and jumping height out of all of OOO's forms, as well as being slightly faster than Putotyra Combo.
This form features the Super Taka Head, which appears similar to Tajadol Combo's Taka Head Brave, sporting red eyes instead of green and a pair wings that enable him to fly. This form also features the longer and sharper Super Tora Solid claws, and the spiked Super Batta Legs. Because the Medals powering this Combo are displaced in time, OOO, like the Super Galaxy King, can bypass time to gain the upper hand on his enemies.
This Combo's Scanning Charge finisher is the Super Tatoba Kick (スーパータトバキック, Sūpā Tatoba Kikku), which is a more powerful version of the Tatoba Kick.
Appearances: Movie War Mega Max, Movie War Ultimatum, Wizard Episode 53

Renai Combo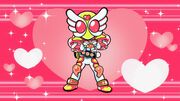 "Love! Love! Love!"
―Transformation announcement
Renai Combo (恋愛コンボ, Ren'ai Konbo) is OOO's imaginary combo accessed by the imaginary Love Core Medals.
This form is exclusive to Memories, Love, and the Marine Combo

Although the purple Core Medals are not compatible with the other sets and thus cannot perform Random Combos, in the OOO Combo Change/Super Imaginative Chogokin toyline, the three parts of the two Combos were designed to be able to attach to the other Medal parts to create various unnamed Random Combos. The Putotyra Random Combo Puudol (Ptera, Unagi, and Condor) also appeared in a Net Movie.
Birth
Statistics
Height: 199 cm
Weight: 92 kg
Ability Perimeters:
Punch power: 3.5 t
Kick power: 8 t
Jump power: 45 m
Speed: 100m/5s
Like OOO, Kamen Rider Birth's powers stem from the O Medals that power the Greeed and their Yummy creations. However, Birth's powers originate solely from the Kougami Foundation's technology developed by Kiyoto Maki to utilize the power of the Cell Medals.
On Birth's armor there are capsules called Receptacle Orbs (リセプタクルオーブ, Riseputakuru Ōbu), in which the Birth CLAWs system is stored until a Cell Medal is used to summon the weapons. It was first thought that, due to using Cell Medals as opposed to Core Medals, Birth was, at first, at a disadvantage against the Greeed. However, as Birth, Shintaro shows an extreme proficiency in utilizing the system, single-handedly combating three Greeeds on even grounds by strategically using the Cutter Wings, Caterpillar Legs, and Shovel Arms until he uses all CLAWs weapons in Birthday Mode to defeat them, surpassing his predecessor, Akira Date, who wasn't capable fighting against an single Greeed. Birth's exosuit originally had a self-destruct function built into it. However, the self-destruct function was disabled by Shintaro Goto when Kiyoto Maki defected to the Greeed side.
Eiji only used the Birth Sytem once, during when he thought without a Taka Medal to transform with, as Eiji realized that Date's Cell Medal Tank, which he also stored the Birth Driver in, got sent back in time with them. When the Nue Yummy arrives a second time to take Ankh's Medals Eiji took advantage of the situation, and transforms. During the fight, he displays little to no proficiency with the Birth System, using only the Drill Arm to fight, mainly because it is the only CLAW unit adaptable with his unique fighting style. Because of Eiji focusing on protecting people, the Birth Driver and suit takes heavy damage during the fight, and Ankh loses his Medals.
This form is exclusive to Kamen Rider OOO Wonderful: The Shogun and the 21 Core Medals.

Eiji Greeed
Height: 207 cm
Weight: 115 kg
The Eiji Greeed (映司グリード, Eiji Gurīdo) form is an alternate incarnation of the Kyoryu Greeed (恐竜グリード, Kyōryū Gurīdo, Dinosaur Greeed), accessed by absorbing two more purple Core Medals (for a total of seven) from Kiyoto Maki.
In this form, Eiji assumes the form of all the dinosaurs in the medals and starts to go berserk, unable to tell the difference between humans, Greeed, and Yummies.
This form was lost to Eiji when the majority of the Purple Cores were ejected out of his body and were destroyed at the Kyoryu Greeed's death, reverting Eiji back to a normal human but however, when Ankh returns, he regains the possession of Purple Medals though never went berserk again due to their inactivity.
Powers and Abilities
Greeed Powers

During his mutation as a Greeed, Eiji slowly develops the traits of Greeeds, possessing superhuman powers and dinosaur-like abilities true to the race he represents.

Yummy Creation

A Greeed himself, Eiji can create Yummies by placing a Cell Medal into a Medal Insert Slot. Like Giru, instead of using humans to make Yummies, his are made using inanimate objects that represent the end of a desire, such as broken dreams. Eiji however didn't demonstrate this ability, likely out of refusal to fall into villainy.

Cell Medal Transmutation

Eiji hypothetically can turn his body into a mass of Cell Medals, them reforming it back to his original state.

Aerokinesis

Eiji can fire a purple wind-like attack.

Symbiosis ESP

Because of the Purple Cores, Eiji now shares a connection with Maki.
Appearances: OOO Episodes 46, 47

Equipment
Devices
Weapons
Vehicle
Rider Keys
See also: Ranger Keys

The Kamen Rider OOO Ranger Keys (

仮面ライダーOOO (オーズ)レンジャーキー

Kamen Raidā Ōzu Renjā Kī

) appeared when Eiji gave his OOO Medals to the Gokaigers, transforming them into these keys. In Super Hero Taisen, these keys changed the Gokaigers into OOO's Full Combos, and were then used to power the GokaiGalleon Buster.
Gatakiriba Combo Key (

ガタキリバコンボ キー

Gatakiriba Konbo Kī

)
Latorartar Combo Key (

ラトラーターコンボ キー

Ratorātā Konbo Kī

)
Sagohzo Combo Key (

サゴーゾコンボ キー

Sagōzo Konbo Kī

)
Shauta Combo Key (

仮面ライダーオーズシャウタコンボ キー

Shauta Konbo Kī

)
Tajadol Combo Key (

タジャドルコンボ キー

Tajadoru Konbo Kī

)
Putotyra Combo Key (

プトティラコンボ キー

Putotira Konbo Kī

)
Gokaiger/OOO Gokai Change

Tatoba Combo Ranger Key
The Kamen Rider OOO Tatoba Combo Key (仮面ライダーオーズタトバコンボレンジャーキー, Kamen Raidā Ōzu Tatoba Konbo Renjā Kī) is a Ranger Key based on Kamen Rider OOO's basic Multi Combo. The Kamen Rider OOO Tatoba Key was released in conjunction with the six other OOO Combo Rider Keys which appeared in Super Hero Taisen

, while the Tatoba Combo Ranger Key only exists as a toy. Of course as with all Ranger Keys, should it exist, this Key would be able to transform

one into Kamen Rider OOO's Tatoba Combo.

Legend Rider Devices
OOO Tajadol Combo Lockseed (オーズタジャドルコンボロックシード, Ōzu Tajadoru Konbo Rokkushīdo): The core image depicts the OOO Driver while the lid backside image depicts Ankh's three Core Medals: Taka, Kujaku, and Condor. Baron/Gridon-styled Lockseed. When activated, this Lockseed announces "Tajadol" (タジャドル, Tajadoru).
Transformation: OOO Arms: Ta~Ja, Ta~Ja~Dol!
OOO Putotyra Combo Lockseed (オーズプトティラコンボロックシード, Ōzu Putotira Konbo Rokkushīdo): The core image depicts the OOO Driver while the lid backside image depicts the three Purple Core Medals: Ptera, Tricera, and Tyranno. Baron/Gridon-styled Lockseed. When activated, this Lockseed announces "Putotyra" (プトティラ, Putotira).
Transformation: OOO Arms: Pu-To-Tyranno~Sau~rus!

Squash: Gokkun (

ゴックン

lit. "Gulp")
Au Lait: Ptera, Tricera, Tyranno (

プテラ, トリケラ, ティラノ

Putera, Torikera, Tirano

)
Sparking: Putotyranno Hissatsu (

プトティラノヒッサツ

Putotira no Hissatsu

)
Signal Legend OOO (

シグナルレジェンドOOO(オーズ)

Shigunaru Rejendo Ōzu

, Based on OOO's Ridevendor): Allows Mach to activate a Kourin Signal Legend. When used in the DX Drive Driver, it gives the sound for a Tire Exchange into Drive: OOO.
Behind the scenes
Portrayal
Eiji Hino is portrayed by Shu Watanabe (渡部 秀, Watanabe Shū), who wrote all of the ending themes of the series.
As Kamen Rider OOO, his suit actor is Seiji Takaiwa (高岩 成二, Takaiwa Seiji), who has been the suit actor for the majority of leading Heisei Kamen Riders. Aside from OOO, Seiji Takaiwa was also the suit actor for Eiji when he became Kamen Rider Birth in summer movie.
As Eiji Greeed, his suit actor was Yugo Fujii (藤井 祐伍, Fujii Yūgo), who is also served as suit actor for Kyoryu Greeed.[2] Yugo Fuji would later become main suit actor for Kamen Rider OOO in Movie War Ultimatum.
Rider No.
As the leading Rider protagonist of Kamen Rider OOO, Eiji Hino (Kamen Rider OOO) is labeled Kamen Rider #27 (仮面ライダー27号, Kamen Raidā Nijūnanagō) and Heisei Rider #12 (平成ライダー12号, Heisei Raidā Jūnigō). Quiz! Decade Countdown!!
In Popular Culture
OOO in Tajadol Combo made a cameo appearance in the Cafe Detective Club manga by Fujishiro Takeshi (also creator of Nagasarete Airantou) as a silhouette alongside Ultraman Zero & the Gokaigers.
In the Hayate no Gotoku manga, the Tajadol Combo suit was parodied by Sakuya Aizawa, wearing a bird costume with "Tajadol Combo" written in the middle of the costume.
In episode 9 of Haiyore! Nyarko-san W has Nyarko make several references to OOO, including her using Eiji's trademark battle cry "Seiya" (

セイヤッ

) throughout the episode as well as wielding a weapon, similar to the Medajalibur, performing the Tajadol Combo's Prominence Drop, and mimicking Eiji's transformation pose. When the episode's villain is defeated, he shouts out "Sagohzo!", a reference to episode 5, where Nyarko used "Tatoba!" and "Gatakiriba!" as yelps of pain.
Notes
His title is pronounced similarly to both "Os," refers to the three O's in the series title which represent the character's transformation items, as well as meaning "multiple kings (

王s

Ōzu

)".

The three O's also represent the infinity symbol with an additional circle over the center, stating that Kamen Rider OOO is Over Infinity.
The following Hiragana of his name (

えいじ

Eiji

) in the Table of Hiragana is おうず (Ōuzu).

The count of all of his transformations (both Full Combos and Random Combos) is the largest count in franchise history, with the possibility of 133 different forms.

Calculation: 5 (head) x 5 (body) x 5 (legs) = 125, plus 8 other forms (Tamashii, Takapanba, Takagaruba, Takatoragaru, Putotyra, Puudol, Burakawani and Super Tatoba)
This doesn't take into consideration the possibility of Random Combos formed by the Kangaroo (a Hyper Battle Video exclusive Medal), Panda (a Gabarizing-exclusive medal), and the Orange Core Medals, and if so, this would significantly increase the combo count to 334.

Calculation: 6 (head) x 8 (body) x 7 (legs) - 6 (both body and legs are Kangaroo) = 330, plus 4 other forms (Tamashii, Putotyra, Puudol and Super Tatoba)

The combo counts do not include Renai Combo, and the combos of Eiji Hino (A.R. World) and Shocker OOO.
This record was broken by Kamen Rider Build with 3193 forms (currently in March 2018).
If all usable Core Medals of OOO, excluding the imaginary Love Medal, can be used to transform and form Random Combos, the total number of combos will be 4557, meaning that technically, OOO still keeps his record.

Calculation: 15 (head) x 18 (body) x 17 (legs) - 15 (both body and legs are Kangaroo) - 18 (both body and legs are Shocker) = 4557 + 1 (Renai Combo)
The Purple Core Medals could possibly form Random Combos, as shown in the OOO Combo Change toys, but due to how powerful and dangerous the medals are and them being fueled by the void of desire rather than desire itself, these medals' powers cannot be used in conjunction with the other Core Medals.

To further emphasis this, the Putotyra suit is largely a single piece suit, locking the Tricera and Tyranno parts onto the suit.

He is the third Rider that has his final-in-series form be his most powerful, but also carry a risk of overriding his nature and turning him into an incredibly powerful monster, with Yusuke being the first and Kenzaki the second.

He is the second Rider to turn into one of his series' monsters as a result of said form, Kenzaki being the first. Meaning that Eiji is not a human, he was a Greeed who assumed his Human Form.

Eiji is the only of these three to do the following: get turned into a monster, have his nature overridden by this form, but overpower the form and use it to his advantage, only to gain his humanity back after the form is lost.
Eiji does however regain his purple Core Medals later on.

Eiji's battle cry Seiya (

セイヤッ

) is a homonym of the Cantonese phrase Sei Aa (

死啊

lit. Die Ah), and was censored in Cantonese-dubbed version when OOO was broadcasting in Hong Kong in 2013.
Burakawani's shield bears similarity to Tortoise Fangire's shield.
He is the first Neo-Heisei Rider to create a new variant of the Rider Kick - the Slide Kick
He is the first Rider to be able to use a tail in one of his Rider forms. The second would be Wizard.
Eiji's past which involves with a little girl that later died due to a civil war is similar to that of Jun Himeya of Ultraman Nexus, as both of them fight as heroes due to their failure to save someone they love.
During the veteran Kamen Riders' fights in Movie War Ultimatum, OOO was the only Rider to have been voiced by Shu Watanabe himself since the reappearance of Double in Movie War Mega Max.
Since Super Tatoba Combo has the ability to momentarily stop time, Eiji may technically be the fastest Rider in the series.
Eiji is the only Primary Rider of the Neo-Heisei period thus far who does not have a pre-battle catchphrase.
Although Eiji was stated to not have any desires, a normal person (or any sapient and sentient creature for that matter) not having any desires is logically impossible.
Eiji is the only Rider who defeats Last Monster in his Super Form.
Eiji is the first Rider to have multiple bikes of the same model which he also shares with other Kougami employees.

This also extends to his Candroid arsenal.

In episode 12, it is shown that Eiji was allergically afraid of serpents. Ironically, he gets the Burakawani Combo later on, with the head Medal being represented by a venomous snake.

This could be seen as an in-show explanation to why Eiji does not use the orange Core Medals as much as his other ones, as his Ophidiophobia may be paralyzing enough at times for him to actively avoid using them unless he absolutely has to.

Eiji is the third Main Rider to transform into his series' Secondary Rider, with the first being Shoichi Tsugami and the second being Shinji Kido.
He is the only Rider that has a set of Ranger Keys made from Core Medals' energy.
Appearances
References
↑ Kamen Rider Fourze Offical Book : FOURZE GRADUATION
External Links