"I will change (the patient name)'s fate!"
―Ex-Aid's proclamation before transforming
"I'll clear this with No Continues!"
―Ex-Aid's proclamation before the battle
"Dai Henshin!"
―Ex-Aid's pre-Level 2 transformation catchphrase.
"Dai(x Level number) Henshin!"
―Ex-Aid's pre-level up transformation catchphrase.
"D~a~i Henshin!"
―Ex-Aid's pre-Level XX (and sometimes pre-Level X) transformation catchphrase.
"Let's clear it together with super co-op play!"
―Ex-Aid's proclamation in Level XX before battle
Emu Hojo (宝生 永夢, Hōjō Emu), also known as M, his gaming persona, is a 24 year-old pediatrics trainee at Seito University Hospital, and is one of the main characters in Kamen Rider Ex-Aid. He transforms into Kamen Rider Ex-Aid (仮面ライダーエグゼイド, Kamen Raidā Eguzeido), tasked with eliminating the Bugster virus from an infected patient to save their life.
Character History
Past
Childhood
When he was only eight years old, Emu was involved in an accident, leaving him critically injured. After receiving an emergency surgery, Emu was given a WonderSwan handheld video game device by one of the doctors as a reward for hanging on. This event would inspire Emu to become a doctor and help children like the one who saved him, Kyotaro Hinata.
During his childhood, he was doubtful with the career as a doctor and decided to take up the interest of playing games. He as well created the concept of the Mighty Brothers XX, stating that he does as such to lessen the burden of being alone.
Teenager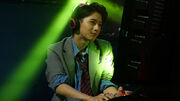 Emu would later on win numerous gaming tournaments under the gaming alias of M. Sometime in 2010, Emu participated in a gaming tournament and trained himself for it but this cost him his own health. He was soon operated by the Next Genome Institute but during that time, their leader Michihiko Zaizen created the very first Bugster Viruses and used Emu's comatose body as their first victim, turning him into patient zero of the Bugster virus. The experiment caused the Next Genome surgeons to vanish while Emu was treated shortly after without any recollections, only thinking of the incident as a dream. Following the incident, he decided to take a serious attitude in his entrance exam and interest as a doctor but the leftover Bugster virus in his body would create a split personality that represents his gaming interest. His infection predated the massive Bugster outbreak Zero Day in the year 2011.A New Challenger Appears!
Sometime later, his fame as "M" would earn the interest of Asuna Karino as a potential candidate for using the Gamer Driver.
Becoming Kamen Rider Ex-Aid
Sometime later, Emu went on and became a pediatrics intern at Seito University Hospital. After it is learned that his patient, Sota Suyama, is diagnosed with an unusual disease, he is restricted from knowing more by Director Haima Kagami. Emu deduces that Sota's stress may be related to being confined in the hospital and unable to see the release of the awaited video game, Mighty Action X. As a result, Emu takes him to see its release but is scolded by Asuna, telling him that he fails as a doctor for his unauthorized release of Sota. When Asuna tries to force Sota to return back, his condition worsens and he transforms into a golem-like creature.
Emu learns about Sota's condition of being infected with the Bugster Virus, a potential letahl computer virus that infects human, and can be prevented by someone who is capable of using the Gamer Driver to successfully operate on the patient. Determined to save his patient, Emu took the driver, the accompanying Mighty Action X Gashat without Asuna's consent to combat the Bugster. Much to Asuna's surprise, Emu was able to transform as he reveals that he was in fact, the prodigy gamer "M" that she was looking for.
He extracts Salty from Sota and transforms into Action Gamer Level 2, defeating the Bugster. After confirming Sota's health, he becomes part of the CR and Asuna reveals to him that her true identity is a Kamen Rider navigator, Poppi Pipopapo. She christened Emu as Kamen Rider Ex-Aid. I'm a Kamen Rider!
As the battle against the Bugster Viruses continues, Emu would later met several Kamen Riders like him, such as the genius surgeon Hiiro Kagami (Brave), former CR acquaintance Taiga Hanaya (Snipe) and the coroner Kiriya Kujo (Lazer). Although the three Riders as well fought against Bugster threats and infections, Emu is constantly at odds with them as each had their own viewpoints and ulterior motive. Another Prodigy with No Thank You? BANG, That Jerk is Coming! An Operation Called Dash! He also faced against Genm, a Rider who allied himself with the Bugsters and at the same time adding another Gashat, Gekitotsu Robots to his arsenal. Everyone Gathers for a Clashing Crash! In the final battle against Graphite, Emu acquired the Drago Knight Hunter Z and is able to work in synchronization with the other Riders through this power. Uneven Doctors! During Christmas Eve, Emu and the others learned of Genm Corp.'s CEO Kuroto Dan being Genm's true identity, proving Kiriya's innocence after being fooled once by Parad. It was also at that time he renew his trust on Kiriya after going through several lies and obtain the Shakariki Sports from Genm but their renewed friendship cuts short when Kiriya was killed by Genm Zombie Gamer Level X in hopes of preventing the truth from being revealed. Who's the Black Kamen Rider? Christmas Special: Targeting the Silver X mas!
Birth of Mighty Brothers XX and Becoming Double Action Gamer Level X and XX
In early 2017, Emu was promoted to the surgery intern by Haima Kagami himself. Kiriya's death affected his prowess in fighting the Bugster and was suspended by Hiiro to transform after the latter confiscated his Gashats. Parad approached Emu and gave the young intern his incomplete Gashat, which transformed into the Mighty Brothers XX Gashat, giving him the strength to counter Genm Zombie Gamer Level X with the same rank. He as well renewed his trust with Hiiro, but was cut short when both the latter and Taiga attack him due to being a Game Disease patient. His combat data as Mighty Brothers XX was utilized by Kuroto to create the Gashat Gear Dual that Parad utilized to assume Kamen Rider Para-DX, whose level outclassed even that of Genm and Ex-Aid. Defined Destiny We're Kamen Riders!
The New Challenger, Para-DX
Battle with Para-DX
Befriending a Burger Bugster and Becoming Burger Action Gamer Level 4
"I'll cook a hamburger with No Continues!"
―Ex-Aid's proclamation in Level 4 before battle
Whilst in the middle of a day off, Emu encountered the Burgermon Bugster while he was about to eat lunch. He chased it into a parking lot and encountered the one sick with the virus, before encountering Taiga and Parad. When questioned why it was he wasn't using the Mighty Brothers Gashat, Emu revealed that he left his other Gashats at home. The ill patient, a game developer who works at Genm Corp, supplied Emu with the Ju Ju Burger Gashat, which he promptly uses to transform into Burger Action Gamer Level 4. With his new form, Emu manages to fend Taiga off and save Burgermon in the process. A Nonstandard BURGSTER?
The Truth About His Game Disease, Finalizing the Gashat Gear Dual Beta
"Emu Hojo!!! How are you able to transform into Ex-Aid...without undergoing the compatibility surgery? How are you able to create Gashats?! Why does you head hurt after transforming?! There is only one answer. Emu Hojo! That's because...you were the very first person in the world...to be infected by the Bugster virus!"
―Kuroto Dan exposing the reason behind Emu's bizarre condition
"I have...Game Syndrome? That's a lie! You're trying to trick me!"
―Emu Hojo refusing to accept the truth that he is Patient Zero
In an effort to help Tsukuru after being infected yet again, Emu tries to defeat the spawned Bugster, Motors, only to be repeatedly interrupted by Kuroto, who is after his remaining Gashats, as he took away Taiga's. After another encounter, Emu is defeated by Genm, who demand for the remaining Gashats, to which the former refuses. Before he can kill Emu, Kuroto is attacked by Para-DX, who's fed up with his narcissism and how he looks down upon Bugsters. Finally defeated, Kuroto punishes Parad for his defiance by revealing to Emu that he is Patient Zero. After Emu denies it, the game disease inside him changes drastically, with Hiiro, Taiga, Asuna, and Nico watching in terror as Emu screams in pain.The Truth Exposed
Debut of Brave Fantasy Gamer Level 50
Much to the members of CR, Taiga, and Kuroto's surprise, Emu did not disappear after he learned the truth, but rather fell unconscious. When he awoke, he greeted the CR crew casually, acting in his Genius Gamer M persona despite the fact that he was not playing a game. He starts playing Poppy's game expertly, though she doesn't like it, and even scares Haima. Eventually, they receive word that someone has been infected with the Bugster Virus. Hiiro tries, and fails, to convince Emu to give him his Gaschat, in order to prevent him from transforming and suffering further from the effects of his own virus. When they arrive, Emu's eyes turn red, an effect common among Bugsters when they take hold of their host, which Hiiro notices immediately, and engages the Bugster when it emerges, transforming into Ex-Aid Robot Action Gamer Level 3 immediately. At first overwhelmed, he makes use of the power ups and turns the tables on his opponent, though he becomes agitated when it reverts back into its host to recover.
After returning to the CR, Emu once again plays Poppy's game, and when Hiiro questions him, Emu states that he doesn't care about the patient at all, even going on to say that this is who he was. However, Hiiro becomes angered and tells him that the person he should be is a doctor who invests in his patient in order to make them smile. This causes Emu to suffer from a headache. When the Bugster takes over and escapes, Hiiro takes Emu's Mighty Action X Gaschat and leaves to take it on. However, Emu takes it back and engages the Bugster, only to be attacked by Genm. The two easily overpower and force Ex-Aid back. Hiiro, however, manages to turn the situation around by using the same tactics as Ex-Aid earlier and use a Power Up to confuse the Fantasy Gamer, allowing him to take the Gashat Gear Dual β and transform into Kamen Rider Brave Fantasy Gamer Level 50 for the first time by using Taddle Fantasy. At first being taken over by its power, Hiiro manages to regain control and states what it means to be a doctor, something that causes Emu to falter and suffer from another headache. His transformation is cancelled, and returns to his previous self.
After the battle is over, Emu apologizes for the trouble he has caused, though Hiiro dismisses him, telling him he should do what he should do as a doctor. A Sudden Fantasy!?
Debut of Snipe Simulation Gamer Level 50
Take Off Against the Direction of the Wind!
Other Events
The 100 Eyecons and Ghost's Fateful Moment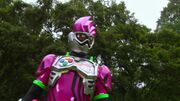 Kamen Rider Ghost the Movie: The 100 Eyecons and Ghost's Fateful Moment

"Tricks": Virtual Operations
Poppi Pipopapo's Room
Poppi Pipopapo's Room: Episode 5
Poppi Pipopapo's Room: Episode 7
Poppi Pipopapo's Room: Episode 8
Heisei Generations: Dr. Pac-Man vs. Ex-Aid & Ghost with Legend Rider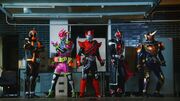 It is revealed in the Heisei Generations film, that the Bugsters was actually born 16 years ago from the body samples of their very first victim and future Kamen Rider, Emu Hojo. Their birth from Emu's samples was the result of unrecorded experiments on Emu's body to breed stronger Bugsters before Emu obtains a Bugster antibody from Kyotaro Hinata's surgery on the young boy. Kamen Rider Heisei Generations: Dr. Pac-Man vs. Ex-Aid & Ghost with Legend Rider

"Tricks": Kamen Rider Genm
Following the incident with Dr. Pac-Man, Emu is instructed by Dan to return the Kaigan Ghost Gashat. On his way to Genm Corp. with Asuna, Emu is met by a Collabos Bugster which wields the power of the Proto Gashats and easily overwhelms Ex-Aid when he assumes the Ghost Gamer Level 2 again. Is at this point where Dan arrives with a briefcase carrying further Kamen Riders' Gashats, providing Ex-Aid with the Full Throttle Drive which allows him to disarm the Bugster of Proto Gekitotsu Robots. When the Bugster switches to the sword-wielding Giri Giri Chambara and grazes Dan, Ex-Aid appropriately receives the Toukenden Gaim to engage it as Asuna takes Dan to safety. After disabling the Bugster, Ex-Aid is confused to see what he recognizes as the "black Ex-Aid" adopting the Wizard Gamer Level 2 before being swiftly defeated by the enigmatic Kamen Rider who announces that he has collected all the data he needs as he uses the power of the Legend Rider Gashats to complete his Ganbarizing Gashat. Using the blank Collabos Bugster as a conduit to harness the power of Kamen Rider Battle: Ganbarizing, a game Emu is unfamiliar with, Genm brings forth manifestations of Kamen Riders Double, OOO and Fourze. Advancing on Emu, the three Riders are held off by the sudden appearance of Dr. Pac-Man, coming as a shock to both Emu and Genm as he presents his own three Bandai Namco Gashats. Part. I: Legend Rider Stage
Brave: ~Let's Survive! Revival of the Beast Rider Squad!~
Kamen Rider Brave: ~Let's Survive! Revival of the Beast Rider Squad!~
Chou Super Hero Taisen
Kamen Rider × Super Sentai: Chou Super Hero Taisen

Personality
Emu Hojo is a very clumsy and yet a serious doctor to take on his job. However, his thirst for playing video games has a problem of Emu being absent-minded at times. An example of this is he sometimes fails to remember his work schedule properly and it makes the nurses scold him. He also has a habitual quirk of tumbling down in various comical ways.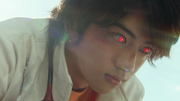 As "M", his alias that he uses when playing video games, he shows a completely different side of himself. He displays a focused, calmer, and more confident demeanor. His grammatical persona also changes from 僕 (, Boku) into 俺 (, Ore), proving to be extremely skillful at video games, to the point where he has come to be known as the "genius gamer" who never leaves any game unfinished. This carries over to his battles as Ex-Aid, as his knowledge of video games has proven to be a definite advantage. Originally, when shifting to his Genius Gamer M personality, a wind blows through his hair and he makes a cocky smile. But during episode 10, Emu's eyes instead flash pink before turning a less intense, glowing red, after which, his eyes turn back to normal. Though he still makes the same cocky smile as before, showing that he can actually shift into his gamer persona at will. In the past, Emu's normal and "M" personalities were once one and the same, though following his surgery by the Next Genome surgeons, the leftover Bugster Virus in his body caused him to develop a case of dissociative identity disorder, constantly switching from his naive side to his predative "M" persona. After learning that he was infected with the Bugster Virus, Emu's gamer persona took over as the dominant one, showing no concern for his patients and was instead only interested in playing the game, something which greatly angers Hiiro. However, after Hiiro states what it means to be a doctor, Emu regains control over himself, and becomes fearful of transforming into Ex-Aid.
Emu has a very idealistic attitude towards being a doctor: he invests himself in the well-being of his patient, hoping to help them both physically and personally. He will always try to help a patient in need, even if they are a criminal, an enemy, or refuse to get help. For him, a life is a life and it's worth saving, fitting the morality of a true doctor and their devotion to the Hippocratic Oath. This mindset helped him connect stress as a catalyst for Bugster infection, but also hinders him if the enemy is smart enough to threaten the patient's life. His firm idealism has led to clashes with his fellow CR Rider, Hiiro. Hiiro views Emu as naive and inexperienced, while Emu openly opposes Hiiro's detached and callous approach, going as far to say Hiiro is not a real doctor.
However, Emu is not without a dark side. When pushed too far, Emu can lose control of his temper and when that happens his Gamer side becomes as vicious and selfish as his rivals. This was shown when Kyotaro is infected by Graphite. Emu become so frustrated into believing that he's the only one who can save Kyotaro, to the point that he'll do anything to capture the Hunter Gamer using a stolen Gashacon Sword. While this shows that Emu takes pride in his beliefs as a doctor, at the same time it demonstrates that as a Gamer he shares Genm's and even Taiga's ideals to some extent. However, after some enlightenment from his idol, Kyotaro Hinata, Emu decides to trust his fellow doctor Riders, although only Kiriya did believe in him so far.
Powers and Abilities
Skilled Gamer: Emu is a masterful gamer, particularly in terms of platform gaming. He has extensive knowledge of games in other genres, including Bang Bang Shooting and Bakusou Bike and can adapt easily when playing a new game. These skills are greatly enhanced when he enters a state of emotional rage or frustration, as shown when he effectively, in separate occasions, outmaneuvered both Genm and Snipe who are both at their Level 3 forms while Emu is only on Level 2. Furthermore, if his Genius Gamer persona is 100% active, his gaming skills skyrocket at a frightening degree evidenced on how despite being only at Level 3 he managed to overpower Gatton Bugster who is a Level 30, stating that one of gaming's thrill is figuring out how to defeat stronger opponents.
High Interpersonal Skill: Despite his clumsiness, Emu's kindness has allowed him to connect with all of his patients.
Natural Game Disease Immunity: Unlike all other Riders who had undergone a compatibility surgery to be immune from the Game Disease and able to transform into a Kamen Rider, Emu is capable of utilizing the Rider System even without the intervention of said surgery and seems to be unaffected by Bugster infection agents. Kiriya discovered the real reason behind Emu's condition but was silenced by Genm before he can reveal the truth. This unusual immunity is also what enabled the creation of the Mighty Brothers XX Gashat, as the blank Double Gashat injects a massive amount of the Bugster Virus, which will normally kill a Rider when used in the Gamer Driver, even when the Rider has already been immune to the Game Disease. He was the first person to be infected with the Bugster Virus as a kid, and was experimented on by Dr. Pac-Man to develop the later, more recent version of the virus. Which is why as Patient Zero, he has natural antibodies for the virus and such can use the Gamer Driver without the need for an immunization operation.
Separation: Due to the Bugster Virus in Emu's DNA, he is able to separate into two different Riders, though so far, this ability is exclusive to Mighty Brothers XX.
Levels
Equipment
Devices
Weapons
Vehicles
Ghost Eyecon
This Eyecon makes an appearance in the finale of Kamen Rider Ghost and in Kamen Rider Heisei Generations: Dr. Pac-Man vs. Ex-Aid & Ghost with Legend Rider. This Eyecon allows Ghost to transform into Ex-Aid Damashii.

Relationships
Behind the scenes
Portrayal
Notes
Kamen Rider Ex-Aid's design pays homage to typical fighter game characters such as from Street Fighter.
The name Ex-Aid is a portmanteau word from Extreme and Aid.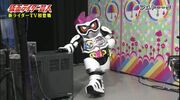 Chronologically, Ex-Aid's first appearance is on a Japanese talk-show named Ame Ta-lk (Aug 4th, 2016). Introduced by the show's special guest Shun Nishime (Takeru Tenkuji), Ex-Aid appeared behind the staff and performed a short burlesque, which shocked the other guests of the show.
The "Mighty Jump! Mighty Kick!" portion of his Action Gamer Level 2 transformation announcement may be a reference to the "Rider Jump! Rider Kick!" lyrics of the iconic theme song of the original Kamen Rider series.
Emu's transformation as Ex-Aid sequence has similarity to the previous riders, especially the concept:
Emu's name is a homonym of M, which is his name of Genius Gamer identity.
Emu was eight years old at the time of the accident. Given that the accident takes places sixteen years before the series, that places Emu at approximately 24 years old, which is confirmed in the character description for Emu in TOEI's official website for the series.

In a blood sample analysis made by Taiga in episode 14, Emu's blood type is AB positive.

Emu is the second rider since Shin to have no real Rider Machine of his own as he used another Kamen Rider for his vehicle.

However, Ex-Aid acquired Shakariki Sports Gashat after defeating Genm and used the said Gashat on the next episode, making him the first Neo Heisei Rider who took the longest to get his Rider Machine. He would later go on to use Bike Gamer as a standard Rider machine after Kiriya's death.
Because Sports Action Gamer Level 3 (Ex-Aid ver.) is hinted at Ganbarizing, this form is the first Ganbarizing form who officially appeared in the show.

Coincidently, after the death of Kiriya, Emu can use the Bakusou Bike Gashat to summon the Bike Gamer as his own personal Rider Machine.
Before inserting his Rider Gashat for the Finishing Attack, Emu occasionally blows into it first, a reference to the common practice of gamers during the retro days where they had to blow into their video game cartridges whenever they malfunctioned due to dust on the connectors.

However, despite this popular retro trend, many game developers and computer experts warn against doing this as it corrodes the connectors with deposits of human saliva and mold, which weakens the circuit and eventually makes the cartridge game unplayable. [9]

The gold "V" that Emu gains on his head as Ex-Aid Level 3 causes his face to resemble and could be a reference to the Gundam series, another popular series in Japan.

Given the red color scheme, another possibility is that it is also a reference to the Super Robot Compatible Kaiser, which first appeared in The Great Battle IV and later in the Super Robot Wars Original Generations series of video games.
This also maybe a reference to Kirby: Planet Robobot, as Ex-Aid Action Gamer has Mighty Action X as basis, which has a similar design to Kirby, while Robot Gamer's functions similar to Robobot Armor, as both serves as robot-themed enhance equipment. However, Maximum Gamer Level 99 seems to fit this reference better, due to being a mecha fighting game featuring Mighty piloting a robot in a similar fashion to Kirby.
This may also be another "Kamen Rider X" reference; due to the huge "V" at the base of X-Rider's antenna.
Coincidentally, the v-shaped crest and red armor is similar to Viewtiful Joe, a character from a series that has some elements derived from the Kamen Rider franchise.

Emu going out of control as Ex-Aid Hunter Action Gamer Level 5 (Full Dragon) because of it's overwhelming power is similar to how Eiji was unable to control himself as OOO Putotyra Combo because of it's own power.

However, both were able to gain some form of control after their initial transformation into their respective forms.

Maximum Gamer Level 99 is visually similar to the Mech suits of Metroid Prime: Federation Force.

Moreover, it is more like the Hulkbuster Armor from Avengers: Age of Ultron due to its heavy-duty exoskeletal features.
The design is based on Mega Man X series' Ride Armor due to the design retaining original Action Gamer Level 2's head size while donning a bigger form, as well as henced where Mighty Action X game based from.
The change from a bulkier frame (Level 99) to a sleeker and more royal appearance (Level ?) is similar to the Kachidoki and Kiwami Lockseeds owned by the titular rider of Kamen Rider Gaim.

Emu is the first rider to have two Level 3 forms to debut in series.
Episode 12 has flashback where Emu as a child was creating the concept of a game resembling the Mighty Brothers XX.

Coincidentally, Mighty Brothers XX is made by Emu as Kuroto only created the Gashat without installing any game yet.

Emu is the first rider to split up in his super form which allowing two personalities of himself to act accordingly. This concept is almost like Kamen Rider Double but he can't be counted because it was the help from Decade and Double is basically two souls in one body.

Emu having two personalities and occasionally switching when playing a game(or just transforming) is similar to Datas as he slightly switches his personality from being kind to being aggressive when he turns big to fight with the Goseigers.

Coincidentally, there are certain elements of Ex-Aid that can be linked to Kamen Rider Kuuga:

The rider based on the character "Mighty" and Mighty Form both having powerful kicks as a finisher.
Level 3 - 5, even Level 99 modifying the armor and the alternate forms Kuuga used to fight under different circumstances.
Debilitating headaches after deactivating Double Action Gamer and overuse of Pegasus form's heightened senses.
The riders' final forms, Kuuga's Rising Ultimate Form and Ex-Aid's Muteki Gamer have a gold colored theme and similar designs.

Even though Emu is 24, his actor Hiroki Iijima was only 20 by the time when he portrayed Emu.
Due to his primary Action Gamer forms/armors are related to Mighty Action X's inspirations, Ex-Aid's storyline, background and forms/armors are almost identical to Mega Man X and some of this game's protagonists.

Ex-Aid is the main protagonist of his series who has a hidden power from within and multiple forms/armors like X, and was the first progenitor of the earlier viruses like Zero.

Muteki Gamer's gold color scheme and rainbow-colored eyes could be a reference to how certain characters become either gold or rainbow colored when invincible. Like how Sonic turns gold as Super Sonic, and Mario starts flashing multiple colors or is rainbow colored when he becomes Invincible Mario or Rainbow Mario respectively as some examples. Besides, it is based on the Sagittarius armor used by Pegasus Seiya as the super mode in Saint Seiya.

Muteki Gamer's visor appears to take on a shape that resembles a combination of Simon and Kamina's visors, as well as that of Super Galaxy Gurren Lagann from the Gurren Lagann series.
Appearances
References
Ad blocker interference detected!
Wikia is a free-to-use site that makes money from advertising. We have a modified experience for viewers using ad blockers

Wikia is not accessible if you've made further modifications. Remove the custom ad blocker rule(s) and the page will load as expected.