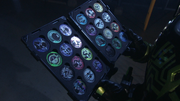 Energy Items (エナジーアイテム, Enajī Aitemu) are medal-like power up items created by Game Areas, whenever any person activates a Rider Gashat, and are hidden in certain places in the Game Area. When Ex-Aid collects one, he says "Item Get" (アイテムゲット, Aitemu Getto).
As of Episode 38, only Masamune Dan/Kamen Rider Cronus can use Energy Items, as he recycles all of the Energy Items in the Game World. However, Para-DX could still use them two episodes later.
List of Items
All the energy items here are blue, and depict a rider meditating with the medal's respective Zodiac symbol in the background in silver.
These energy items are upgraded versions of the Standard Energy Items. All of them have gold rims, and depict the same thing that their respective predecessor depicts.
Sonic Speeding-Up (音速化, Onsoku-ka): An upgraded version of Speeding-Up. Its code is EI074.
Appearances:

Disappearance (消失化, Shōshitsu-ka): An upgraded version of Invisible. Its code is EI082.
Appearances:

Locations
Depending on which games and corresponding Gashats are used, Energy Items that are generated can be hidden in various container items, though not every container has one:
So far, Gashats used to access Level 3 or Level 5 forms have not been seen to generate any Energy Items, simply generating a Gamer instead. However, there are a few special cases:
Dangerous Zombie / Taddle Fantasy: Rather than generating Energy Items, this game generates Bugster Viruses instead. This is likely due to the player character being a villain.
Perfect Puzzle: Energy Items are generated in the open instead of being hidden by default. It can also turn all Item containers from other games into Energy Items.
Since the debut of Kamen Rider Para-DX and his first usage of Perfect Puzzle's power, the Energy Items are kept revealed by default, all Gashats thereafter spawning only loose Items without containers. However, the Kyuranger crossover episode featured a Chocolate Block prop in the background.
Notes
The Energy Items shared the same design with the medals in the arcade game Kamen Rider Buttobasoul. It is possible the game was giving an early preview of them.
Some of the Energy Items are also seen in real world version of the game Mighty Action X.
Given its video game motif, some of the Energy Items are loosely based on power ups or status effects from popular games:
The objects where Energy Items are hidden are based on ones from popular games:
The Energy Items, being concealed in generic objects which must be opened or destroyed before acquiring them, are similar to objects most common in side-scroller and first-person shooter games, such as Super Mario Bros. and the Metroid Prime Trilogy.
Ex-Aid's use of the phrase "Item Get!" and pose he does when he says it is most likely a reference to the meme spawned by the phrase "Shine Get!" from Super Mario Sunshine.
Some of the Energy Items are similar to powers used by other Kamen Riders:

Iron-Body's name and effect are similar to Kamen Rider Blade's Metal Trilobite Rouze Card and its Rider Card version AttackRide: Blade Metal.
Giant is similar to Kamen Rider J's Jumbo Formation.
Speeding-Up is a limited speed boost ability like Faiz's Axel Form, the Mach Jaguar Rouze Card and its Rider Card version AttackRide: Mach, any of Kamen Rider OOO's Combos that have the Cheetah Legs, and Drive's Type Speed shifted-up three times.

Para-DX's occasional use of it with the surrounding world slowed down instead of just him sped up is visually similar to both Clock Up of Kabuto Riders (and its Rider Card version AttackRide: Clock Up) and the Heavy Acceleration of Drive.

Muscular and Shrink are similar to the Excite and Small Wizard Rings that Kamen Rider Wizard used in his series.

However, Muscular did not change the user's appearance unlike Excite.

Invisible is similar to the identically named AttackRide cards used by Kamen Riders Decade and Diend, the Clear Vent Advent Card used by Kamen Rider Verde, as well as the Stealth Module used by Kamen Rider Fourze.
Liquefaction is similar to Bio Rider's liquefaction ability, Kamen Rider OOO Shauta's Combo liquefaction ability, Kamen Rider Wizard's Liquid Wizard Ring, Kamen Rider Leangle's Gel Jellyfish Rouze Card (although Leangle never used Gel Jellyfish card), and Kamen Rider Necrom's Quantum Liquid body.
Separation is similar to Kamen Rider Garren's Gemini Zebra Rouze Card, Kamen Rider Knight's Trick Vent Advent Card, Kamen Rider OOO Gatakiriba Combo's ability, and Decade's and Diend's Attack Ride Rider Card Illusion; while its ability to allow the duplicates move in sync with the original is similar to Kamen Rider Wizard's Copy Wizard Ring.
Recover is similar to Kamen Rider Chalice's Recover Camel Rouze Card, Kamen Rider Fourze's Medical Module, and Kamen Rider Drive Type Speed Doctor's Cure Quicker.
High Jump is similar to the Rider Jump of the grasshopper-themed Riders, primarily the Hopper Brothers and the original Double Riders.
Emission is similar to any of Kamen Rider OOO's Combos containing the Lion Head and Kamen Rider Wizard's Light Wizard Ring.
Appearances
References
Ad blocker interference detected!
Wikia is a free-to-use site that makes money from advertising. We have a modified experience for viewers using ad blockers

Wikia is not accessible if you've made further modifications. Remove the custom ad blocker rule(s) and the page will load as expected.