Fight, Kazuya! Dogma's Trial of Death (闘え一也!死のドグマ裁判, Tatakae Kazuya! Shi no Doguma Saiban) is the eighth episode of Kamen Rider Super-1.
Synopsis
to be added
Plot
to be added
Cast
to be added
Notes
As evidenced by Dogma's note, This episode starts on December 5th, shared with its airdate, and concludes on the following day.
DVD Release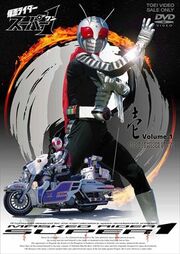 Kamen Rider Super-1 Volume 1 features episodes 1-12.[1]

References
Ad blocker interference detected!
Wikia is a free-to-use site that makes money from advertising. We have a modified experience for viewers using ad blockers

Wikia is not accessible if you've made further modifications. Remove the custom ad blocker rule(s) and the page will load as expected.