"I don't want to lose the last thing i have. My friends that i believe in!"
―Tachibana before seal Giraffa Undead
Garren Eliminated (ギャレン消滅, Gyaren Shōmetsu) is the forty-seventh episode of Kamen Rider Blade.
Synopsis
There are only two Undead left and if it's up to Garren, the Joker goes first, but in the heat of battle, will he change his mind or die trying?
Plot
to be added
Cast
Guest Cast
Notes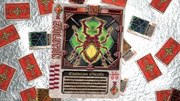 DVD releases
Kamen Rider Blade Volume 12 features episodes 45-49: The New Card, The Ruler's Seal, Garren Eliminated, Prologue to Destruction and The Eternal Trump. It was released on DVD on July 21st 2004, with a total run time of 116 minutes.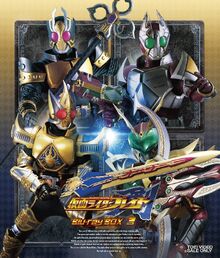 Blu-ray Box 3 comes with 17 episodes.
External links
Ad blocker interference detected!
Wikia is a free-to-use site that makes money from advertising. We have a modified experience for viewers using ad blockers

Wikia is not accessible if you've made further modifications. Remove the custom ad blocker rule(s) and the page will load as expected.