"I need to collect more data to complete my research."
This article is a stub, meaning it needs more info. You can improve this Kamen Rider Wiki article by expanding it.
The Transformation Game Gashat Gear Dual Another (変身ゲームガシャットギアデュアルアナザー, Henshin Gēmu Gashatto Gia Dyuaru Anazā) is the transformation Rider Gashat of Kamen Rider Another Para-DX. It is a black variation of the Gashat Gear Dual and is exclusive to Kamen Rider Para-DX with Poppy.
Games
Similar to the regular Gashat Gear Dual, the Gashat Gear Dual Another contains dark variations of Perfect Puzzle and Knock Out Fighter, presumably prototype versions of the two games. Using the Gashat in the Gamer Driver combines both games into a dark variation of Perfect Knock Out.
History
Origin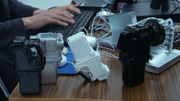 A variant of the original Gashat Gear Dual, the template for the Gashat Gear Duel Another was one of four blank Gashats created by Kuroto Dan in his attempts to counter Cronus. Ultimately, he finished Doctor Mighty XX for this purpose. Reset Game!
Black Parado
Kamen Rider Para-DX with Poppy
Functions
To be added
Finishers
Notes
Using the Gashat Gear Dual Another on its own may presumably allow Another Para-DX to transform into grayscale versions of Para-DX's two Level 50 forms, though this possibility has not been explored.
Appearances
See Also
References