"Jouketsu."
―Night Rogue's transformation catchphrase.
"The war has begun..."
―Night Rogue's first words in the show
"I will obtain the power of the Pandora Box and rule this country!"
―Night Rogue's determination to rule Japan
Gentoku Himuro (氷室 幻徳, Himuro Gentoku) is one of the main villains in Kamen Rider Build. The head of the Touto Institute of Advanced Matter Physics, he also took over the role of Prime Minister of Touto from his then-hospitalized father, a position overshadowed by his superior, Juzaburo Namba.[1]. Gentoku is also the co-founder and former leader of Faust, and the true identity of Night Rogue. He is a mysterious masked figure that is present during Faust's experiments that turn victims into Smash, including the one from Sento Kiryu's memories.[2] The Devil's Scientist. After falling out with Build and being exiled from Touto by his own father, he aligned himself with Seito as their Rider representative, Kamen Rider Rogue (仮面ライダーローグ, Kamen Raidā Rōgu).
Character History
Early Life
Gentoku, in place of his father, was in the audience of the return ceremony when the Skywall was raised. Within a decade of the disaster, he became an aide to the Prime Minister of Touto, overseeing research of the Pandora Box. Approximately seven years after the Skywall Disaster, Gentoku founded Faust with Takumi Katsuragi, a prodigious researcher, and Soichi Isurugi, the astronaut responsible for the disaster. Gentoku was given the Transteam System, a device designed by Katsuragi, to turn into Night Rogue. He later watches over the human experimentation it conducts and appears in Sento Kiryu's mostly forgotten memories from before his escape, sitting atop a throne. That One with the Best Match According to Gentoku himself, the reason behind these experiments is to accomplish one of Faust's objectives: to create the "Ultimate Lifeform." The Testimony Will Be Zero
Night Rogue Rises
To be added.
Prelude to Build & Ryuga's escape
In the present day, Gentoku and his assistant Nariaki Utsumi were being interviewed by journalist Sawa Takigawa. In the interview, he recalls the Skywall Tragedy, and stated the Institute's objective is to deciphering the Pandora Box before foreign countries attempt to seize any of the current three regions. He then spots Sento approaching the vault containing the Pandora Box. Nariaki told Gentoku about Sento being a research applicant and his high test results, which impressed Gentoku. Sawa regains his attention by asking about multiple incident reports of people being attacked by creatures called Smash and the mysterious hero called Kamen Rider. He attempts to seduce her, which she didn't notice until he was leading her towards the lobby exit.
The next day, Gentoku accepts Sento into the Institute, with the task of analyzing the Pandora Box, which he believes is capable of producing energy that dwarfs nuclear energy itself. He then asks Sento about his knowledge of the Skywall tragedy, who then stated it was caused by the Pandora Box when it emitted a bright light, and Gentoku stated that same light also exposed people, changing their behaviors which lead into Japan divided into three countries. He was directed to the news where he and Sento learned of the criminal Ryuga Banjou escaped from prison. Gentoku told Sento he was responsible for the murder of one of Institute's researchers, Takumi Katsuragi. He was amazed as how Ryuga was able to escape a group of Guardian robots.
After Sento's battle with the Strong Smash, Gentoku, with Utsumi and several Touto military forces with Guardians, arrived and demand Sento, as Build, to turn Ryuga over to them. As the forces advance of Ryuga, Sento activates his Machine Builder and escapes with Ryuga, which forces Gentoku to capture them dead or alive. Utsumi attempts to reason with him, but Gentoku silences him and deem them unnecessary for the current stage of their plan. During the chase, Gentoku turns into Night Rogue and spies on Sento and Ryuga driving by the Skywall, stating the war has begun. That One with the Best Match
The Burn Smash incident
In order to flush out Ryuga, Night Rogue took his fiance Kasumi Ogura and brought her to Faust's lair, planning to turn her into a Smash. He found her phone ringing, with Ryuga on the other line, and answered it, letting Ryuga listen in horror as Faust scientists prepped Kasumi for the Nebula gas injection. He heads back to his chair and tells an infuriated Ryuga he will let him meet her once the infusion is complete and hangs up.
Back at the Institute, Gentoku and few researchers watch the news as the government declared Sento's alter ego Kamen Rider Build as a wanted man and displayed footage of Build attacking Guardians, which was a trap set by Faust. He told Sento the dangers of becoming a fugitive by opposing the government. After Sento left, Gentoku heads out and turns to Night Rogue, letting Kasumi, now the Burn Smash, loose back at her apartment complex. As Ryuga reaches the building, Kasumi attacks, and Rogue, in a mist form as a spectator, told Ryuga he kept his word, reintroducing his fiance, now a Smash, to her love. He watches as Kasumi attacks Ryuga until Sento appears and prepares to fight until Ryuga told him the Smash is his fiance. Solidifying himself, Rogue introduces himself to Sento, who turns into his HarinezumiTank Form while enraged and attacks, but Rogue has the upper hand as he told Sento he can't win with a random FullBottle.
As the Burn Smash attacks, Ryuga pleads with Sento to not attack her, but Sento assures him she will return to normal once the Smash element's been extracted from her body. Rejoining the battle, Rogue unveiled a horrifying truth: Kasumi's body was too weak to support the element, and removing it will cause to body to disintegrate. While Sento continues to attack and Ryuga shields Kasumi, Rogue noticed how Kasumi attacked herself rather than attack Ryuga from behind, realizing her conscious hasn't fully disappear. Sensing this, he watches as Sento turns into RabbitSoujiki Form to force her to use up all her fire power and turn into GorillaMond Form to use its Vortex Finish to separate Kasumi from the Burn Smash long enough for Ryuga to say goodbye before she disintegrated. He then leaves, having seen enough. The Innocent Runaway
Blood Stalk Reemerges
At the Touto Government capital, Gentoku watched his father, Taizan, also the Prime Minister, in his monthly meeting with Hokuto's Prime Minister Yoshiko Tajimi and Seito's Masakuni Mido. Taizan asks how both countries are since the Skywall tragedy: Yoshiko presents progress for Hokuto's growth in parental support and agricultural resources, and Masakuni stats his country is sending out their young in order to restore their fragile economy, which lead Taizan to believe both Prime Ministers have no interest in reuniting with Touto to make Japan whole again. Masakuni told him it would be difficult as the Skywall cut off their resources and Yoshiko stated it will remain so until they find a way to deal with the wall. Taizan agrees and concludes the meeting. Gentoku doesn't believe them, as he told his father Hokuto's militia is increasing to match Touto's and proposes expanding their militia, but his father disagrees, stating what they have now is only for self-defense. Referring him as "father" also angers Taizan and repeats himself to refer to him as Prime Minister; he then demands to know the progress on locating Kamen Rider Build, which Gentoku told him they were unsuccessful. Taizan tells Gentoku to find the Kamen Rider quickly, and in doing so would soothe the fear that's been cast over Touto.
At the Institute, Sento asks Gentoku and Utsumi about a man named Masahiro Nabeshima and him being possibly connected to Katsumi's murder, to which Gentoku lied about not knowing him. Sento then switches topic and asked what kind of person Katsumi was, and Gentoku told him Katsumi was a genius and in charge of the research on the Pandora Box. He also told Sento Katsumi was called the "Demon Scientist". After Sento left, Gentoku turned into Night Rogue and approached Nabeshima, telling him he has his wife and daughter hostage in Seito. In cooperation, he forced Nabeshima to answer his cell phone, with Ryuga on the other line and to tell him about his involvement with the organization Faust and his family being hostage in the sixth District of Seito. After hanging up, he pleads with Rogue to release his family, but Rogue drags him back to Faust's lair and have him prepared for the Nebula gas infusion, praising Nabeshima's work as a covert operative before he became the Mirage Smash. Later that night, Gentoku sits in a car while examining the Rocket Fullbottle, sensing that Blood Stalk has finally made his move. Borderline of Justice
Brought back by Stalk, Gentoku had the Faust scientists administer the Nebula gas into Nabeshima again, but he broke free and turns into an incomplete Square Smash. Gentoku theorizes a second dose of the Smash element increases the subject's destructive power before the incomplete Smash attacked him. However, Gentoku overpowers it and and brings it down with his Transteam gun while adhering himself to the lair's roof and jumping down to deliver a finishing punch. He told the Smash that Faust's main objective was to create the ultimate life form and ponders the possibility of administering another dosage to an already experimented Smash.
The next day at the Institute, Sento presents a recording of the Skywall tragedy to Gentoku and Utsumi. Utsumi demands to know where Sento retrieved the footage, but Gentoku assures him it's fine before vacating the main hall to leave him, Utsumi and Sento alone. Sento shows a modified footage by removing the light cast after the astronaut responsible for the Skywall tragedy, revealing that the Pandora Box had six, colored matching panels, two red, two blue and two green, that gave it a dual structure before they were separated. Sento surmises that the two green panels should be somewhere in Touto, but Gentoku told him there are no panels. Sento demands there are two green panels before Gentoku becomes enraged and ceases talking to him, but Sento surmises the possibility of the panels being stolen by an underground organization named Faust.
Ustumi seizes Sento, but Gentoku stays his hand and asks Sento where he heard the name Faust, then concedes to the panels actually exist but were stolen three years ago, and that by concealing the truth would prevent mass hysteria to the public and that both Seito and Hokuto are after the Pandora Box for their own nefarious purposes. Sento asks how Faust got past Touto's security and Gentouk mentions the possibility of a traitor and shows Sento the astronaut running towards the box. Returning to the lair, Gentoku places the Rocket Fullbottle in one of the green panels attatched to a frame beside his chair, asking Stalk as he returned why he didn't kill Sento. Stalk assures him his strategy-making habit always appear beneficial and that their plan is going according, even by sparing Sento. The Testimony Will Be Zero Back at Faust's lair the following night, Night Rogue was puzzled as Stalk return with, Tatsuya Kishida, a person who from Sento's past, and placed him in the containment chamber, ready to administer the Nebula gas into him. Rogue asks Stalk what he needs Tatsuya for, and Stalk replies to see if he will be a worthy opponent for Build. By daylight, Tatsuya, now a Press Hazard, approaches the Institute, but Gentoku was prepared with Touto officers and Guardians. Watching the conflict from a bridge with Utsumi, Gentoku orders them to keep the Smash away from the building before tossing the radio to Utsumi. When Build enter the scene, Gentoku became intrigued and found Build's timing convenient, telling Utsumi to give the order to kill Build and the Smash. Before it could be carried out, Ryuga arrives and diverts the Touto officers and Guardians. Seeing Ryuga distracting the Institute's Gentoku demands he want Ryuga to be captured and brought to him alive. His plan, however, failed as Ryuga Build flee the scene with the Smash, and Gentoku walks away in irritation. Dangerous Identity
At night, Gentoku returns to the Faust lair as Rogue, observing over the Press Hazard's second dose of Nebula gas. He tells Stalk all his plan did was raise Build's Hazard Level and demands to know his true motives, to which Stalk replies he hungers for strength, and to allow Build to learn more about himself before proceeding to the next stage. The next, Gentoku finds Sento at the Institute and acted amazed by his current research on the Skywall. He tells him of a property the wall possesses: the ability to emit a gas not native to Earth, which Katsuragi coined it "Nebula Gas". He tells Utsumi to bring up Katsuragi's research on the extraterrestrial gas to show it to Sento, which was part of Gentoku's current scheme as he gaze Sento with satisfaction. Later that night at the Touto Government building, Gentoku calls Stalk and assures him Sento's acquisition of the Nebula Gas file. He states Sento can even surpass Stalk in scientific endeavors. Moonsault of Anger
Clash with Stalk
"I will stop him from entering Hokuto somehow. We'll head there immediately."
"Go by yourself if you're going. I'm no one's lackey."
―Gentoku's fragile alliance with Soichi.
One day at the Institute, Sento asks Gentoku and Utsumi when Katsuragi quit working for them. Gentoku told him it happened two years before his death, and told Sento the reason of Katsuragi's departure: human experimentation. He then goes further and stated that after the goverment rejected his proposal, he conducted those experiments on his own in secret until they found out and stopped him before he could inject the gas into his first human subject. Later on, Gentoku and Utsumi head to a back-up lair of Faust, answering a summons by Blood Stalk. Stalk informs him of Sento's plan to head to Hokuto, which jeopardizes Gentoku's plan to utilize the Kamen Rider System as a military weapon if Sento gets caught by the Hokuto government. Gentoku decides to head to the Skyroad, a gap in the Skywall leading Touto into Hokuto, and stop Sento. He demands Stalk to accompany him, but he declines, forcing Gentoku to turn into Night Rogue and briefly engages Stalk before subduing him. Stalk concedes and agrees to accompany Rogue.
Reaching the Skyroad to Hokuto, Rogue dispatches several Faust Guardians to subdue Hokuto refuges and the contractor to the passageway. He demands Build to show himself or he'll have the refugees and criminal killed on the spot. Sento turns into Build and engages Rogue while Ryuga, dressed in a clown attire, deals with the Guardians. Rogue gains the upper hand with his bat-like abilities and his Steam Blade's Ice and Elec Steam attacks, backing Build into a corner. He turns to Ryuga, who has defeated the Guardians, and prepares to attack him until Build sneak attacks him and drives away with Ryuga on the Machine Builder. Gaining distance, Rogue orders Stalk to stop them, whom obliges by placing the Rocket FullBottle, which was given to him by Rogue, and performs a Steam Attack. However, to Rogue's surprise, the attack rebounds and almost hits him instead. When the smoke clears, Rogue knows Build and Ryuga have disappeared in the passageway and curses Stalk who pursued them on his own. The Devil's Scientist That night, Gentoku returned to the Touto government building, watching a meeting between his father, Taijimi and Mido. Taijimi demanded to know why Build and the Smash were spotted in Hokuto, which she believes would cause massive hysteria to the Hokuto denizens. She also made a claim that Touto was responsible for their appearance, followed by Mido claiming Touto harnessed them as weapons. Taizan states their claims as nonsense, and as Taijimi ignores him, Gentoku intervenes, assures her the matter will be dealt with, tells her he won't let her seek any reason for Hokuto to go to war with Touto, and cuts off their transmissions as Taijimi attempts to lie about not wanting war. Taizan questions Gentoku's reason to end the meeting, which leads to Gentoku being fed up to his father's naivety, claiming Taijimi and Mido want to invade Touto and they need an army, to which Taizan finds it surprising to hear his son's claim for an army again. Gentoku also states the reason for his father's naivety was due to the fact that he wasn't bathed by the Pandora Box's light during the Skywall tragedy and that people who were changed. Taizan told his son he's the one who has changed and they should focus on stabilizing their economy rather than focus on war.
Returning to Faust's backup lair, Gentoku questions Stalk for his methods regarding Build's fight with a Smash in Hokuto. Stalk passes off the claim and reminds him of the data Katsuragi hidden in Hokuto, data that can be utilize to not only upgrade the Rider System, but to militarize it as well. The next day, he learns of Sento and Ryuga's plan to return to Touto with Katsuragi's mother, Kyoka, who they believe knows where her son's hidden data was located. As Night Rogue, he intercepted Kyoka's car and knocks her out, carrying her over his shoulder and walking away as Build dispatches the Faust Guardians. At Faust's lair, he cancels his transformation and interrogates Kyoka, assuring her of her son's involvement with creating Faust. He demands the location of her son's hidden data, and if she cooperates he would give her the last letter Takumi wrote to her but never sent. She agrees, hand him a badge and key, telling him the data's in a safe deposit box at the Touto Bank with its number. To her shock she finds out she was deceived as the letter was just a blank paper, and Gentoku tells her her son wasn't the type of person to show gratitude to their own parents, provoking her to hit him, but Utsumi grabs her arm. Gentoku orders the Faust technicians to administer the Smash element and send her back to Hokuto, as well as wiping her memory of him.
While Build and Ryuga learned of Kyoka's transformation into a Strong Smash Hazard, Gentoku and Utusmi head to the Touto Bank and open the deposit box. To their surprise, they find a letter by Takumi in it, stating whomever opened it is untrustworthy. Gentoku realized Kyoka was suspicious of him from the get-go. Utsumi received a call from Stalk and hands it to Gentoku, learning Sento and Ryuga have found the location of the hidden data: the abandoned Namba Heavy Industries Integrated Sciences Laboratory. After heading there and seeing Build and Ryuga engage Stalk for the flash drive containing the data, Gentoku turns into Night Rogue and attacks Build. He orders Stalk to leave with the data, but Ryuga engages Stalk as Rogue fights Build. Rogue and Build are on par until Build turns into GorrilaRocket form and pushes Rogue back. Rogue claims Build can't with like that and forms his Steam Rifle while Build turns into his RocketPanda Best Mach and beats him with a Vortex Finish. Intrigued, Rogue reengages with Build until he saw Stalk toss the drive to Ryuga. Shocked, he attempts to attack Ryuga until Stalk intervenes and holds him at bay, telling Build and Ryuga to leave. Holding his Transteam Gun at Stlak, Rogue demands to know his scheme, to which Stalk assures him they don't need the drive, just the tools the date can create as he believes both Sento and Ryuga can do it. However, Rogue grows suspicious of Stalk, wondering what kind of scheme he has in store. Memory Starts To Talk
Faust Invades Touto Institute
"This isn't the escape route we had planned."
"I got lost."
"And yet you shot the security cameras to hide your tracks. Aren't you the careful one?"
―Rogue now aware of Stalk's first attempt of betrayal.
While taking a hot bath at one of Touto's bathing facilities, Gentoku is approached by Juzaburo Namba, the president of Namba Heavy Industries, and also the benefactor of Faust. Namba praises the bathing facility as he bathes himself in the refreshing hot water, telling Gentoku he used to look forward to this place as a child. He then asks Gentoku if he was able to convince his father of amassing an army, to which Gentoku tells him not yet. Namba has doubts of Gentoku's assurance, reminding him of all the money he's placed in Faust and believing the Rider System will revolutionize the world as a weapon, and asks him if he should turn to either Hokuto or Seito. Gentoku tells him not to, but Namba states he will if Gentoku doesn't convince his father to prepare for war. Showing his fear of Namba, Gentoku concedes.
Later on, Gentoku learns that Misora Isurugi and Ryuga are exploring the streets in disguise. He sent several Faust Guardians to retrieve them, but Ryuga takes them on while Misora heads to safety and informs Sento of their location. Gentoku, as Rogue, appears and takes her phone. Rogue informs her he's let her free up until this point, intending to bring her back to Faust. He advances to Misora, backing her to a wall and made her faint due to his fearful quality. As she falls to the floor, Ryuga appears and attempts to fight Rogue, but becomes overpowered. Before he could continue, Blood Stalk appears between Ryuga and Rogue, telling Rogue to not act behind his back and allowing Ryuga to leave with Misora. As Rogue attempts to pursue, Stalk gestures him not to, and both Faust members stare at each other with annoyance. In secret, Rogue dispatch a few more Faust Guardians to intercept Ryuga and an unconscious Misora, but are quickly destroyed by Build NinninComic.
Returning to their backup lair, Stalk learns of Namba's deadline to create an army for Touto. Cancelling his transformation, Gentoku vows to make sure the Rider System will never be distributed to other countries. Stalk asks him how plans to do that, and Gentoku tells him with no hesitation: steal the Pandora Box from the Touto Institute to ignite a war between the three countries. He also believes in doing so will finally push his father into action, and turns to the stairs to see Shingo Kuwata, one of the Institute's researchers. His plan involves Kuwata to infiltrate the Institute and lure Sento out, so Eita Kawai, another researcher, could deactivate the security lock for the Touto Institute. Kawai calls Gentoku, whom's still in the backup lair, and confirms him of his completed objective. Delighted, Gentoku gives the word to carry out the plan. The Trap of Project Build
The next phase of the plan involves Stalk entering the building and as he approaches the floor where the three Prime Ministers and the Pandora Box are, he signals Kawai to trap them, Utsumi and the box in an energy barrier on the eleventh floor, while Gentoku remains outside in charge of a response team and observing the Institute's camera system. Hearing the Institute's security being dismantled by both the Faust and Touto turned Faust Guardians, Gentoku orders them to protect his father no matter what over the radio. To his surprise, he saw Stalk shoot the cameras as he made it to the eleventh floor. He wonders if Stalk plans to steal the box for himself and sneaks his way to the Institute's roof. Holding out his Transteam Gun, he finds Stalk and tells him this isn't the escape route they had planned. Stalk attempts to lie about getting lost, but Gentoku sees through it as he notes Stalk's scheme to shoot out the security cameras to cover his tracks. He places his Bat FullBottle in the gun and transforms into Night Rogue, asking him to handover the box, to which Stalk asks if he refuses.
Annoyed, Rogue engages Stalk, stating he won't forgive traitors until Ryuga, with a few cuts and bruises, interrupted their fight. Stalk asks him what happened to Press Smash Hazard, which was Kawai transformed by Stalk, and Ryuga stated he beat it but couldn't extract the Smash element without an empty Bottle. Rogue was shocked Ryuga managed to defeat a Smash without a Rider System, while Stalk became amazed. He gazes on as Ryuga engages Stalk, only to be quickly defeated as Ryuga's fight with the Smash left him scathed until Build HawkGatling arrives to assist him, forcing Rogue to assist Stalk. Rogue fights Build while Stalk engages Ryuga once again. Rogue is pushed by Build's LionCleaner and FireHedgehog forms, but catches Build off-guard as Build stops his attack on Rogue as he spots Stalk gaining the upper hand on Ryuga and attack him. While Rogue attacks Build, Stalk inserts his Cobra Fullbottle in his Steam Rifle and executes a Steam Shot at both Rogue and Build, knocking Rogue to a wall and not only cancelling Build's transformation but force him to drop the majority of his Fullbottle collection as well. As Rogue recovers, Stalk takes the Pandora Box and leaves, angering Rogue. He spots Sento's Fullbottles exposed and plans to take them, knocking Sento aside as he attempts to stop him. He places the Ninja, Comic, Hawk, Gatling, Harinezumi, Shoubousha, Panda and Rocket Fullbottles on the panel from Faust's compromised lair near the Skywall. As he retrieves the Gorilla and Diamond bottles, Rogue made a jab and laugh as how Build used them to kill Ryuga's late girlfriend Kasumi. Sento rises and tackles Rogue as he takes the Lock, Kaizoku and Soujiki bottles, allowing Ryuga enough time to place the Dragon Fullbottle in the Cross-Z Dragon, telling it to give it to Sento.
Empowered, the Cross-Z Dragon attacks Rogue and retrieves the Lock bottle, giving it and the Dragon bottle to Sento, utilizing them to turn into Build KeyDragon. Build engages and overpowers Rogue, whom wonders what kind of power Build now possesses. Build tells Rogue he can't lose as Ryuga entrusts him the Dragon bottle and performs a Vortex Finish, forcing Rogue to retreat after vowing to make Build pay. However, he reemerges after Build intercepts Stalk and attack him from behind. Rogue asks Stalk where he plans to take the Pandora Box as a dozen Faust Guardians surround them, their rifles pointing at Stalk. Stalk tells him to their lair as he offers the box. Rogue takes the box, whom accepts it and takes the Rabbit, Tank and Lion bottle from an unconscious Sento. As he leaves, Sento wakes up and grabs his leg, demanding his bottle back before Rogue kicks him in the face, then proceeded to walk away laughing. Cancelling his transformation, he returns to the Institute with a smile on his face until he spotted an ambulance and his father, who has just had a heart attack, being carried out on a gurney by Utsumi and paramedics. He runs over and asks what happened, but Taizan places him as the acting Prime Minister until he recovers. Upon hearing his new position, Gentoku smiles maliciously after all the events that has transpired up to this moment. Technology of Destruction
Rise of Cross-Z
"What is this power?!"
"Too powerful? That's because it's not just my power! Right now...I don't feel like losing!"
"This can't be...!"
―Rogue being driven into a corner by Cross-Z.
At the Touto Government capital, Gentoku calls a meeting with Tajimi and Mido. Mido asks Gentoku of his father, who tells him he must rest for now, leaving him as acting Prime Minister of Touto. Tajimi demands to know if he has any relations with Faust, but Gentoku's one step ahead, claiming if she suspects if Touto has an alliance with Faust and retort if Hokuto allied with Faust, offending Tajimi. Mido tells them both there's no point in pointing fingers at one another as they leave the Faust investigation and retrieval of the Pandora Box to Touto, but he claims both Seito and Hokuto won't wait forever. Gentoku assures them they will do their best before they cut off transmission. Stalk appears, questioning Gentoku's facade. Utsumi, who watched the meeting from afar, approached Stalk and demands to know why he's in the capital before Stalk shoved him aside. Gentoku tells him to leave, forcing Stalk to joke lightly about his current position making him a cold person. As he sat down, Stalk demands to know why Gentoku has placed the Pandora Box in a secure location without Stalk's knowledge, and Gentoku claims to share the location if Stalk acts more loyal to him. To their surprise, two Touto security officers enter the room, preparing to accost Stalk, but Stalk kills them both. Stalk tells Gentoku Faust doesn't belong to him.
The next day, Gentoku decides to flush out Sento and Ryuga, placing a false eyewitness of a Smash at an abandoned factory. Sento and Ryuga take the bait, allowing Gentoku, as Night Rogue, and four Faust Guardians to corner them. Rogue demands Sento to hand over the last two Fullbottles they have, but they refuse as Sento turns into Build KeyDragon, much to Ryuga's annoyance as he wanted to try transforming into a Kamen Rider for the first time. Build engages Rogue as Ryuga deals with the Faust Guardians with little effort without his bottle, forcing him to take one of the Guardian's rifle. As Build overwhelms Rogue, the Dragon bottle begins to overwhelm Build, encasing him in blue fire until it cancels his transformation. Rogue rises and states to hand him the bottles as Ryuga rushes to Sento's side, but Stalk appears, commending Rogue for his deception. As Sento and Ryuga argue over allowing Ryuga to try and transform, Stalk states he's there to help them, but Ryuga doesn't buy it as he believes Stalk is Katsuragi and attempts to place the Dragon bottle in the Cross-Z Dragon in its Adaptor mode, but fails. As both Stalk and Sento became embarrassed, Stalk tells them to leave and throws a chair at Rogue, who attempts to shoot them. Angered, Rogue asks Stalk what's he doing, but Stalk leaves, with Rogue departing in a different direction in anger.
At night, Gentoku met up with Namba at a fishing village, praising Gentoku for both his position at the Prime Minister's chair and obtaining the Pandora Box. Gentoku assures him every Faust scheme will go on unnoticed, and Namba asks him they need three more Fullbottles for the Pandora Box, to which Gentoku states they need and assures him he will retrieve them before leaving. Later on, he receives word from Namba that Sawa, whom was a spy for Faust, has been compromised. They decided to cast her aside and abducted her into Faust's backup lair, administered the Nebula gas and turned her into an Octopus Smash, catching her transformation on her camera video for Sento. As Rogue, he tells Sento he plans to set the Octopus Smash loose on the city and he'll be waiting for him. At daylight, Rogue watches from afar as Build, in his KeyDragon Best Mach, take on the Octopus Smash, waiting for the Dragon bottle to overwhelm him once more. After Sento falls down from the cancelled transformation, Rogue made his move and tells the Smash to stop. He grabs Sento and demands him to hand over the bottles, until Ryuga arrives. Sento breaks free and throws the Dragon and Lock bottles at Ryuga, angering Rogue, who backhands Sento and orders the Smash to attack Ryuga. Rogue commends Ryuga for taking on the Smash as he prepares his Steam Rifle, but Sento gets in the way. Fed up, Rogue takes the Build Driver and knocks him aside, stating he's done utilizing him for Faust's purposes. As he advances toward Sento with his rifle pointing at him, Ryuga takes the driver from him and places it on, now in complete sync with the Cross-Z Dragon and finally succeeds transforming into Kamen Rider Cross-Z, angering Rogue. After defeating the Octopus Smash, Cross-Z summons his weapon and engages Rogue, overpowering him before forcing him to retreat after unleashing a Lock Million Slash Finisher. Burning Dragon
After learning Sawa's involvement with Faust and discovering the Pandora Box has been placed in a secure location from a recording of a conversation between Gentoku and Namba she made during her abduction, Sento and Ryuga head back to the Namba Heavy Industries Integrated Sciences Laboratory, after learning the laboratory has a hidden third basement, to investigate if the Pandora Box is there. Gentoku, as Night Rogue, stumble upon Sento and Ryuga in the third basement, and asks them to leave as he and four Faust Guardians walked down the stairs. Not obliging, Ryuga turns into Cross-Z and engages Rogue while the Guardians attempt to accost Sento, whom easily destroys them with the Drill Crusher. However, Rogue was prepared as he held is own and overpowers Cross-Z, stating his Hazard Level's still higher than Cross-Z, meaning he was previously defeated due to underestimating Cross-Z's power. He tells Cross-Z to not underestimate him as he knocks him to the ground with an Elec Steam attack, and the fallout knocks Sento down as well. Preparing to continue the fight, Stalk appears, asking Rogue if this is the place where the box is hidden. Rogue demands to know why Stalk came, to which Stalk replies, to Rogue's surprise, to fight him. As they fought, Stalk spots a newly paved wall and thrusts his Steam Blade in it to create a hole, exposing not only the Pandora Box, but the Fullbottles Rogue stole from Sento and the new Densya bottle. Rogue pushes Stalk away from the box and bottles, allowing Sento enough time to retrieve his bottles and transform with an additional Build Driver into Build KaizokuRessya. As Build intervenes in their fight, Cross-Z forces Stalk down the hall as Rogue and Build engage one another. Both fighters were on par until Rogue spots Stalk teleporting away with the Pandora Box, providing an opening for Build to strike him down with a Vortex Break, forcing Rogue to retreat and allowing Build to take Faust's panel as well.
At Faust's backup lair, Gentoku curses Stalk for his betrayal as Utsumi tends to his wounds. Namba appears, dissatisfied that Gentoku let Stalk steal the box. Gentoku apologizes, and to his surprise Namba let bygones be bygones, but addresses that actions must be taken since it was stolen from their abandoned lab, turning to Utsumi. Gentoku learns of Naba's countermeasure: have the Touto government to destroy Faust once and for all. The next day, Touto's operation to eradicate Faust places it at a dam, with Gentoku in charge, to keep his cover intact. Few minutes later after a Touto squad enter the dam, an imposter Night Rogue, which was Utsumi, emerged from the entrance, claiming he's the creator of Faust. To keep the ruse up, Gentoku orders a squad of Touto Guardians to open fire at Utsumi, but their weapons made no dent as Utsumi shoots the Guardians down before heading up the dam. As Utsumi lands at the top, he engages Build KaizokuRessya and is quickly defeated, cancelling his transformation for the news to see Utsumi as the creator of Faust, unaware he's a scapegoat. Gentoku notices the news media bought the con, and notices Build stopping Utsumi from exposing himself with a Fullbottle in a suicide attempt, forcing Utsumi to run. Gentoku pursues with two Touto officers beside him until they caught up with Utsumi and Build. As Utsumi attempts to tell Build something, Gentoku shoots Utsumi's shoulder, causing him to fall off the bridge and into the running waters. He hands the rifle to one of the officers and leaves. Later on, Gentoku made an address on the news of Utsumi's betrayal as an act of fear and the defeat of Faust all to keep the ruse up and states he will protect Touto, completely unaware that Blood Stalk saved Utsumi. Theory of Conspiracy
Blood Stalk Exposed & Gentoku's Cover Blown
"Let me tell you something as a fellow founding member of Faust. Namba Heavy Industries' new partner...is me."
"What?!"
"And now you can probably guess where the Pandora Box is. So, what will you do? If you use the government's special forces, Namba will use Seito or Hokuto to start a war. If it were me...I'd use someone unconnected to the government."
―Gentoku realizing he's being cut out.
"Do you know something...about me?"
"Isurugi told me..."Takumi Katsuragi is alive...in a different form." It's you, Sento Kiryu. You're the demon scientist...Takumi Katsuragi!"
―Rogue unveils a shocking revelation to Sento.
After his address of Faust being destroyed, Getoku was at Namba Heavy Industries, praising Namba for his contingency, but reminds him they can't go to war with Seito and Hokuto until they've recovered the Pandora Box. He also adds that still plans to adapt the Rider System as a weapon, but Namba told him he's wiping the slate since Faust no longer exists and plans not to give the Rider System to Gentoku, fearing all they've worked for could be in jeopardy. He also adds he has found a new partner, which leaves Gentoku upset. The next day, Gentoku managed to contack Blood Stalk to meet with him. In the woods, Gentoku demands to know where Stalk placed the Pandora Box, but Stalk mocks him for being on-point, angering Gentoku. Stalk concedes, but only if Gentoku swears loyalty to Stalk in exchange for the box's location. Fed up, Gentoku transforms into Night Rogue and decides to settle things with Stalk once and for all. Stalk doubts Rogue can beat him, but Rogue believes it's possible due to whomever utilizes the Transteam System can't increase their Hazard Level more than the level they're fixed at. Rogue makes the first move and gains the upper hand on Stalk, until he realizes Stalk's been holding back due to having more experience with the Transteam System than Rogue and overpowers him, forcing him out of his transformation. Stalk stood over Gentoku in victory, forcing Gentoku to concede at gunpoint. Stalk then tells Gentoku he's Namba's new partner, meaning the Pandora Box is in Namba Heavy Industries, making it complicated to infiltrate unnoticed. Before leaving, Stalk suggests Gentoku should have someone with no ties to any government to infiltrate Namba's company.
The following day at Touto Institutes, Gentoku calls Sento in a room, telling him that Pandora Box is in one of Namba Heavy Industries' storage facilities, but they can't act without concrete proof and asks Sento for his wisdom, so he can have Sento and Ryuga retrieve the box for him. Who Takes Off The Veil? Having himself been exposed as Blood Stalk, Soichi Isurugi revealed to Sento that the true Night Rogue was Gentoku Himuro. The False Kamen Rider
Knowing Sento and Ryuga were successful in retrieving the Pandora Box, Gentoku sent a Touto squad to break into nascita, infroming the squad it was an anonymous tip. Inside the cafe, however, he found no trace of the box or both Kamen Riders, as he was unaware of Sento and Misora watching him from afar after establishing a hiding place in an abandoned warehouse. Gentoku opens the refrigerator door, knowing there's a secret path to a basement, yet was shocked to see it was an ordinary fridge, agitating him. Receiving a call from Sento, Gentoku heads down to the Touto Institute's parking lot to see Sento with the concealed Pandora Box. Asking him what they needed to talk about, Sento tells Gentoku to drop the act as he unveils the box and calls Gentoku Night Rogue. No longer able to keep the ruse, Gentoku stated he'd wished to keep his identity as Rogue a until Sento completed some form of project, which is what Isurugi wanted as well. Sento asked him what they meant, but Gentoku tells him he'll know once he looks up the word "Sclash" in Katsuragi's research data, and added that Faust main objective was to utilize the Rider System for militaristic endeavors, all to win the inevitable war between the three regions. Watch from aside, Ryuga loses his temper and engages Gentoku, forcing to transform into Rogue and gain the upper hand. As he held Ryuga in an arm lock, he spots a fallen recorder from Ryuga's jacket. Surprised, Rogue orders Sento to toss his recorder aside as well. Ryuga breaks loose, transforms into Cross-Z and reengages Rogue. Noticing Cross-Z's new growth in strength, Rogue decided to cut loose and show his full power, generating a pair of bat wings and easily defeats Cross-Z. As Rogue approaches the defeated Ryuga, Sento turns into Build LionComic Trial Form and uses his Nipontou's Disappearing Technique for him and Ryuga to leave. Satisfied he now has the box, Rogue turns toward it but finds out it was a hologram, a trap to confirm his identity as Rogue. Angered, Rogue curses the Riders and kicks the trolley before turning around to see an amused Isurugi approaching him.
At Isurugi's request, Gentoku informs his father of the Pandora Box's current location, the person who has it and having him arrange a meeting with Sento to return the box to the Touto government, all part of a scheme to retrieve the box. After his father arranged their plan, Gentoku walks out of his father's hospital room and bumps into Isrurgi, whom asks Gentoku if he can trust him again. Cautious, Gentoku would consider trusting him if he doesn't have any hidden schemes in store. However, as their plan failed the next day, Gentoku heads to the Touto government and scowls Isurugi, demanding to know why he didn't take the box from Sento and Ryuga at the hospital. Isurugi, being funny, stated he had to do something important as he presents a cache of coffee beans to Gentoku, while in reality he snuck into nascita and made a copy of the Katsuragi's incomplete Sclash Driver and Sclashjelly blueprints. Furious, Gentoku knocks the cache from Isurugi's hand and grabs him by the collar, demanding to know if the whole thing was a trick, but Isurugi panicked as he doesn't like to have his jacket wrinkled. After Gentoku released his grip, Isurugi assures him they will retrieve the box and as compensation, he tells Gentoku a secret he only knows about Sento.
After learning of their hiding place, Gentoku arrives at the warehouse with two Touto officers and a over a dozen Guardians, finding Sento, Misora and Ryuga with the Pandora Box. As the Guardians advance, Sento turns into Build KaizokuRessya and Ryuga into Cross-Z, easily dispatching them, amusing Gentoku as he now knows the truth of Sento's origins. Gentoku turns into Night Rogue, shocking the two officers before he turned them into a Strong Smash Hazard and an Octopus Smash Hazard with his Steam Rifle's Devil Steam. As Cross-Z deals with the two Smash Hazards, Rogue told Build he doesn't belong on side against Faust. Confused, Build made the first move, telling Rogue he won't let him have the Pandora Box. They head outside to continue the fight, until Build spotted the Octopus Smash Hazard attacking Misora and kicked Rogue aside to launch a Kaizoku Densha with Cross-Z's Million Hits slash to destroy the Octopus Smash Hazard. Spotting an opening, Rogue attacks Build with his Steam Blade and disarms him, stating he's Build's opponent. Turing into LionCleaner, Build unleashes a Vortex Finish to gain the upper hand against Rogue, until he shoots Build with his Transteam Gun, claiming he will obtain the Pandora Box's power and rule Japan, and told Build that was what he used to want as well, confusing the rider before he turned into his RabbitTank Best Mach. Fed up, Rogue tells Build to reawaken and remember everything as he parried Build's Drill Crusher with his Steam Blade. Build told him to stop with his nonsense and uses a Vortex Break with the Rocket bottle, pushing rogue back. Unsatisfied with Sento's disregards of his words, Rogue unleashed his wings and took to the sky, attacking Build with aerial assaults. To his surprise, Build turns into a new form: RabbitTank Sparkling and destroyed Rogue's wings, and attacked him with a barrage assaults with his Drill Crusher blade mode and Nipontou, followed by shots from his Drill Crusher gun mode and HawkGatlinger. Build unleashes a Sparking Finish as Rogue created a new pair of wings and flew in to intercept, but became overpowerd by Build, sending him threw the warehouse with an explosion, forcing him out of his transformation.
As night fell, Sento and Ryuga, carrying an unconscious Misora, approached the injured Gentoku. Gentoku commended Sento's genius as he struggled to rise, until he heard his father's voice from behind. Gentoku turned to see Taizan being rolled in a wheelchair with Tout agents, shocked to find out Gentoku was part of Faust. Taizan scolded Gentoku for having no notions of his consequences, leaving Gentoku ashamed in front of his father. Taizan apologized to Sento and Ryuga for not knowing of his son's involvement with Faust, begging for their forgiveness. Moments later, Sento and Ryuga gave the Pandora Box back to Taizan, who assured them he will place it back in where it belonged and told Gentoku he will be dealt with later before leaving. As Gentoku was being escorted with two agents, Sento demanded to know what he meant by his claims. Gentoku told him he was informed by Isurugi that Katsuragi is indeed alive, but with a different face. As he approached Sento, Gentoku gave him a shocking revelation as he laughed maniacally: Sento is the demon scientist Takumi Katsuragi. Judging Sento Kiryu! Ryuga refused to believe it, and Sento demanded proof. Gentoku reminded Sento of Isurugi's ability to alter a person's face to make that person look like an entirely different person, a power Isurugi obtained on Mars. He then recalled what Isurugi told him of the secret he mentioned a day ago to Sento and Ryuga: last year, Isurugi, as Blood Stalk, met with Katsuragi at his apartment, telling him he's quitting Faust. With no alternative, Stalk had a contingency in play as he knocked out Katsuragi: Taro Satou, whom came for a job offer, unaware that it was a trap. As he saw Stalk, he got scared and attempted to leave, but Stalk threw a dagger in his back, killing him instantly. He then walked over to Taro's corpse and changed his face to Katsuragi's and headed over to Katsuragi to turn his face to Taro's. He switched Katsuragi's and Taro's clothes, dragged Katsuragi outside and into a car. As he waited for Ryuga to show up in response for a job, he called the local authorities and stated he saw a neighbor get stabbed and named Ryuga as the murderer.
After listening, Sento still found hard to believe he was Katsuragi, the person who co-created Faust and conducted human experiments to create the Smash. Gentoku added that Sento's amnesia was also Isurugi's doing. Sento remembered being administered the Nebula gas as Rogue and Stalk watched, but he stated to Gentoku he would've asked him for help if he really was Katsuragi, but Gentoku told him his mind was wiped before being injected with the Smash element. Sento asked how, and Gentoku told them a test subject only loses their memory up to a few hours before being injected, while telling Sento that Isurugi also possessed the power to wipe his mind completely before bringing him to the lab. Ryuga believed Gentoku as he surmised that Nabeshima's complete memory loss was also Isurugi's doing. Gentoku laughed and told Sento as he was Katsuragi his personality was the exact opposite of whom he is now: a person who scoffed at things like justice and would go to the extreme for his scientific ambitions. As he leaves, Gentoku promised he will return and when he does, Sento will be by his side once again. The Weaponry Hero
Hokuto Invading Touto & Exile
"So they're invading already."
"What do you mean?"
"The Hokuto government declared war this morning. Yes...war has begun!"
―Gentoku informs the Kamen Riders Hokuto has declared war on Touto.
The next day as he clears his stuff from the Prime Minister's office at the Touto government capital, Gentoku was told by a co-worker that his father has collapsed once more, unaware that Taizan was poisoned by Stalk. At night, Gentoku, still placed as acting Prime Minister, informed Tajimi and Mido that Touto has retrieved the Pandora Box. Mido applauds Gentoku, but Gentoku told both him and Tajimi that it's time to drop the facade and that the three of them each want the box's energy for their own selfish desires and control the world. Tajimi pretended not to acknowledge his claim, but Gentoku stated Hokuto's meager budget has sunken in military development, angering Tajimi. Gentoku proceeded to say that their ambitions that caused Japan to split into three region, and proposed a challenge to see whom should rule all of Japan before Mido and Tajimi cut off their transmissions, each of them pleased.
The next day, Gentoku learns of two Smash Hazards and a squad of Hokuto Guardians running amok in Touto and arrived, with a Touto security personal, just in time to see Sento and Ryuga having already taken care of them, but left puzzled as to why there are Hokuto Guardians and two Hokuto residents whom have been turned into Smash. Gentoku told Sento and Ryuga, whom were both shocked to see Gentoku still in power as the acting Prime Minister, that this is an invasion. When Sento asked what invasion, Gentoku told him that Hokuto has invaded Touto, an act of war. The Weaponry Hero
Days into the war and a majority of Touto taken by Hokuto, Gentoku decided the war would be the perfect opportunity to utilized the Kamen Rider System as a weapon by having Touto forces storm into Nascita and take Sento and Ryuga. Having the forces bring both riders into the war room at the Touto Capital building where he saw Touto forces being decimated by Hokuto's, Gentoku readdressed the region's current dilemma with Hokuto claiming vast sectors and with Hokuto-produced Smash appearing in different areas as he brought the riders into the main office where the Pandora Box is. Gentoku then told Sento and Ryuga more about the box: that it had six panels with ten bottles each, making a total of sixty bottles, before Isurugi opened it during the Skywall Tragedy. Gentoku also believed that all the bottles, along with the six panels, can open the box. Ryuga was surprised to hear this, but Gentoku pointed out that the 40 not purified in Touto were somehow purified and those bottles and the four remaining panels were divided between Hokuto and Seito, and Sento surmised the the regions can't open the box until they've cooperated. Gentoku agreed but pointed out to Hokuto's declaration of war as a sign of conquest, and Seito will follow soon after.
As he sat down, Gentoku told the riders to protect the box from the two regions, meaning he wants them to serve Touto and participate in the war. Sento declined and was heading for the door, but Gentoku reminded him he set this in motion when he experimented with the Nebula gas on human subjects as Katsuragi, but Ryuga, in anger, told Gentoku he was the one to use it for evil. Gentoku then told them if they served and repel Hokuto's invasion, he will grant full pardons, meaning Ryuga can finally have his name cleared. Despite this, Sento still declined, forcing Gentoku to have Guardians and Touto officers pointing their rifles at them, stating they have no choice as he slapped a wrist band with GPS and transmitter onto Sento's and Ryuga's wrists. After failing to contact Sento hours after their departure, Gentoku contacted Ryuga, asking him where Sento was. Ryuga asked him why, and Gentoku stated he wanted to see if the Sclash Driver was finished. Surprised, Ryuga told him Sento built it, but he also said they can't use it. Remembering what Stalk said about Sento and Ryuga after they retrieved Katsuragi's data, Gentoku decided to make Ryuga use the dirver by telling him it's the only way they can fare against Hokuto's Hard Smash. Rider Wars Start
The next day at the Touto capital, Sento agreed to work with Gentoku, following his and Ryuga's encounter with Hokuto's Kamen Rider, but strongly stated that his only intention is to protect Touto, not be a weapon. Gentoku told him he doesn't care what his intentions are and asked Sento how Hokuto managed to build their own Sclash Driver, and he wasn't surprised to learn it was Isurugi and scientist from Namba Heavy Industries. Gentoku then stated they need to figure out their plans until a Touto worker informed him that Hokuto's Kamen Rider, Kazumi Sawatari, has seized a news station and made a live broadcast. Turning on the TV, Gentoku, Sento and Ryuga watched as Kazumi demonstrated Hokuto's only weapon, the Rider System and demanded the Pandora Box and Touto's 20 Fullbottles. He also stated if Touto refuse, Hokuto will take them by force and won't be responsible for anyone whom takes part in the war. Enraged, Gentoku ordered the workers to send a Guardian squad to the TV station, and turned to Sento and Ryuga, telling them to depart as he's counting on them as well before heading to the war room. At night, Gentoku headed for Namba Heavy Industries building, waiting for President Namba to meet with him. As he rose from the couch assuming the person who entered the room was Namba, Gentoku was shocked to see Utsumi standing before him. The Golden Soldier
After hearing Utsumi recall the tale of his survival, Gentoku sat back down, telling Utsumi he had no choice in shooting him. Showing no sign of remorse, Utsumi told Gentoku he is now the representor of Namba Heavy Industries. Accepting Utsumi's new role, Gentoku demande to know how Faust is still active as it's only organization with the technology to create Smash, surmising it's been relocated in Hokuto. As Utsumi deemed himself incapable of confirming it, Gentoku became enraged as he stated Faust with his and Katsuragi's dream, vowing he won't let anyone else use it for their own pleasures. To Gentoku's confusion, Utsumi told him to leave as two Touto Guardians arrived to escort him out of the building, angering Gentoku.
The next day, Gentoku informed Sento and Ryuga that Utsumi's alive, leaving Sento shocked and Ryuga unfazed as he swung a Touto flag like a baseball bat. Gentoku believed that Utsumi was responsible for building Kazumi's Sclash Driver due to his talent in science. He then told Sento they need to come up with a counter measure against Grease and the Hard Smash, which lead to Sento asking him about the password for the hidden file in Katsuragi's data. Gentoku then remembered Katsuragi once built a device he coined the forbidden item, and as Ryuga asked him if he knew what it was, the capital came under attack by Grease and the Hard Smash. After Build and Cross-Z Charge countered the attack, Sento and the Touto government decided to place most of the Touto Fullbottles in secure locations as they find a way to deal with Hokuto: four at the Prime Minister's building, two at the Touto Institute, another two at the archaeological museum, another two at the garbage plant and the remaining ten stay with Sento. The next day, however, Gentoku received word that Grease has infiltrated the garage plant and took the two bottles hidden in there, he contacted Sento to head there at once. He stepped aside from the table, wondering how the location was leaked. The Forbidden Item
Later on, Gentoku received word that Grease has broken in the archaeological museum, and sent Sento and Ryuga to intercept them. Ending the call, Gentoku told Masuzawa, a Touto govenment aide, that Hokuto has learned the locations of all the Touto Fullbottles, and pondered how the information was leaked. The following day, Gentoku called Sento and Ryuga to the abandoned Namba Heavy Industries Integrated Sciences Laboratory, informing them of placing the Pandora Box in the abandoned building as leaving the box in the Touto capital is dangerous. Sento agreed while Ryuga demanded to know what else Gentoku wanted to tell them. Obliging both riders, Gentoku told them a Faust branch exists in Hokuto, surmising they will create more Hard Smash like the Three Crows. He then said he wanted them to invade Hokuto and destroy their branch, but Sento declined as he knew what Gentoku proposed would aggrevate the war further and stormed out the building with Ryuga behind him as Gentoku preached that defending Touto won't be enough to end the war unless they invade and hit Hokuto hard. Outside, he heard Sento and Ryuga argue over their role in this war and proceeded towards them, telling Sento he wants to speak to Ryuga alone before leaving with him.
After returning to the Touto capital after learning of Ryuga's reason for participating in the war, Sento asked Gentoku where Ryuga was, but Gentoku showed him a live recording of Grease and the Hard Smash, now the Hazard Smash, entering the abandoned Namba Heavy Industries Integrated Science Laboratory, which was revealed to be a trap set by Gentoku as poisonous gas is emitted, filling up the room. Gentoku took pride in his trap as he stated they would only get in the way of Touto's victory over Hokuto. As Sento asked what he meant, Gentoku revealed he sent Ryuga with their own army of Touto officers and Touto Guardians toward the Skyroad connecting Touto and Hokuto. Sento became upset, but Gentoku assured the only way to stop Hokuto is to destroy their Faust branch or Touto will descend to crisis. Even Masuzawa and the other aides saw Gentoku's motives as invasion and question him why he would go to the extreme without council, but Gentoku, enraged, silenced him and told all in the room he is the leader of Touto until he saw his father, fully recovered, entering the room with Sawa and two Touto officers. As Gentoku asked his father how he recovered so fast, Taizan rushed toward him and demanded Gentoku to call off the invasion. As Gentoku attempted to reason with his father, Taizan silenced him, renounced Gentoku as his son and sentenced him to exile. Shocked and furious, Gentoku obliged to his father's wishes, but transformed into Night Rogue as the Touto officers opened fire at him but the bullets deflected back at them. Taizan, Masuzawa and the remaining aides were shocked to see that Gentoku was the true Night Rogue as he blasted the Pandora Box's container and took it, claiming it as his own as he busted out of the building.
"So this is the power of the Rider System."
"It's over."
"It's not over yet! I will appear before you again...once I have obtained even greater power!"
―Gentoku's promise to Sento before leaving Touto.
Flying over the city, Rogue was intercepted by Build HawkGatling and shot down. After landing in a decomissioned water fountain and dropping the box, Rogue told Build it's time to settle their rivalry. Turing into RabbitTank Sparkling, Build overpowers Rogue's blows and counters with his own, forcing Rogue to go all out as he claimed he won't be beaten here and formed his wings and performed a drill-spinning kick. To his horror, Build stopped the kick with his hands and tossed him aside before performing a Sparkling Finish kick, defeating Rogue and forcing him out of his transformation as he rolled down the stairs. Wounded, Gentoku complimented the power of the Rider System and told Build it's not over as Build retrieved the Pandora Box. As he rose to his knee, Gentoku promised Build he will return with an even greater power before firing a few shots at Build with his Transteam Gun and left via typhoportation. The Devil's Trigger
Dark Night Fall
More to come...
Kamen Rider Rogue
"We meet again, Katsuragi."
"Gentoku...Himuro!"
―Sento shocked at Gentoku's return.
Once Kamen Rider Build and Grease's proxy battle to settle the war between Touto and Hokuto ended with Build's victory, Gentoku, as Kamen Rider Rogue, led a group of Seito Guardians to apprehend Hokuto's prime minister, Yoshiko Tajimi. He was the last to show up as the Seito Guardians surrounded and apprehended Taijimi, dragging the upper body of a Hokuto Guardian by its head. After dropping the body, Blood Stalk introduces him to Taijimi as Seito's Kamen Rider. Victory of Tears
After viewing a conversation between Blood Stalk and Kazumi Sawatari over the phone, Gentoku, in human form, proceeded to Touto through Hokuto, leaving damage in his wake as he proceeded to a tunnel, and transformed into Kamen Rider Rogue as he exited the tunnel. He arrived in time to see Build RabbitTank Sparkling and Cross-Z Charge gaining the upper hand on the Washio Brothers. As all combatants, Kazumi and Akaba spotted Rogue, Fu introduced Rogue as Seito's Kamen Rider before he and Rai vanished. Rogue, being silent, gestured Build and Cross-Z Charge to come at him, with Cross-Z Charge making the first move, followed by Build. However, their punches made no dent, but Rogue's punches drove them back. As Cross-Z Charge attempted to attack Rogue again, Rogue punched him the gut, forcing him on his kness as he placed his Crocodile Crack Fullbottle in his own Nebula Steam Gun, firing a Funky Break at Cross-Z Charge, sending him flying into a hillside before cancelling his transformation. Seeing Ryuga injured, Build mustered enough strength to drive Rogue back, but his punch did no damage as he dragged him along the ground. As they stopped, Rogue performed a Crocodile Finish Rider Kick, forcing Build back along the ground with enough energy before he was caught in a large explosion, cancelling Sento's transformation before he fell down to the dirt. Struggling, Sento demanded Rogue his name, to which Rogue stated his title and Ryuga noticed his voice sounded familiar. Pulling the Crocodile Crack bottle out of his Sclash Driver, Gentoku revealed himself, stating they've met again but addressed Sento as Katsuragi as Sento looked at him with shock. The Phantom of the West
Seizing the Pandora Box
"I fight for love and peace! I'm different from you, who became a Rider for vengeance!"
"Vengeance...vengeance...I abandoned thoughts of that long ago. I became a Rider to defeat Touto. This time, I'll reunite the country with my own hands. That is all I want."
―Rogue's new resolve as he overpowers Build.
Confused and shocked at Gentoku's new power, Sento asked him how he obtained the ability to become a Kamen Rider. Gentoku, with no tells of emotion on his face, stated he crawled back from his own personal hell, discarding everything to gain strength as he recollects the time he spent in Seito to become Kamen Rider Rogue. He then left, stating he won't kill Sento yet, but make him experience a similar hell. The next day after returning to Seito, Gentoku and Mido listened to a live broadcast of Sento and Taizan planning to move the Pandora Box to a new location. Mido ordered Gentoku to retrieve the box, but Gentoku surmised Mido has a spy in Touto. Mido told him it doesn't concern him, but Gentoku assures him he doesn't care and will do what he must to crush Touto.
Later on, Gentoku, the Washio brothers and a squad of Seito Guardians marched onto the Touto Prime Minister's residence, viciously attacking the Touto officers in their wake, while Gentoku proceeded inside. Heading into the war briefing room, Gentoku raised his Nebula Steam Gun at his father and four coworkers. Surprised to see what has become of his son, Taizan ordered the four workers to leave now, leaving him alone with Gentoku. As Taizan pressed the code to release the Pandora Box, he attempted to remind Gentoku of the kind of person he was before being bathed by the Pandora Box's light: a kind man, and expressed his remorse for having his son go to the ceremony. However, Gentoku raised his gun at his father, stating he's not interested in old stories as Taizan finished putting in the code and the Pandora Box emerged from the floor. He then lowered his weapon and headed for the box until Sento, in Build RabbitTank form, appeared. Build stated he won't let Gentoku take the box as he transformed into Kamen Rider Rogue. Rogue told Build the residence is no place for their fight as he placed the Phoenix Fullbottle in the Nebula Steam Gun and coated himself in a phoenix-shaped fire as he grabbed the box and burst out of the building, picking up the Washio brothers, in their Bro's forms, and headed for the Skywall with Build, in HawkGatling form, Grease, Castle Hazard Smash, and Cross-Z Charge in pursuit.
Rogue and the Bro's Kaisers stopped at Faust's first lair, waiting for the Kamen Riders and Castle Hazard Smash to catch up to them. Rogue then unveiled the Skywall will be the perfect spot for their fight, as it's the instrument that made each of them what they are now. As he dropped the Pandora Box and placed his foot on it, he claimed he will gather all the Fullbottles and open the box to end everything and begin anew. He advances toward Build, who changes into RabbitTank Sparkling, and engaged him as Cross-Z Charge engaged Remocon Bro's and Grease, with Castle Hazard Smash, take on Engine Bro's. During the fight, Build proclaimed his resolve to fight for love and peace and pointed out that Rogue became a Kamen Rider for vengeance, deeming them different from one another. Rogue gains the upper hand due to his new power, and told Build he abandoned thoughts like vengeance as he knocked Build to the ground. Rogue then said his reason for becoming a rider was to destroy Touto and reunite all of Japan with his own hands. As Rogue continued to overpower Build, he pulled out the Hazard Trigger and transformed into Build RabbitTank Hazard, and was able to deal more effective blows as he addressed to Rogue the difference between reuniting a country and taking it over by force. Rogue, however, brushed off the punches and overpowers Build once more, telling him his dreams are rubbish as neither him nor any of Build's comrades can comprehend the burden of governing a country. Deeming his determination as adamant, Rogue performs a Crack Up Finisher and sent Build into the Skywall, causing an explosion and cancelling Sento's transformation, leaving Cross-Z Charge and Grease shocked at Rogue's power exceeding the Hazard Trigger's before they were bested by the Bro's Kaisers as well. As Rogue prepares to deliver the killing blow, he spotted Misora approaching with her eyes closed and stopped close to Rouge and Sento. All the riders gazed at Misora as she opened her eyes, which are glowing green. A Man Called Rogue
After she opened her eyes, Misora raised her arm with her bangle and generated a vortex of energy, ensnaring Rogue and the Washio brothers. Lifting them in the air, Misora's bracelet reacted to the Skywall, causing a section of it to collapse, exposing an opening and allowing her to toss Rouge and the Washio Brothers out of Touto and back into Seito without the Pandora Box. The nxet day in Seito, Gentoku stood beside Utsumi and Namba as they watched the Washio brothers train, hearing Namba's claim to become the ultimate defense contractor by utilizing both the Pandora Box's power and the weapons developed by Namba Heavy Industries. After Utsumi received a call from their spy about the Pandora Box being moved to a new location, Namba told the Washio brothers to retrieve it while Utsumi gave a new mission to Gentoku.
After the Washio brothers were deceived and Seito's spy had been compromised, Gentoku made his way to the box's true location: an abandoned warehouse guarded by Akaba. After declining to hand over the box, Akaba turned into Castle Hazard Smash, forcing Gentoku to transform into Rogue and overpower the Hazard Smash. Despite Rogue's power, he was kept at bay from the box, forcing him to rip off Akaba's right Ground Rampart and land vital blows, sending the Smash backwards. Rogue was surprised Akaba was able to hold on beyond his limit, and decided to end it with a Crack Up Rider punch as Akaba lunged forward, sending him flying once more with more force as Sento, Kazumi and Ryuga entered the warehouse and witnessed the devastating blow. Rogue watched as Akaba disintegrated and Kazumi mourning the loss of his friend before approaching Rogue with Sento and Ryuga by his side. All three riders transformed into Build RabbitTank Sparkling, Grease and Cross-Z Charge and rushed Rogue, whom managed to overpower all three riders and kicked Grease to Build and Cross-Z Charge. He formed his Nebula Steam Rifle and inserted the Crocodile Crack bottle in it, blasting a Crocodile Funky Shot at them, and the blast's shockwave freed the Pandora Box from its container.
Before he could apprehend the box, Misora appeared and attempted to summon her power against Rogue. Claiming the same trick won't work again, Rogue separated his Nebula Steam Gun from his Steam Blade and fired at Misora, but Cross-Z Charge shielded her. Having enough, Build turned into RabbitTank Hazard and rushed toward Rogue, both riders trading blows until Build succumbed to the Hazard Trigger, losing consciousness and activated the trigger's Overflow. Rushing toward Rogue with superspeed, the out-of-control Build performed a Hazard Finish kick, knocking Rogue back with enough force, right near the Pandora Box. Rogue admit he's been damaged, but Build won't win in his berserk state as he dodged Build and pulled Grease in front of him, allowing the berserk rider to attack him while Rogue took the chance to grab the box. Cross-Z Charge, however, reentered the fight and performed a Scrap Break kick, but Rogue overpowered him with a Crack Up Finish kick and forced him out of his transformation. With no one left to challenge him, Rogue took the Pandora Box and left the warehouse with the Phoenix bottle in his Nebula Steam Gun, bursting through the front on his way out. The Idol Awakens
Personality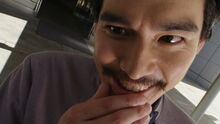 "One of our objectives is to create the ultimate life form. I wonder what would happen if someone who was injected with the Smash element underwent experimentation again. I'll have to run a test."
―Night Rogue shows his malicious nature
Gentoku is a composed and generally calm man, rarely changing his tone of voice unless agitated. Underneath his cool exterior, he is a man with questionable morals at best: he flirted with a journalist, and referred to Ryuga and Sento Kiryu as toys, as well as his fiery temper whenever he commands his soldiers. During a conversation with Gentoku, Blood Stalk reveals that Gentoku's goal is to mass produce Kamen Rider technology from his experiments for military use. To what reason or purpose is unclear, but Gentoku seems determined to see this project succeed and will do everything he can to silence or stop anyone who will interfere with this plan. He also didn't hesitate to kill his decoy with his own hand to get press in his favor.
It is likely that some of his negative personality traits are a result of his exposure to Pandora Box during the Skywall disaster. His father highlighted this as well, remembering how Gentoku used to be the kind person he was before the incident. One of those traits seems to be episodes of paranoia and aggression, urging his father that they need a military to crush Seito and Hokuto before they crush Touto, believing they are out to get the capital and superior military might can stop their advance. Eventually, his father disown him due of his plan to invade Hokuto.
However, as Night Rogue, he is a malicious control freak. Seeing innocent people as mere guinea pigs, he doesn't hesitate to experiment on them, even when fully knowing that his subjects would be too weak to survive. Despite his cold and calculating personality, Gentoku has his own standards and shows little to no tolerance with insubordination. He is easily vexed each time Soichi goes against his orders, which drives a wedge between their collaboration. He is also appalled when Soichi, as Blood Stalk put his father to the hospital for the second time before Taizan was about to resume his duty as Prime Minister. Ultimately, his actions of taking over Taizan's place as Touto Prime Minister strained his relationship with his father, leading to his exile.
Following his exile and affiliation with Seito as Kamen Rider Rogue, Gentoku's malicious personality takes a nihilistic turn. He gave up everything else for the sake of strength, to the point he would go into further heights to be subjected with cruel experimentation. Having experienced 'Hell', where he was looked down and tortured, Gentoku become somewhat emotionless, no longer the hotheaded control freak that he was once. His ambition now is to destroy Touto and 'bring order' on Japan as whole, and he's shown to understand the burden of it, has also proven to be more cruel and ruthless by killing Akaba without compassion.
Gentoku has a habit to smear his beard with his fingers.
Powers and Abilities
Hazard Level 4+: According to Gentoku as Night Rogue, his level was stated to be above Hazard Level 3, but due to the Transteam Gun's limitations, his Hazard Level becomes capped and does not reflect his actual level. Sometime after being exiled from Touto, Gentoku underwent cruel experimentation in order to raise his Hazard Level to above 4 in order to utilize the Sclash Driver.

Nebula Gas Shockwaves: Prior his debut as a Kamen Rider, Gentoku was able to unleash shockwaves which can reduce Guardians into nothing. The principle of it is currently unknown.

Hand-to-Hand Combat: Though briefly, he was seen to easily block and counter Ryuga Banjou's punches, who himself was a professional fighter.
Forms
Night Rogue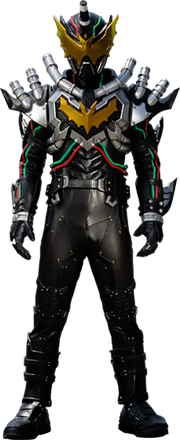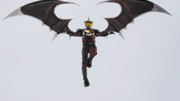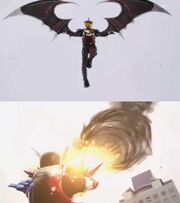 "Bat! Mistmatch! Bat...Ba-Bat... Fire!"
―Transformation announcement
Height: 197.5 cm.
Weight: 103.0 kg.
Ability Perimeters:
Punching power: 17.2 t.
Kicking power: 20.5 t.
Maximum jump height: 49.0 m.
Maximum running speed: 100 m. per 4.1 sec.
Like Blood Stalk, Night Rogue's form is accessed with the Transteam Gun and the Bat Fullbottle.
Night Rogue seems to possess a degree of steam manipulation as he can perform typhoportation or summoning his Steam Blade. Night Rogue is also shown to be able to fly as well as walk on ceilings. He can also execute an electrified Rider Punch-esque attack where his fist glows blue with electric energy and hits the target.
Night Rogue can summon a pair of wings on his back that allows him to fly and attack from the sky. He can perform his own version of a Rider Kick by creating a tornado with his wings.
Unlike Build, Night Rogue's Ability Perimeters are not spread out between his arms and legs. While Night Rogue gets power from only one Fullbottle, he is much stronger than Build's Trial Forms, and his stats even surpass some of Build's Best Matches.
With the Steam Blade or the Steam Rifle, he can use the following attacks:
Elek Steam (

エレキスチーム

Ereki Suchīmu

): Night Rogue shoots electricity at the enemy.
Ice Steam (

アイススチーム

Aisu Suchīmu

): Night Rogue emitts an icey mist from the Steam Blade, freezing the opponent.
Devil Steam (

デビルスチーム

Debiru Suchīmu

): Night Rogue sprays a stream of Nebula-Gas from his Steam Blade, transforming anybody who comes in contact with it into a Smash.
Night Rogue has 4 finishers:
Transtream Gun finishers:

Steam Break (

スチームブレイク

Suchīmu Bureiku

): Night Rogue channels the powers of a Faust Fullbottle and performs a powerful blast attack.
Steam Attack (

スチームアタック

Suchīmu Atakku

): Night Rogue channels the powers of a normal Fullbottle and performs a powerful blast attack.

Steam Rifle finishers:

Steam Shot (

スチームショット

Suchīmu Shotto

): Night Rogue channels the powers of a Faust Fullbottle and performs a powerful steam blast attack.
Steam Attack (

スチームアタック

Suchīmu Atakku

): Night Rogue channels the powers of a normal Fullbottle and performs a powerful steam blast attack.
Appearances: Build Episodes 1-7, Transformation Lessons: Night Rogue Chapter, Build 8-13, 15-16, 20, ROGUE

Kamen Rider Rogue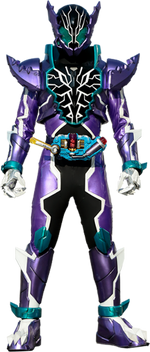 "Wareru! Kuwareru! Kudakechiru! (Heavy metal music with horror violins) Crocodile in Rogue! Oraa! (scream)"
―Transformation announcement
Rider Statistics
Height: 194.0 cm.
Weight: 110.8 kg.
Ability Perimeters:
Punching power: 32.7 t.
Kicking power: 37.5 t.
Maximum jump height: 57.2 m.
Maximum running speed: 100 m. per 2.3 sec.
This is Kamen Rider Rogue's base form, accessed by using the Crocodile Crack Fullbottle in the Sclash Driver.
He can wield the Nebula Steam Gun and Steam Blade as sidearms, or combine them into the Nebula Steam Rifle.
Rogue's stats rival even Build's Hazard Forms, leaving Cross-Z Charge and Grease in the dust. Although his gear still utilizes Variable Jelly (ヴァリアブルゼリー, Variaburu Zerī), the substance is only present inside of his purple Crocodilatan Armor (クロコダイラタンアーマー, Kurokodairatan Āmā).[3]
With the Steam Blade or the Nebula Steam Rifle, he can use the following attacks:
Elek Steam (

エレキスチーム

Ereki Suchīmu

): Rogue shoots electricity at the enemy.
Ice Steam (

アイススチーム

Aisu Suchīmu

): Rogue emitts an icey mist from the Steam Blade, freezing the opponent.
Devil Steam (

デビルスチーム

Debiru Suchīmu

): Rogue sprays a stream of Nebula-Gas from his Steam Blade/Nebula Steam Rifle, transforming anybody who comes in contact with it into a Smash.
Rogue has two different finishers:
Sclash Driver finisher:

Crack Up Finish (

クラックアップフィニッシュ

Kurakku Appu Finisshu

):

Rider Kick: Using the Cruncher Edges (

クランチャーエッジ

Kuranchā Ejji

) on his legs, Rogue generates an energy crocodile head Cruncher Fang (

クランチャーファング

Kuranchā Fangu

) to crush his target with before launching them away.[4] Alternatively, he can also perform a spinning kick attack by charging his leg with purple energy.
Rider Punch: By charging energies into the Death Roll Glove (

デスロールグローブ

Desu Rōru Gurōbu

), Rogue delivers a punch that is strong enough to kill a Hazard Smash.

Nebula Steam Gun finisher:

Funky Break (

ファンキーブレイク

Fankī Bureiku

): Rogue channels the power of the Crocodile Crack Fullbottle and performs a powerful blast attack.

Crocodile Crack: Rogue fires a Cruncher Fang projection towards his target.

Funky Attack (

ファンキーアタック

Fankī Atakku

) Rogue channels the powers of any other Fullbottle and performs a powerful blast attack.

Phoenix: Rogue transforms into a mass of fire that resembles an energy phoenix which gains him a temporary flight ability. They can also bring several passengers as well.

Nebula Steam Rifle finisher:

Funky Shot (

ファンキーショット

Fankī Shotto

): Rogue channels the power of the Crocodile Crack Fullbottle or any other Fullbottle and performs a powerful blast attack.

Crocodile Crack: Rogue fires a Cruncher Fang projection towards his target.
Equipment
Devices
Weapons
Steam Blade - Night Rogue's standard sidearm knife. Can combine with the Transteam Gun to form the Steam Rifle, or with the Nebula Steam Gun to form the Nebula Steam Rifle.
Nebula Steam Gun - Rogue's standard sidearm pistol. Can combine with the Steam Blade to form the Nebula Steam Rifle.
Behind the Scenes
Portrayal
Gentoku is portrayed by Kensei Mikami (水上 剣星, Mikami Kensei). As Night Rogue and Kamen Rider Rogue, his suit actor is Jun Watanabe (渡辺淳, Watanabe Jun), who played Secondary Riders since Kamen Rider Drive.
Etymology
Night Rogue's name is formed from the English words "Night" and "Rogue." The name as a whole seems to be a pun of the word "Nitro", possibly referencing Night Rogue's Steam Engine Motif.
His Rider name, Rogue, while borrowing part of his previous Form's name, is appropriate to his current status as a defector from Touto, as well as defining his behavior up to his introduction as a Rider.
Notes
As a slightly humorous nod to his "crack" motif, Kamen Rider Rogue has a fragile warning label pasted onto the back of his helmet.
Appearances
See Also
References