Ghost Imagin
Talk

0
5,191pages on
this wiki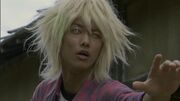 The 3rd Kamen Rider Den-O movie introduces Kamen Rider Yuuki (仮面ライダー幽汽, Kamen Raidā Yūki?), an evil Kamen Rider system of those who have control over the Ghost Train (幽霊列車, Yūrei Ressha?), a skull-faced steam-engine that transcends the world of the dead and the flow of time.
The Yuuki system's Kamen Rider Gaoh-like armor has an aged appearance, with rust and numerous scratches dotting its surface, keeping with the overall theme of death along with elements of the samurai and steam trains.
Ghost Imagin
Edit
The Ghost Imagin (ゴーストイマジン, Gōsuto Imajin) is one of Shiro's Imagin followers and possesses Ryotaro, having him assume Kamen Rider Yuuki Skull Form. While possessing Ryotaro, Ryotaro is referred to as "A-Ryotaro" (A良太郎, Anazā Ryōtarō), with the A standing for "Another". He later destroyed by Den-O Climax Form's Extreme Slash: Climax Version.
Skull Form
Edit
Rider height: 199cm
Rider weight: 107kg
Ability perimeters
Punching power: 7.5t
Kicking power: 9t
Maximum jump height: 40m
Maximum running speed: 100m/5s
Skull Form (スカルフォーム, Sukaru Fōmu?) is the form of Yuuki that is accessed when Ryotaro Nogami is possessed by the Ghost Imagin. In Skull Form, Yuuki's Full Charge is the Terminate Flash (ターミネイトフラッシュ, Tāmineito Furasshu?) using the sword of the Ghost Imagin. As the name and design implies, Skull Form's motif is the skeleton.
Behind the scenes
Edit
Portrayal
Edit
The Ghost Imagin is voiced by Hiroshi Kamiya (神谷 浩史, Kamiya Hiroshi?). As A-Ryotaro, while retaining his voice, he is portrayed by Takeru Satoh (佐藤 健, Satō Takeru?). In both his Imagin form and as Kamen Rider Yuuki, his suit actor is Kazutoshi Yokoyama (横山 一敏, Yokoyama Kazutoshi?).