"I desire to be complete."
This article is a stub, meaning it needs more info. You can improve this Kamen Rider Wiki article by expanding it.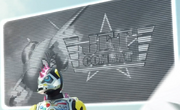 Jet Combat (ジェットコンバット, Jetto Konbatto) is a combat flight simulator video game created by Genm Corp. It also served as the basis for the Jet Combat Gashat.
Game Description
Jet Combat is a shoot'em up game where you control fighter planes.
History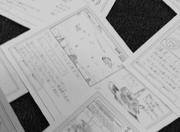 It was envisioned by Kuroto Dan by 2000. Engineered History! The Jet Combat Gashat was one of the four enhancement Gashats stolen by Graphite and used on a Collabos Bugster. It was later taken by Snipe allowing him to assume his Level 3 form. Men, Fly High!
It was stolen by Genm Level X after defeating Snipe The Truth Exposed, but fell back to Snipe's possession after Genm's death. To The Max, Dead or Alive!
Users
Bugster
Vernier Bugster is a Bugster born from the data of Jet Combat.
Jet Combat Gashat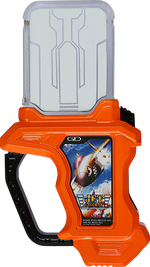 When activated, the Gashat reformats the battlefield into a Game Area. It doesn't seem to spawn any Energy Item containers, but instead summons the Combat Gamer.

Proto Jet Combat Gashat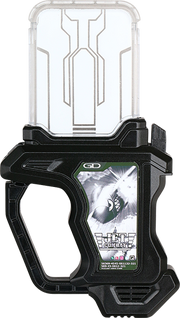 Like all Proto Gashats (save for Proto Mighty Action X), the Proto Jet Combat Gashat's color is black and the printed image is colored black and white.

Gashatrophy
This Gashatrophy (ガシャットロフィー , Gashattorofī) is the reward for defeating Vernier in Kamen Rider Chronicle. It was claimed by Ride-Player Nico Saiba. Strongest VS Strongest!

Notes
A character depicted on the front of the Gashat has a slight resemblance to the Bullet Bills from the Mario franchise.

Also, a fighter jet depicted on the front of the Gashat has shark-like teeth much like Andrei Markov's fighter jets from Ace Combat.

The theme of the Jet Combat Gashat is an upbeat remix of the Top Gun movie soundtrack song Danger Zone by Kenny Loggins.
The tune of Jet Combat's Level 3 announcement, particularly the first few notes, are reminiscent of the opening theme of Choujin Sentai Jetman.
So far, Jet Combat is the only game in Snipe's personal Levels which has no relation to being spinoffs of Bang Bang Shooting.
Appearances
References
Ad blocker interference detected!
Wikia is a free-to-use site that makes money from advertising. We have a modified experience for viewers using ad blockers

Wikia is not accessible if you've made further modifications. Remove the custom ad blocker rule(s) and the page will load as expected.