"I need to collect more data to complete my research."
This article is a stub, meaning it needs more info. You can improve this Kamen Rider Wiki article by expanding it.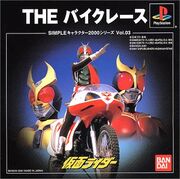 Kamen Rider: The Bike Race is a 2001 racing video game for the Playstation/PSX system made by Bandai Entertainment and the 3rd installment of their Simple 2000 game series.[1]
Uniting the majority of Kamen Rider protagonists up to Kamen Rider Agito, this game served as one of the commemorative projects for the 30th anniversary of the Kamen Rider Series.
Game Modes
Grand Prix
Player Vs Player: Players race each other around a track
Time Attack
Playable characters and Rider Machines
References
Ad blocker interference detected!
Wikia is a free-to-use site that makes money from advertising. We have a modified experience for viewers using ad blockers

Wikia is not accessible if you've made further modifications. Remove the custom ad blocker rule(s) and the page will load as expected.