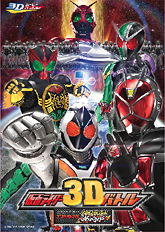 Kamen Rider 3D Battle from Ganbaride (仮面ライダー3DバトルFROMガンバライド, Kamen Raidā Surī Dī Batoru furomu Ganbaraido) as a short 3-D film shown at theme parks, featuring Kamen Riders Wizard, Fourze, OOO, and Double as well as Red Shadow Moon and his Shadow Moon Army.[1]
References
Ad blocker interference detected!
Wikia is a free-to-use site that makes money from advertising. We have a modified experience for viewers using ad blockers

Wikia is not accessible if you've made further modifications. Remove the custom ad blocker rule(s) and the page will load as expected.