A fighting game based on Kamen Rider Dragon Knight was released for the Nintendo DS and Wii platforms by D3 Publisher on November 17, 2009, despite the official trailer announcing a December 2009 release.
Nintendo DS version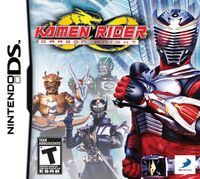 The Nintendo DS version was developed by Natsume. In this game, you use your Advent Cards to perform special attacks, depending on how much your Advent Gauge is filled up, with the Final Vent being used when all three bars are full. You can charge your Rider's Advent Gauge by touching and holding your Rider until all three bars are full. You are also able to select two more different cards before starting a battle.
The game's "Ventara Mode" is a series of missions where you fight Advent Beasts and other Kamen Riders, with a chance of unlocking them (as well as more Advent Cards) in a certain mission. Xaviax is the final boss and has a different ending for each of the playable Riders except for Wrath who fights Dragon Knight as the final boss due to Wrath being possessed by Xaviax as in the show. Xaviax himself becomes a playable character in "Duel Mode" once all 13 Riders are unlocked and the player has defeated every mission (including defeating Xaviax himself) available in the "Ventara Mode" for each Rider.
Despite being a fighting game, it only supports single player.
Wii version
See also: Kamen Rider: Climax Heroes
The Wii version was developed by Eighting and uses a modified engine based on Kamen Rider: Climax Heroes for the PlayStation 2, which was also developed by Eighting. It even uses the same stages and music. Dragon Knight and Onyx's character models were even recycled from Ryuki and Ryuga's character models. However, the gameplay was changed significantly. The Rider Gauge (now Advent Gauge) does not charge anymore. You can only fill it up by attacking your opponent without special attacks. Depending on how much your Advent Gauge is filled up, you can perform special attacks by using an Advent Card, with the Final Vent being used when your gauge is full. You can also select any Advent Card you want before you fight.
Unlike the DS version, you can only play as the 13 Riders. You unlock the rest of the Riders in Arcade Mode and "Mirror World" mode. Xaviax is only a non-playable boss in both Arcade and "Mirror World".
The game's "Mirror World" mode is a feature not in Climax Heroes and is also a series of missions where you not only fight Riders in one-on-one battles, but also defeat Advent Beasts in beat 'em up-like stages, which were not featured in the Climax Heroes series until Climax Heroes OOO for the PSP and Wii, with more stages and kaijins. As you progress, not only are you able to unlock other Riders, but you gain Rider Points to buy more Advent Cards in Card Mode.
Unlike the single player-only DS version, the Wii version supports up to two players.
Riders
Stages
Arena (Day)
Parking Garage
Forest
Church
Undergroud Base
Under Railroad Bridge
Beach (Day)
Ad blocker interference detected!
Wikia is a free-to-use site that makes money from advertising. We have a modified experience for viewers using ad blockers

Wikia is not accessible if you've made further modifications. Remove the custom ad blocker rule(s) and the page will load as expected.