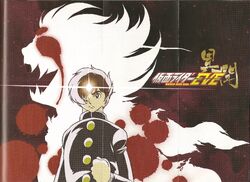 Kamen Rider Eve -Masked Rider Gaia- (仮面ライダーEVE-MASKED RIDER GAIA-) is a light novel written by Masato Hayase and illustrated by Naoyuki Konno that ran in Tokusatsu Ace starting in 2004. Part 1 is called the Birth Saga (誕生篇, Tanjō-hen) and part 2 is called the Grief Saga (哀哭篇, Aikoku-hen).
The series serves as a sequel to the original Kamen Rider manga. Rough plotting was done by Ishinomori some time before his death. The series was originally going to be published in place of Kamen Rider Spirits but was delayed due to unknown circumstances. The first six chapters were sold in one volume in 2007 by Kodansha.
Summary
30 years ago, before the original Kamen Riders were created, Jun Kadowaki was supposed to be used as the original Kamen Rider, but Shocker's plans changed after Hongo escaped. Before he could be awakened, the Double Riders destroyed the Shocker base and the sleep capsule that Kadowaki was in was buried underneath the rubble of the Shocker base for 30 years.
When he finally awakens in the present day, Kadowaki has no recollection of his life. The story follows his quest to regain his memory and figure out who turned him into a cyborg.
Characters
Kamen Riders
Allies
Villains
Shocker
Main article:Shocker
List of Volumes
| Image | Release Date | ISBN # |
| --- | --- | --- |
| | April 27th, 2007 | 978-4-06-364693-1 [1] |
| | July 15th, 2007 | 978-4-06-364694-8 |
References
Ad blocker interference detected!
Wikia is a free-to-use site that makes money from advertising. We have a modified experience for viewers using ad blockers

Wikia is not accessible if you've made further modifications. Remove the custom ad blocker rule(s) and the page will load as expected.