Kamen Rider Ex-Aid: True Ending (劇場版 仮面ライダーエグゼイド: トゥルーエンディング, Gekijō-ban Kamen Raidā Eguzeido: Tourū Endingu) is the Summer Movie for Kamen Rider Ex-Aid [1]. It was released in Japanese theaters on August 5th, 2017, double-billed with the film

for Uchu Sentai Kyuranger

. To promote the film, a special companion movie was made available exclusively for the PlayStation VR on July 14, 2017.[2][3] Blu-ray and DVD were released on January 10, 2018.
Continuity and Placement
Synopsis
An evil ninja Rider named Fuma appears from the virtual reality world in an effort to conquer Earth! It is up to the CR Riders to use the power of virtual reality gaming to save the day!
Plot
After defeating Masamune, Emu Hojo and the Doctor Riders venture into the VR Game World to deal with a new Game Disease outbreak hitting Tokyo. But they face a mysterious Rider called Kamen Rider Fuma and Masamune's old business partner who is using a stronger strain of the Bugster Virus sampled from Gamedeus.
Characters
And Introducing Build
Allies
Villains
Kamen Riders
Cast
Suit Actors
Gashat Used:

Ex-Aid
Brave
Snipe
Lazer (Turbo)
Genm
Para-DX
Poppy
Fuma
Ninja-Players

Level Used:

Ex-Aid
Brave
Snipe
Lazer (Turbo)
Genm
Para-DX
Poppy
Fuma
Energy Items Used:

Unused

Speeding-Up, Iron-Body, Instigate, High-Jump, Muscular, Recover, Invisible, Confusion
Bottle Used:

Organic: Rabbit, Gorilla
Inorganic: Tank, Diamond

Form Used:

RabbitTank Form, GorillaMond Form
Credits Song
Errors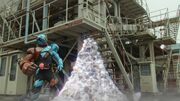 Before Emu uses Mighty Creator VRX, he is shown closing the Actuation Lever on his Gamer Driver and removing the Mighty Action X Gashat. However, when he inserts the Mighty Creator VRX Gashat, the Gamer Driver is already open and he has to close and pull open the lever again.
When Emu activates the Proto Mighty Action X Origin Gashat, it doesn't announce its name.
When Parado changes from Ex-Aid Level XX R to Para-DX Level 99, the Level 99 transformation announcement is not used.
Build holds the Gorilla Fullbottle in his right hand and the Diamond Fullbottle in his left hand when in the series it's the other way around.
When Build, in GorillaMond Form, activates the Vortex Finish, the diamonds are white instead of light blue.
The Build Driver announces "Best Match" despite the fact at this point it doesn't have the feature. Also, Gorilla Bottle is available while canonically Build doesn't have it yet.
Notes
Closing Screen:

Text Color: Pink
Same as the final episode of TV series, this film features two closing screens. The first text is "The Game Ends", the next reads "The Game Never Ends?".
Count at episode end

Gashats in Ex-Aid's possession: Mighty Action X, Gekitotsu Robots, Shakariki Sports, Bakusou Bike, Giri Giri Chambara, Mighty Brothers XX, Maximum Mighty X, Hyper Muteki, Proto Mighty Action X, Proto Taddle Quest, Proto Bang Bang Shooting, Proto Bakusou Bike, Proto Gekitotsu Robots, Proto DoReMiFa Beat, Proto Giri Giri Chambara, Proto Jet Combat, Proto Shakariki Sports, Proto Drago Knight Hunter Z
Gashats in Brave's possession: Taddle Quest, DoReMiFa Beat, Drago Knight Hunter Z, Gashat Gear Dual β, Taddle Legacy
Gashats in Snipe's possession: Bang Bang Shooting, Jet Combat, Gashat Gear Dual β
Gashats in Lazer Turbo's possession: Bakusou Bike
Gashats in Genm's possession: Proto Mighty Action X Origin, Dangerous Zombie
Gashats in Para-DX's possession: Gashat Gear Dual
Gashats in Poppy's possession: Toki Meki Crisis
Unknown owner: Ju Ju Burger, Doctor Mighty XX
Kuroto Dan's Life Points remaining: 1

This is the first Summer movie that is set after the events of its respective TV series, before its last episode was even aired. This is not counting the earlier Heisei Summer movies giving alternate endings or futures, which were not canon to their series.

This is also the second Kamen Rider movie to be the end of a season's story after Movie War 2010's Decade chapter, not counting various Den-O movies or other crossovers simply providing additional chapters.

Video Game References in the movie:

The term "true ending" is a reference to how most games should have ended according to the game scriptwriter's plot. The term typically only appears in games with multiple endings where other endings such as the "best ending", "good ending", "bad ending", or "worst ending" aren't the real ending.
The film is partnered with Sony, with special Gamer Driver colored PlayStation VR headsets being sold in Japanese stores. The use of the VR headsets are a major plot point of the movie for fighting Fuma's invasion.

Since 1998, Sony's PlayStation is also one of the primary game consoles that most modern Kamen Rider video games are published for.

This is, thus far, the only Ex-Aid movie without any Bandai Namco owned properties appearing (Heisei Generations had Pac-Man and Chou Super Hero Taisen had Xevious & Galaxian).
This is the first summer film since Wizard to not feature a "Dark Rider".
This marks the second time where the Maximum Gamer is shown using its flight capabilities (the first being the third episode of Kamen Sentai Gorider).
Kuroto's car number '96-10' is refers to the puzzle of his name in an web series episode.
References
External Links
Ad blocker interference detected!
Wikia is a free-to-use site that makes money from advertising. We have a modified experience for viewers using ad blockers

Wikia is not accessible if you've made further modifications. Remove the custom ad blocker rule(s) and the page will load as expected.