Kamen Rider Heisei Generations: Dr. Pac-Man vs. Ex-Aid & Ghost with Legend Rider
Talk

25
Share
| | |
| --- | --- |
| | WARNING: This movie contains scenes of blood and bloodshed. Viewer discretion is advised! |
Kamen Rider Heisei Generations: Dr. Pac-Man vs. Ex-Aid & Ghost with Legend Rider (仮面ライダー平成ジェネレーションズ Dr.パックマン対エグゼイド&ゴースト with レジェンドライダー, Kamen Raidā Heisei Jenerēshonzu: Dokutā Pakkuman tai Eguzeido ando Gōsuto wizu Rejendo Raidā) is the Movie War crossover between Kamen Rider Ex-Aid and Kamen Rider Ghost and the iconic video game character Pac-Man. The film was released in Japanese theaters on December 10th, 2016, and will be released on DVD/Blu-ray on May 10, 2017. [1]
Synopsis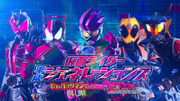 This battle game must be cleared! The Super Hero Year finally reaches its climax!!
A computer virus called "Pac-Man" invades Japan from cyberspace. It is up to the Kamen Riders to put a stop to the destruction it is causing by finding the source of it.

Plot
to be added
Continuity and Placement
Characters
Kamen Riders
Legend Riders
Allies
Ex-Aid
Ghost
Other
Villains
Others
Cast
Ex-Aid cast
Ghost cast
Returning cast
Guest Cast
Suit actors
Form Changes and Collectibles Used
Rider Gashat
Ghost Eyecons
Eyecon Used:

Ghost

Ore, Musashi, Edison, Toucon Boost, Eyecon Driver G, Mugen, Tenkatoitsu, Ex-Aid

Specter

Specter, Tutankhamun, Nobunaga, Deep Specter

Necrom

Damashii Used:
Ghosts summoned through Eyecon Driver G:
Shift Cars
Car Used:

Type Change - Shift Speed, Shift Wild, Shift Technic, Shift Dead Heat, Shift Formula, Shift Tridoron
Tire Exchange - Shift Max Flare, Shift Rumble Dump, Shift Road Winter

Type Used
Tire Blending used in Type Tridoron:
Lockseeds
Lock Used:

Orange, Pine, Ichigo, Banana, Lemon Energy, Kachidoki, Kiwami

Arms Changes
Weapons summoned in Kiwami Arms:
Wizard Rings
Ring Used:

Transformation - Flame, Water, Hurricane, Land, Flame Dragon, Infinity
Magic - Driver On, Copy (on the WizarSwordGun), Drago Timer

Style Used

Flame Style, Water Style, Hurricane Style, Land Style, Flame Dragon, All Dragon, Infinity Style
Theme song
Ending Theme
Insert Song
Errors
Notes
This marks the first time a non-tokusatsu licensed property of Bandai's has made a crossover with Kamen Rider. Bandai owns the rights to Pac-Man by having Namco, the creator of the original Pac-Man games, being part of its corporate structure due to a merger with the gaming company in 2006.
This is also the first actual video game character from a popular real world video game who will interact with the cast of Ex-Aid. Most of the games in Ex-Aid's series were mash-ups/expys of copyrighted games or contained elements of them. Most of the Genm Corp. games are fictional, non-existent games, except for Mighty Action X, but Mighty Action X was a fictional game before being made real.
Out of the 5 main Riders teaming up in this movie, Gaim is the only Rider whose actor had no involvement in this film, not even to provide a voice role. The film used recordings from Gaim related material instead.
This is the first Movie War since:
Concidentally, four of the Riders match up with the colors of the four ghosts from Pac-Man (Ex-Aid being pink, Gaim being blue, Ghost being orange and Drive being red).
Unlike the previous films, this is the first time to not feature a new Rider for the current series.
Drive's actor, Ryoma Takeuchi, is the fourth actor to appear in three consecutive Movie War films following Renn Kiriyama and Masaki Suda who appeared from Movie War 2010 to Movie War Mega Max, as well as Shu Watanabe appearing in Movie War Core to Movie War Ultimatum.

This also marks the third civilian appearance in a Movie War of Wizard's actor, Shunya Shiraishi, who absent for two years from the two previous Movie Wars after The Fateful Sengoku Movie Battle.
Coincidentally, the films that the actors made their third Movie War appearance were all directed by Koichi Sakamoto.
He is also the only Neo-Heisei Era rider who collabored and encoutered all his main rider counterpart in civilian clothes :

Despite appearing in this movie, Kuroto Dan does not transform into Kamen Rider Genm.
References
Ad blocker interference detected!
Wikia is a free-to-use site that makes money from advertising. We have a modified experience for viewers using ad blockers

Wikia is not accessible if you've made further modifications. Remove the custom ad blocker rule(s) and the page will load as expected.