Kamen Rider Wizard
Talk

1
5,211pages on
this wiki
Kamen Rider Wizard (仮面ライダーウィザード, Kamen Raidā Uizādo?) is a Japanese tokusatsu drama in Toei Company's Kamen Rider Series, being the fourteenth series in the Heisei period run and the twenty-third overall. Trademarks on the title were filed by Toei in June 21, 2012. It began airing on September 2, 2012, joining Tokumei Sentai Go-Busters and then Zyuden Sentai Kyoryuger in the Super Hero Time line-up following the finale of Kamen Rider Fourze. Tsuyoshi Kida is the series' main screenwriter.
Story
Narrative: The magic rings, the Wizard Rings. They shine on both hands of the modern mage as he changes despair into hope.
A mysterious ceremony held on the day of a solar eclipse released demons called Phantoms into the world. Haruto Souma, a survivor of the ritual, obtains mystical powers and receives the WizarDriver belt and Wizard Rings from a mysterious White Wizard, so he may protect the hopes of the people, as Kamen Rider Wizard. Later on, a man named Kosuke Nitoh appears as the "ancient wizard" Kamen Rider Beast to feed on the Phantom's magical power to survive and becomes both a rival and ally to Haruto.
Characters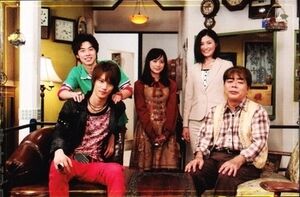 Riders
Allies
Inner Phantoms
Other
Villains
Phantoms
Main article: Phantoms
Chief Phantoms
Ghouls (henchmen)
Minor Phantoms
Unreleased Phantoms
Others
Episodes
Main article: Kamen Rider Wizard Episodes
Movies
Specials
Cast
Guest cast
Suit actors
References
External links