| | | |
| --- | --- | --- |
| | This article is about a/an movie in Kamen Rider, the original series. | |
Kamen Rider vs. Ambassador Hell (仮面ライダーVS地獄大使, Kamen Raidā tai Jigoku Taishi) is the third movie based on the original Kamen Rider series and the second to be a new story.
Synopsis
Takeshi Hongo and FBI agent Kazuya Taki fake their deaths when they are attacked by Shocker soldiers during a motocross race. They disguise themselves as Shocker soldiers and infiltrate the main headquarters, but it doesn't take too long for Ambassador Hell to find their whereabouts and trap them. Before he detonates a bomb within the base, Ambassador Hell tells Kamen Rider 1 and Taki that Shocker is preparing a giant laser capable of destroying cities. Our two heroes must escape from the base's self-destruction and stop Shocker from arming their latest weapon. Not only that, they must rescue Tachibana and the racing club, who have been abducted by Shocker's minions.
Plot
to be added
Characters
Kamen Riders
Allies
Villains
Revived Kaijin
Kamikirikid - He attempts to defeat Kamen Rider #1, but fails. Later, he fails to notice that Shocker's new weapon has been sabotaged, destroying Shocker's base. He attempts to fight Kamen Rider #1 afterwards, but is destroyed by Kamen Rider #1's Rider Kick.
Revived Kaijin
Cast
to be added
Errors
Notes
Digital Releases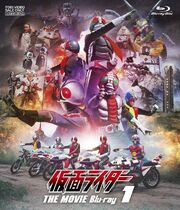 Kamen Rider vs. Ambassador Hell is included in Kamen Rider: The Movie Blu-ray Box 1972-1988, a blu-ray compilation boxset of Showa Rider movies.[2]

References
Ad blocker interference detected!
Wikia is a free-to-use site that makes money from advertising. We have a modified experience for viewers using ad blockers

Wikia is not accessible if you've made further modifications. Remove the custom ad blocker rule(s) and the page will load as expected.