Kazami-senpai! I'll Get Tako Gang!! (風見先輩!タコギャングはオレがやる!!, Kazami-senpai! Tako Gyangu wa Ore ga Yaru!!) is the thirty-fifth episode of Kamen Rider (Skyrider). It is the concluding part of a two-part arc which includes a team-up between Hiroshi Tsukuba (Skyrider) and Shiro Kazami (Kamen Rider V3), featuring the return of Hiroshi Miyauchi as the latter.
Synopsis
Hiroshi and Kazami rush to the rescue of the captured hostages to save them from Admiral Majin and the combined force of Madkong and Takogang.
Plot
to be added
Cast
to be added
Notes
DVD Release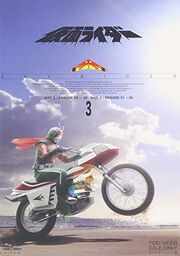 Skyrider Volume 3 features episodes 25-36.[1]

References
Ad blocker interference detected!
Wikia is a free-to-use site that makes money from advertising. We have a modified experience for viewers using ad blockers

Wikia is not accessible if you've made further modifications. Remove the custom ad blocker rule(s) and the page will load as expected.