Kouta Kazuraba
Talk

29
6,615pages on
this wiki
 

Armored Rider Gaim
(Kamen Rider Gaim)
Armored Rider Gaim Yami
(Kamen Rider Gaim Yami)
Byakko Inves (Dream only)
Kouta Kazuraba
Gender:
Male
Series:
Kamen Rider Gaim
Motif:
Fruit
Samurai
Shogun
Rider Type:
Protagonist
Hero
Villain (Brainwashed, as Gaim Yami)
Homeworld:
Earth (Main Timeline Continuity)
First Appearance:
The Kamen Rider Rings
Last Appearance:
TBA
Number of Episode
Appearances:
2 (Wizard)
47 (Gaim)
3 (Movie)
1 (TV special)
Full list of appearances
Actor:
Gaku Sano
Hayate Torii (child)
Armored Rider Gaim
(Kamen Rider Gaim)
Armored Rider Gaim Yami
(Kamen Rider Gaim Yami)
Byakko Inves (Dream only)
"This is my stage now!"
―Gaim's pre-battle quotes
"This power exists to protect those who can't fight!"
―Kouta's unwavering resolve to stop Demushu
"I don't care who's on my side. I still want to protect them, even if I have to be the one to change!"
―Kouta talks to Redyue
Kouta Kazuraba (葛葉 紘汰, Kazuraba Kōta?), also written as Kota Kazuraba in different publications, is one of the main characters and the main protagonist as well as the titular character of the Kamen Rider Series installment, Kamen Rider Gaim.
When he accidentally finds the Sengoku Driver, he accidentally converts the Fruits of Helheim into a pair of Lockseeds (Orange and Ichigo) and gains the ability to transform into Armored Rider Gaim (アーマードライダー鎧武 [ガイム], Āmādo Raidā Gaimu?), a name given to him by DJ Sagara due to his affiliation with Team Gaim (チーム鎧武, Chīmu Gaimu?). By doing so, he was labeled Test Subject 01 by Ryoma Sengoku.
Later helping out the fourteen previous Kamen Riders, he inherits the name of Kamen Rider, becoming Kamen Rider Gaim (仮面ライダー鎧武 [ガイム], Kamen Raidā Gaimu?, lit. "Armored Warrior"). However, it isn't until the Showa Rider vs Heisei Rider conflict does Kamen Rider 1 acknowledge him as a true Kamen Rider. For a short period, Kouta becomes Kouta-Yami (紘汰-闇, Kouta-Yami? lit. "Dark Kouta") after being corrupted by Kougane.
History
Beat Riders Saga
"Looking back on it, that was when the gears were just starting to turn. But, we didn't realize anything at all. We didn't know that our fates were already written in stone. We just wanted the power to reach our dreams. We thought that help shape us. That's what we all believed. In the endless war that was yet to come. We would discover that for ourselves."
―Kouta looking back on his actions and looking back at all of his friends and rivals
Kouta, a young adult, was called by Team Gaim's leader, Yuya Sumii, who wants to show him something that can help their team. However, Kouta is unable to find his old friend and is pulled into a mysterious forest with his former teammate, Mai. There, Kouta finds a mysterious belt and using it with a freshly ripened Lockseed to fight an Inves that targets him and Mai. Quickly, Kouta realizes that the Sengoku Driver is not a toy after his near-death experience with Zangetsu. Trying to find a means to put the belt to its best use, Kouta uses his newfound powers to battle Inves in the Inves Games, earning Kouta the name of "Armored Rider Gaim" as he becomes Team Gaim's official member in Yuya's stead.
Eventually, Kouta and Mitsuzane set up a new Inves Game that takes place within the Helheim Forest. During this event, Kouta and Mitsuzane manage to persuade the other Armored Rider teams to participate as a distraction (unknown to them) so that Kouta can investigate the humans present in the forest and the "White Armored Rider". From the games, Kouta learns that the Armored Riders are guinea pigs for the Yggdrasill Corporation and that the Sengoku Drivers feedback data to Yggdrasill. Learning that Sid has been using Kouta and the other Armored Riders, Kouta tells Sid that he isn't a rat in their maze. Kouta, along with Team Gaim later dance off during their Christmas event with Kouta reminiscing about being an adult and that one doesn't become one because they want to, but rather it just happens.
Kouta later appears in the World within the Magic Stone. Summoned by Haruto and assuming Orange Arms, Gaim helps Kamen Rider Wizard and Haruto against Amadum's minions. Later, he is summoned once more by Haruto, this time, joining forces with all his other titular predecessors and inheriting the name of Kamen Rider Gaim. After this event, the Beat Riders have a dance off in a stadium filled with tons of fans, competing against each other. However, the Nepenthes Monster attacks, causing Ryugen, Baron, and Gaim to follow it via a Crack into the Sengoku Period World. Kouta and Mitsuzane become Ieyasu's replacement Bujins. With the "death" of Mitsuzane, Kouta finds himself broken, resolving to never fight again. However, he is confronted by Mai and Haruto Soma that to fight also means to protect something you care about. Taking these words to heart, Kouta uses this as his newfound inspiration to fight. Freeing Mitsuzane from the Nepenthes Monster and Bujin Gaim, Kouta teams up with the other Armored Riders, Wizard, and Beast, destroying Bujin Gaim and the Nepenthes Monster. In the aftermath, the group returns to Zawame, leaving the Sengoku Period World, and Helheim Forest, resuming their tournament.
During the Hyper Battle Video, Kouta's Lockseeds become rusted. Going through a great effort to revitalize the Lockseeds with Kaito and Mai, his Orange Lockseed eventually becomes fresh. Kouta uses the Fresh Orange Arms against Ryugen Pine Arms - defeating him with a Fresh Orange Squash (Rider Kick). He also defeats Baron Kiwi Arms with a Fresh Orange Au Lait (Rider Slash) and even manages to gain the upper hand against Zangetsu Mango Arms, defeating the unrivaled White Armored Rider with a Fresh Orange Sparking (Rider Slash), shocking the latter and marks the first time Kouta defeats Takatora. In the aftermath, he reveals that his Pine Lockseed also turned fresh, despite that it was Kaito who finally has a fresh smile, a nod to the fact that Kaito's first Fruit Lockseed was Pine, not Banana.
Yggdrasill Saga & Helheim Saga
"What good is a future bought with the lives of that many innocent people? Don't be stupid! You can't bring hope in exchange for that kind of sacrifice! You'll just bring them despair instead!"
―Kouta clashes ideals with Takatora
Kouta finds himself along with his fellow Beat Riders as scapegoats for the rampant Inves attacks as they naturally find their way to Zawame City. Kouta is unable to save those who are injured by these Inves and struggles with killing a human-turned Inves and former rival, Ryoji Hase. Stripped of his Sengoku Driver alongside Kaito, he meets Ryoma Sengoku, the belt's creator. Later in Kouta's cell, Kouta receives the recognition and admiration of DJ Sagara and is granted the Lemon Energy Lockseed and Genesis Core. While combating Yggdrasill's efforts to take back the Prototype Sengoku Driver, Kouta helps restore the Beat Riders' name by assuming his newfound powers, Jimber Arms, and learns the truth of the Helheim Forest and what Yggdrasill has in store for Zawame City. As Kouta wins and steals the Cherry Energy and the Peach Energy Lockseeds, he finds himself clashing with Zangetsu Shin and has a struggle between ideals of what's best for humanity. However, Kouta is ultimately broken once he realizes that his ideals are a contradiction to his actions when he discovers that he gained the Sengoku Driver by killing a human-turned Inves, Yuya Sumii.
"I...I've been fighting because I couldn't live with what Yggdrasill was doing. But I did exactly the same thing. I claimed I was protecting people, but I had to sacrifice others to do it. Then what am I fighting for? Just to decide who would be saved and who would have to go? Can you call that protecting at all?"
―Kouta's conversation with DJ Sagara who reveals himself in Kouta's time of need
While he is still trying to figure out what to do with the revelation that he killed Yuya, Kouta's spirit is shattered along with the ideals borrowed from both Mai and Haruto. Entrusted by DJ Sagara, Kouta receives the Kachidoki Lockseed along with a new purpose, to destroy the iron rule of the world. Through his newfound purpose, Kouta annihilates an armada of Kurokage Troopers and is able to trade blows with Zangetsu Shin. He ultimately destroys the Scalar Weapons that threaten Zawame City.
Later he is forced to reveal what he has been hiding from Mai, thinking he no longer has the right to be near Team Gaim and his friends. However to his shock, Mai comforts Kouta, telling him that he doesn't need to keep the burden to himself and that she's there for him. Gaining a job at Drupers, Mai does his shifts for him as the two start to spend more time with each other. In one of these times spent together, the two find a robot by the name of Jiro. Kouta lets Jiro stay at his apartment showing Jiro that they need to protect people. However, Jiro is overwhelmed by two conflicting processes and wishes to protect those he cares about and wants to regain his lost memories. Kouta reboots Jiro, allowing Jiro to regain his lost memories and become Kikaider, and the two gang up against Hakaider (Ryoma). In the aftermath, Kouta bids his farewell to Jiro, the latter unable to recognize Kouta, which saddens him.
Kouta attempts to send Mai away with the ToQgers, but she is captured by the Badan Underground Empire. He successfully saves her. During the events of Kamen Rider Taisen, he joins Mai into an abandoned construction site and meet a boy named Shu, who has otherworldly powers. The boy is targeted by both Badan and the Showa Riders, causing Kouta to watch over the boy. Eventually he faces off against the boy's father, Ren Aoi, who uses the Fifteen Lockseed and Heisei Rider Lockseed to transform into Kamen Rider Fifteen. Kouta also joins forces with the remainder of the Heisei Riders against the Showa Riders. With just Gaim and ZX left as the only two riders, ZX obtains all the Rider Lockseeds and flings them at Gaim, causing Gaim to surge with power and summon the defeated Riders causing the Showa and Heisei Riders to team up against Badan. Kouta uses the 1 Arms from the Showa Rider Lockseed to defeat Fifteen. Despite defeating Badan, Kamen Rider 1 still believed that the hate between the Showa and Heisei Riders are real. The two sides commence battle once more, but the battle ends when 1 admit defeat after seeing Gaim protecting a lone flower in the battlefield. The Riders would call truce and the Showa Riders congratulate the young Riders.
An alternate ending to this film is known where Kouta admits defeat to Hongo, realizing that he's been holding back the entire fight and that Kouta does not want to fight against his Rider peers. He is then recognized by Kamen Rider 1 as a true Kamen Rider.
Over Lord Saga
"Right now, I need more power! Kaito...and the rest are still fighting. I can't just leave everything to them! Whether it's enough or not...can't be known. Right now...all I can do...is think about what I can do, right now!"
―Kouta's explanation to DJ Sagara while struggling to obtain Kiwami Lockseed
Aware of the Over Lord's existence, Kouta seeks out to find them, only to realize that they have become disillusioned after centuries of boredom. As the Over Lords view the human race as apes, Kouta struggles to gain their attention to stop the invasion of the forest. However, Kouta's journey to gain the Over Lord's support runs dry as he stops the fight between Demushu and Baron. Kouta teams up with Oren as the two aid Yggdrasill from Demushu's rampage, and Kouta's unwavering resolve allows Takatora to realize that the Over Lords are the key to saving humanity rather than culling humanity through Project Ark.
Through a long chain of events to encourage the Over Lords to stop their invasion of Helheim, Kouta is faced to battle Zangetsu Shin numerous times, who in reality is Mitsuzane masquerading as Takatora to destroy their newfound friendship and trust. When a battle breaks out in the Helheim Forest with Baron, Zangetsu Shin, Sigurd, and Over Lord Demushu. Demushu escapes into the city and starts to wreck Zawame. Kouta and Kaito enter the city to stop him, but the two are overpowered and Kouta is gravely injured in the ensuing battle through Marika and the Kurokage Trooper's interference. With the help of Kaito, Kouta makes his way back to Team Gaim's garage where he listens to Kaito's reasoning for wanting to be strong before Kouta collapses due to heavy injuries and exhaustion. Coming to his time of need is DJ Sagara, prepared to give Kouta the means to become stronger with the key-like Lockseed created from the Forbidden Fruit. However, even though he heals Kouta's wounds with his abilities, he still tests Kouta to see if he really wants the power. Kouta struggles to surpass Sagara's otherworldly abilities and obtains the new Lockseed, the Kiwami Lockseed, and thus joining Baron, Knuckle, Marika, Bravo and Gridon in fighting an Enchanted Form Demushu. Kouta transforms into Kiwami Arms in battling Demushu overpowering him with ease and destroys Demushu.
Forbidden Fruit Saga
With Zawame in tatters, the remaining Riders form a group that constantly patrols the outskirts of Zawame. Kouta comes to learn Yoko's allegience and realizes that he doesn't know what he will do after the Inves Invasion. He eventually fights Zangetsu Shin once more and helps destroy Dyudyuonshu and learns that Zangetsu Shin is an imposter. While trying to figure a way to save the remaining survivors of Zawame, he loses his sister as she gets captured with the remaining survivors. Kouta and Kaito defeat Grinsha after witnessing the powers granted by the Forbidden Fruit as Rosyuo redirects warhead missiles aimed at Zawame.
Kouta eventually learns that Mitsuzane envies his optimistic, naive nature and that he has fit him unworthy of being with Mai before promptly attacking him. When Takatora stops Mitsuzane, Kouta learns that the two are siblings and Takatora later explains to Kouta that if Kouta was his brother in place of him, Mitsuzane wouldn't have become the person he is now. Kouta later tries to stop the siblings from fighting, but is interrupted by the Grasshopper Monster, a being from the future as Kouta witnesses through a Crack: his own future and his Over Lord counterpart, Lapis. When Kouta arrives at the pier, he sees Takatora's Sengoku Driver destroyed alongside the Melon Lockseed. Returning back to the Garage, he faces off against Ryoma Sengoku and appears to be on equal footing with the Professor, indicating Kouta's strength compared to their last encounter.
In a short conversation with Mai and Kaito about what they plan on doing after the Inves Invasion is over, Kouta reveals that he doesn't know what's in store for his future. This hesitation along with the fact that he cannot accept Mitsuzane as the person he currently is now allows the latter to defeat Kouta and Kaito in their next encounter when Mai is kidnapped and Peko is brutally beaten. Though, Kouta and the rest of the Armored Riders break into the Yggdrasill Tower through a secret passageway, the remainder of the Armored Riders are left behind as decoys to allow Kouta to gain entry into the tower. Kouta and Ryoma are the last ones left and the two are able to defeat Shinmugurun. The two rush to the site where the kidnapped citizens' life energy are being drained. Kouta and Ryomaencounters Redyue, but Ryoma abandons Kouta when the latter is thrown in a hallucination where Yuya's role as an Inves and Kouta's role as a Rider are reversed. In this hallucination, it reveals that the world will reject Kouta and his newfound power because he's no longer "human".  Kouta, however, reveals to Redyue that he will fight, even if he's alone, for the future that he desires. Breaking through the hallucination, Kouta unintentionally generates Helheim flora around him, now finding his resolve and clearing his doubts. Once meeting up with Kaito, the two face off against Rosyuo, who tests their abilities and their resolve. Though, Kouta is able to prove his resolve to Rosyuo, his Kachidoki Lockseed is destroyed. Rosyuo is then backstabbed by Redyue and is brutally murdered by her when she discovers that he no longer bears the second Golden Fruit. Kouta, in a fit of rage of witnessing Rosyuo's death, rejuvenates the Kachidoki Lockseed and transforms into Kiwami Arms, utilizing the power to control Helheim's flora against Redyue and kills her with an Orange Charge with the DJ Gun. Kouta later fights off against Mitsuzane, unable to injure Mitsuzane due to their past friendship. Kouta resolves to not fight against his former friend and gets himself impaled while breaking the Yomotsuheguri Lockseed. Kouta forgives Mitsuzane once more before collapsing, supposedly dying from his wounds. He then dreamed of becoming the Man of the Beginning with Mai as the Woman of the Beginning.
Set in the future of the main timeline, Kouta fights off a bunch of Inves and notices Lapis (his equivalent Over Lord Counterpart much like Demushu is similar to Kaito, Redyue is similar to Mitsuzane, and Rosyuo is similar to Takatora) and a soccer ball. The latter asks what the ball is and learns of soccer, a fun competitive way that doesn't result in unnecessary bloodshed and creates a new world where the Beat Riders participate in Soccer rather than Dancing. This world is free from the Inves Invasion and Kouta is dragged into playing soccer. When all the Riders start to go berserk, Kouta encounters Kougane who is masquerading as Kouta's deceased ally, Yuya Sumii. Kouta is defeated by Kougane, who is bit by a grasshopper of hatred. Unlike other Armored Riders who dissolve and die, Kouta is brainwashed into Kouta-Yami as he struggles to fight his inner darkness. When Ryugen, Marika, and Baron finds Kouta-Yami, he transforms into Gaim Yami, defeating Ryugen, Baron, and Marika. However, Lapis enters his consciousness, revealing to him his reasoning for creating this new world and that he is very similar to Kouta in the sense that he was against the Femushinmu from wiping each other out. Kouta realizes that the Over Lords and the Humans aren't that different after all. Kouta breaks free of his brainwashing and transforms into Kachidoki Arms to fight Mars. Lapis uses his bracelet to create a horse for Gaim as he transforms into Kiwami Arms. Shooting Mars' horse, it revives most of the deceased Riders. Lapis himself receives a Sengoku Driver from DJ Sagara and transforms into Kamen Rider Kamuro, creating the team of: Kurokage, Gridon, Bravo, Marika, Baron, Gaim, Kamuro, Ryugen, Zangetsu Shin, Knuckle, and Kurokage Shin. Together, they defeat Mars, but Lapis is nowhere to be found and Kouta is back in the same location where he first met Lapis. In the Helheim Forest, Lapis' bracelet, his Silver Arms Weapon, and a soccer ball are seen on the ground.
Video Game appearances
to be added
Gaim appears with the rest of the Primary and Secondary Neo Heisei Riders.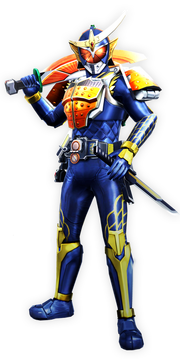 Gaim appears in the game with his Standard Arms, Jimber (Lemon) Arms, and Kachidoki Arms. Kiwami Arms has been released as a separate DLC character. Gaku Sano voices all variations of his character in the game.
Personality
Kouta is a cheerful person who concerns himself with helping and protecting everyone and due to this, "protecting people" is his very reason in fighting when it comes to his duty as a Armored Rider. This is shown when he rescues the Yggdrasill Corporation scientists from a horde of Elementary Inves despite holding a grudge against them for using the Beat Riders dance crews and their Inves Games as tests and lab rats (this also includes the Armored Riders).
Still learning to live as an adult, his world view is very limited and as such, he is very naïve and can be oblivious to consequences and the price that comes with having great power. He does not have any interest in battling other Riders, or anyone if he can avoid it for the matter and decides that he and other Riders should use their powers to save humanity.
Initially due to his inexperience and naiveté, he foolishly and recklessly used the power of Gaim for his own personal gain such as using it for his part-time jobs (and failed spectacularly to boot) and battling at the Inves Games. As such back then, he regarded himself as nothing more than being lucky to have found the Sengoku Driver and saw the whole thing as little more than a game. But after a short encounter with Zangetsu, Kouta felt stressed and traumatized but recovered and realized the price that comes with such power.
However, during the course of the series, Kouta undergoes numerous changes, becoming a lot more assertive and serious when it comes to innocent lives being taken. Although his naiveté has yet to change, he views himself more than what he was before. Because of this confidence in him, he resolves to become stronger and stronger. When he clashes ideals against Takatora during their second encounter, his resolve and beliefs overpower Takatora. However, Kouta undergoes a breakdown after realizing Yuya died by his hands, destroying his beliefs along with him.
Even after recovering from this breakdown, Kouta's naïve concerns of protecting others allows him to become a wild card in DJ Sagara's plans as he knows that Kouta's act can be almost unpredictable and Kouta himself has no ulterior motive compared to his fellow Armored Riders and New Generation Riders. Despite this unwavering resolve, Yoko asks Kouta what will become of him after he protects everyone to which he has no real way of responding to that.
Despite Kouta wanting to protect people and stop unnecessary bloodshed, Kouta himself isn't without his dark moments. After defeating Sid in a fit of rage realizing that Yggdrasill intends to destroy Zawame City if they ever found out about the Helheim Forest, he intended to take Sid out after his transformation was canceled if it were not for Ryugen summoning an Inves to save Sid. However, since the realization of Yuya's death, Kouta resolves not to kill and not to have unnecessary bloodshed. This is most evident when he had multiple opportunities to kill Sid when trying to find the Over Lords along with the opportunity to kill Yoko Minato after he canceled out her transformation when he was in Kachidoki Arms. In both scenarios, he showed restraint and moved on to more important matters at hand. Along this fact, he tried to cancel the fight between Demushu and Baron and later the fight between Zangetsu Shin (Mitsuzane) and Lemon Energy Arms Baron (Kaito).
During battle, he would announce, "This is my stage now!" (ここからは俺のステージだ!, Koko kara wa ore no sutēji da!?)
Powers and Abilities
Imagination
Being one of the few adults possessing imagination, he can see the Ressha of the ToQgers.
Over Lord Powers
Being affected by the Forbidden Fruit's powers, Kouta gains some of the Over Lords' abilities:

He has shown the ability to turn an empty lot into a field of Helheim plants.
He can freely control Helheim flora, and even override other Over Lords' manipulation over the flora.
He can turn a broken Lockseed back into its fruit form, before restoring its intact state.
Arms
Like his fellow Lockseed-using Armored Riders, Kamen Rider Gaim's forms are called Arms (アームズ, Āmuzu?). With the exception of Suika Arms, all of his Japanese Samurai, Ninja, and Shogun-themed Arms' helmets share the title Kabuto (カブト, Kabuto? lit. "Helmet"), while his visors are called Pulp Eye (パルプアイ, Parupu Ai?).
This form is briefly seen during Gaim Yami's transformation sequence, before the armor attaches or when he changes Arms. However, this form is completely vulnerable to any incoming attacks when shot at directly in the suit, rather than at the Arms that is descending down on the Rider.

Black Jimber Lemon Arms
"Soiya! Mix! Jimber Lemon! Ha-Ha! "
―Transformation announcement
Black Jimber Lemon Arms (ブラックジンバーアレモンアームズ, Burakku Jinbā Remon Āmuzu?), more notoriously known as the Black Jimber Arms, is Gaim Yami's default orange/lemon-based armored samurai form. Accessed through the simultaneous use of the Dark Orange Lockseed and Dark Lemon Energy Lockseed.
Similar to Jimber Lemon Arms, the enhanced skill of this Jimber Arms is strength, allowing Gaim Yami to receive an extra boost in power. Because of this, it is best suited for close combat. However, unlike the normal Jimber Arms, Gaim Yami does not use the Sonic Arrow in this form, having the Musou Saber as his only weapon instead. He does however use the Sonic Arrow in Kamen Rider Battle: Ganbarizing.
It only appears in Kamen Rider Gaim: The Great Soccer Match! The Golden Fruit Cup!.

Equipment
Devices
Sengoku Driver - Transformation device
Lockseeds - Gives access to Gaim's Arms changes, depending on which lock is used
Weapons
Musou Saber - Gaim's side weapon in every single one of his forms
Arms Weapons - Weapons that come with the Arms, besides the Musou Saber:

Gaim:
Gaim Yami:

Musou Saber - Gaim Yami Black Jimber Arms' personal weapon
Vehicles
List of Appearances
Behind the Scenes
Portrayal
Kouta Kazuraba is portrayed by Gaku Sano (佐野 岳, Sano Gaku?), 2011 Junon Super Boy Contest Grand Prix winner. Sano said that he grew up wishing he could be the character from Kamen Rider Kuuga, and now that he will portray Kamen Rider Gaim which he hopes that he will inspire a new generation of boys.[11][12]
As Kamen Rider Gaim, his suit actor is Seiji Takaiwa (高岩 成二, Takaiwa Seiji?), who has been the suit actor for the majority of leading Heisei Kamen Riders (except Kuuga and Hibiki).[13]
Rider No.
As the leading Rider protagonist of Kamen Rider Gaim, Kouta Kazuraba (Kamen Rider Gaim) is labeled Kamen Rider #30 (仮面ライダー30号, Kamen Raidā Sanjūgō?) and Heisei Rider #15 (平成ライダー15号, Heisei Raidā Jūgogō?). Quiz! Decade Countdown!!
Notes
Kouta is the first Primary Rider since Tsukasa Kadoya who does not make his debut as a cameo appearance in the Summer Movie of his predecessor, instead debuting in the final episodes of that series.
Kouta's name in publications is both Kota and Kouta. As of recent publications, his name is now written as Kouta, while in earlier publications, he was written as Kota.
It is somewhat amusing how Kazuraba has a set of Lockseed Arms associated with the strawberry, with the fruit's name in Japanese being "Ichigo".

"Ichigo" can be read as "Number 1" when the "go" kana is given an elongation, the name of the very first Kamen Rider, Takeshi Hongo.

Gaim would face off against Kamen Rider 1 in Heisei Rider vs. Showa Rider: Kamen Rider Taisen feat. Super Sentai, and also using the Showa Rider Lockseed to assume an Arms based on him. Thus, Gaim has two Ichigo Arms; "Strawberry Arms" and "1 Arms". Coincidentally, Gaim also assumes the Strawberry Ichigo Arms during the movie.
Splitting the two words "Ichi" and "Go" lead to the numbers "1" and "5", as in 15; Kazuraba is the main Rider of the 15th Kamen Rider Heisei Series since the revival with Kamen Rider Kuuga.

As the fifteenth leading Heisei Rider, the Heisei era now equals the Showa era in main Riders, as Kamen Rider J is officially considered the 15th Showa-Era Kamen Rider. Thus, Gaim is also the 30th main Rider overall.
Suika Arms can be a homage to Psyco Gundam and Destroy Gundam, as it has finger vulcans, alternative modes like Odama Mode and Gyro Mode which representively resemble both Psyco Gundam and Destroy Gundam's Mobile Armor Mode. Also due to its large size, it leaves fans debating whether or not Suika Arms is a form or a support unit in a similar fashion of how Psyco Gundam and Destroy Gundam are debated if they're Mobile Suits or Mobile Armor. While Suika Arms resembles several Gundams, it's single red optic is more reminiscent of Zeon mobile suits.

In a similar vein, Kachidoki Arms' design resembles a lot like Sengoku Astray Gundam, as they have a similar head and shoulder armor design.

Gaim's Sengoku Jidai motif mirrors Utsusemimaru (Kyoryu Gold), the Samurai Sixth Ranger who was actually born and raised during the Warring States Period in Zyuden Sentai Kyoryuger, Gaim's first Super Hero Time partner.
Ichigo Arms' design is similar to that of a ninja, making it the first explicit ninja Rider motif since Kamen Rider ZX.
The back of Kouta's Team Gaim jacket has a picture which consists of a samurai that resembles Kamen Rider Gaim's Orange Arms. Considering the half moon crest and one missing eye, the samurai can be proved to be famed warrior and tactition Date Masamune.
His suit design is similar to Kotaro Nogami/Kamen Rider New Den-O.

Gaim's transformation, along with the other Riders' transformations, is similar to the Kamen Rider Den-O series' Riders in that his basic form is briefly glimpsed before the armor forms.

Kouta's first transformation occurs without him saying "Henshin" first, similar to Yusuke Godai when he willingly transformed into Kuuga Growing Form for the first time.
Kouta is the first Neo-Heisei Kamen Rider to reveal his transformation to someone close to him; in this case, his sister.
Kouta's birthday is revealed to be January 30. Like Kaito, he is 20 years old. With a text message placing the first episode as having taken place on its airdate, October 6th 2013, Kouta's birth year would be 1993.

In real life, Kouta's actor, Gaku Sano was born on April 3rd, 1992.

Kouta using the Wizard Lockseed could be a reference to how both Riders' side weapons can be used either as a firearm or for melee combat.
Kouta receiving the Lemon Energy Lockseed first instead of the other three available Lockseeds could be a reference to the popular quote by Cave Johnson in Portal 2 to which he states "When life gives you lemons, don't make lemonade. Make life take the lemons back! Get mad!" as Kouta challenges the hierarchy of the Yggdrasill Corporation, refusing to give in to Corporation's plans such as Project Ark and the Scalar System.

It is also possible that Kouta just happens to receive the Energy Lockseeds in the order of their codes, with the Lemon Energy Lockseed being ELS-01 and so on.

Gaim's Jimber Arms serve the same purpose as Kamen Rider Kuuga's Rising Forms and Kamen Rider Wizard's Dragon Styles, as upgrades for the base form. Also, each of the Jimber Arms' abilities and finishers share a visual similarity to a past Rider:
The evolution of Gaim's Super Form (Kachidoki Arms) to Final Form (Kiwami Arms) is similar to Kamen Rider Agito who assumed his Super Form (Burning Form) before evolving it into his Final Form (Shining Form).

His transformation from Kachidoki Arms to Kiwami Arms also resembles other past heroes:

Gaim's Kiwami Arms shares a few notable traits with some past lead Rider's Final Forms:

Its ability to use every Arms Weapon is similar to Kamen Rider Kuuga's Ultimate Form, although the difference is that Ultimate Form's ability to do so has never been done on-screen.
The fact that it wears a cape is similar to Kamen Rider Kiva's Emperor Form, though Kiva's cape is split in two and is much shorter in length.

A translation of Kiwami Arms (

極(キワミ)アームズ

?

lit. "Extreme Arms") shows that both Gaim and Double's Final Forms closely share the same name but with a few differences. The name of Double's final form is "CycloneJokerXtreme" in which the word "Xtreme" is spelled differently from the actual spelling, whereas the name of Gaim's Final Form is kept in Japanese followed by the English word "Arms" for Lockseeds.

The Kiwami Lockseed is also labeled 'LS-', the symbol for infinity, which was the name of the Final Form of Gaim's predecessor, Wizard. Kiwami Arms also shares Infinity Style's dominant shining light silver color scheme, its ability to utilize all the fruits mirrors Infinity Style's power of all four elements as well.

Gaim's Kachidoki Arms' battle catchphrase "Iza Shutsujin!" is similar to the battle catchphrase "Iza Mairu!" from Samurai Sentai Shinkenger, as both catchphrases are references to battle cries used by the ancient Feudal samurai to lead their armies to the battlefield.
The appearance of Kiwami Arms was inspired by the armor of Oda Nobunaga.

In Movie War Core, Nobunaga, the Cell-Based Homonculus based on Oda Nobunaga, shares similarities in appearance to Kiwami Arms as the Armored Warrior Inhumanoid. As Armored Warrior Inhumanoid, his name is also similar to the Armored Riders, and as Nobunaga, he was even a Kamen Rider himself at one point. As both Rider and Kaijin, Nobunaga predates the Armored Riders in terms of the Sengoku theme that would later be used in Kamen Rider Gaim.

Black Jimber Arms are similar to previous dark Kamen Riders: specifically, Kamen Riders Ryuga and Dark Kabuto, blacked out versions of the main Rider.
Kouta is the first primary Rider to be his own evil Rider counterpart.
Kouta has the Lockseeds required to transform into Black Jimber Arms. It can be assumed he is able to assume Black Orange Arms too.

It can also be assumed that any of the New Generation Riders can use the Dark Lemon Energy lockseed to assume Black Lemon Energy Arms.

Gaim Yami is Japanese for "Dark Gaim".
Kouta is the first Neo-Heisei Kamen Rider whose Final Form does not have its own exclusive weapon. Even though Kiwami Arms can use all of the Arms Weapons, it does not possess its own personal Arms Weapon.
Out of all the Armored Riders, Gaim has used the most Lock Vehicles, with 3.
Kouta summoning the Arms Weapons and using them as projectiles is very reminiscent of Gilgamesh's Gates of Babylon from the Fate series.
Legend Rider Lockseeds
The following Legend Rider Lockseeds are styled for Gaim, as well as Kurokage, Bujin Gaim, and Kamuro:

1 - "Waza no Ichigō, Let's go!"
2 - "Chikara no Nigō, Let's go!"
Riderman - "Kagakusha Met On!"
ZX - "Jūgō Cyborg Ninja!
Black - "Seiki Oh Black Sun!"
Shin - "Kaizou Heishi Level 3!"
J - "Shingeki Jumbo Formation!"
Shocker - "Jigoku no Gundan on Parade! Eeeee!"
Kabuto - "Ten no Michi My Way!"
Den-O - "Iza Climax!"
Decade - "Hakaisha on the Road!"
Skull - "Otoko-michi Hardboiled!"
Wizard - "Shabadoobi Showtime!"
Gaim - "Fruit Yoroi Musha on Parade!"
References