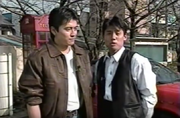 Kou Domon (土門 廣, Domon Kō), or Tsutomu Sano (佐野 茂, Sano Tsutomu) played Masaru Aso, the titular rider of the stand-alone movie, Kamen Rider ZO (1993). He gave an interview in the promotional TV special Fight! Our Kamen Rider!- The Strongest Rider, ZO is Born!.
He reprised his role only in voice the year after in the short 3-D film, Kamen Rider World, which served as a crossover with Kamen Rider J.
Despite ZO going on to make later minor appearances, including in recent crossover movies, Kou Domon has yet to reprise his role again.
External links