List of references to Kamen Rider in popular culture
Talk

0
5,179pages on
this wiki
As a popular metaseries, the Kamen Rider Series has had several parodies and references in pop culture, especially their poses.
Video Games
Edit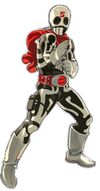 May Lee from King of Fighters, specifically her Hero Mode pays homage to the early Kamen Riders.

Characters in Viewtiful Joe have been influenced by both comic book superheroes and tokusatsu characters, including Kamen Rider.
Not only this game have been influenced by both superheroes and tokusatsu characters, the enemies "Goon" in this game are the Shocker Combatmen from Kamen Rider. They are the weakest enemies in the game and they are used as a substitute for a boss that has been defeated, using similar equipment from that boss.
Anime/Manga
Edit
Tokyo Pig had an episode that featured a character that resembled a Kamen Rider that was brought to life through the main character's diary.
In a chapter of Nura: Rise of the Yokai Clan, there was a man who wore a mask that was very similar to Kamen Rider Double's who called himself "Nurae Rider".
An episode of Pokemon Best Wishes featured an episode where characters played the role of a super hero and super villain in a manner very similar to Kamen Rider. There are also 2 pokemon that take inspiration from Kamen Rider, Pawniard and it's evolved form Bisharp.
The Powerpuff Girls have belts that are used to accesses their powers similar to those of Kamen Riders.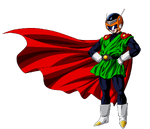 A chapter in The Arrival of the Yellow Dragon features one of the protagonists' Kimidori is seen doing a pose and wearing a belt and scarf similar to Kamen Rider #1.
The comedy anime Sgt. Frog (ケロロ軍曹, Keroro Gunsō?) features several episodes that make reference to some of the more notable Kamen Rider Series including: Kamen Rider Kabuto, Den-O, and W.
The spin-off magazine Keroro Land also features a character based on the early Kamen Riders named Foruru.
Part A of episode 169 of Sgt. Frog was titled "Urere: King of the Trains" and featured the Keroro Platoon piloting various frog-themed bullet trains similar to the control of the DenLiner. The episode featured phrases such as "Here I come!" (

僕、参上!

Boku, sanjō!

?

), "I am from the start, at the climax" (

僕は最初からクライマックスだよ

Boku wa saisho kara kuraimakkusu dayo

?

), and "My finishing attack…" (

(僕の必殺技…

Boku no hissatsu waza…

?

) spoken by Urere (Urere replaced Momotaros's boastful "Ore" (

俺

?

) with the more humble "Boku" (

僕

?

)). Urere is also voiced by Toshihiko Seki, who also provides the voice of Momotaros in Den-O. The phrase "It's good! It's great! It's awesome!" (

いーじゃん!いーじゃん!スゲーじゃん?!

Ī jan! Ī jan! Sugē jan?!

?

) is spoken by Giroro, as these are the lyrics of "Climax Jump", the opening theme song of Den-O. Keroro also re-enacts the opening sequence of Den-O on his "KeroLiner" (

ケロライナー

Kerorainā

?

).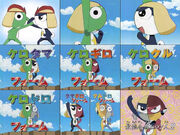 Episode 295-A of Sgt. Frog titled "Keroro, The Two of Us are One Kerororm" features the members of the Keroro Platoon finding an artifact that allows two of them to combine into a single Keroro, each with new powers. The episode title is based on Kamen Rider W's catchphrase and the resultant transformation resembles that of Kamen Rider Double (the characters appear to be split down the middle, with one side being, for example, Keroro and the other Tamama).
Episode 327-B of Sgt. Frog titled "Keroro, Invasion in a Blink!" features the members of the Keroro Platoon trying to invade Earth in Clock-Up mode.
Episode 16
of
Hayate the Combat Butler
(

ハヤテのごとく!

Hayate no Gotoku!

?

)
featured "guest" appearances of the
DenGasher
Sword
,
Rod
, and
Ax
Modes as well as cameo appearances of the
Owner
,
Momotaros
, and
Hana
on a train very similar to the
DenLiner Gouka
.
In episode 65 of Gintama, Sougo Okita uses Ryutaros' catchphrase "Mind if I beat you? I can't hear your answer!" (

倒してもいい?答えは聞いてないけど!

Taoshite mo ii? Kotae wa kiitenai kedo!

?

) and his eyes flash purple while battling Kagura. Episode 89 of Gintama also features this visual gag. Kenichi Suzumura, who voices Ryutaros in Den-O, voices Okita in Gintama.
One-Punch Man
Edit
A superhero character named "Mumen Rider" wears a costume that parodies Kamen Rider 1 &2.
Live-action TV
Edit
There has also been a few shout-outs to the Kamen Rider Series in its sister tokusatsu franchise, depsite the fact that the two series have only officially crossed-over on several occasions, most recently in Super Hero Taisen.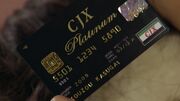 Voicelugger (ボイスラッガー, Boisuraggā?) is a Japanese tokusatsu that aired from January 12 to March 30, 1999. It was the last production by Shotaro Ishinomori, released posthumously, who intended for the series to be serious, while it was originally written to be a parody of older tokusatsu programs. Protagonist Akiko Homura/Voicelugger Ruby is a fan of tokusatsu series of the 1970s, particularly Kamen Rider.