| | | |
| --- | --- | --- |
| | This article is about a/an set of transformational implements in Kamen Rider Gaim. | |
Lockseeds (ロックシード, Rokkushīdo) are mysterious devices that are the source of the Armored Riders' powers. They all have powers associated with fruits, seeds, berries, and nuts. Lockseeds were originally fruits that grow on trees in the Helheim Forest.
The Inves love Lockseeds and Helheim's fruits, regarding them as their favorite food. However, if an Inves consumes a Lockseed, it assumes its Advanced State, and if it consumes yet another Lockseed, then that Inves will evolve into its Strengthened Form.
In Inves Games, people use Lockseeds to summon Inves to do battle. When a person wearing a Sengoku/Genesis Driver picks a Helheim fruit, they will quickly convert into Lockseeds. When an Inves Game starts, the Lockseeds say "Battle, Start!". After an Inves Game, these Lockseeds say "You Win" or "You Lose" depending on the result of the battle. After a victory, the toy Lockseed says "Rank Up!", which was not used in the show.
In the Hyper Battle DVD, the Riders' Lockseeds become rusted, preventing transformations and Inves summoning, however there are ways to to restore them, according to the Woman of the Beginning.
If an Armored Rider summons an Inves in a battle, then they will be fully materialized in the real world, however if a New Generation Rider summons an Inves, one Lockseed can call in three at a time. If one manages to jailbreak a Lockseed (though Sid had to show how to do so), they can summon fully materialized Inves as well without being an Armored Rider, although there is a chance for the Lockseed to malfunction.
Inves
The Inves love Helheim fruits, regarding them as their favorite food. Even after a fruit's conversion into a Lockseed, they are still able to devour them, swallowing them whole and gaining the full power contained within.
Helheim's Fruits
Main article: Helheim's Fruits
The fruit of Helheim
(

ヘルヘイムの果実

Heruheimu no Kajitsu

)
, are the original forms of Lockseeds that grow in the
Helheim Forest
. They normally look like fruit, however if anyone wearing a
Sengoku Driver
 picks them they will turn into Lockseeds. The Inves love both types, regarding them as their favorite and only food, and will attempt to protect them if they are picked.
People who don't wear a Driver when entering Helheim or/and nearby the place where the Helheim crack portal was opened out of nowhere also seem to be tempted to eat the fruits, and it takes either outside help or a high level of mental endurance to make sure they don't eat it.
When a living being does eat a Helheim fruit, be it human or an animal, it quickly rewrites the creature's DNA and minds, as they will turn into an Inves, and in human cases like Ryoji Hase, into an Inves in a Berserker State, where the Yggdrasill higher-ups then calls them "Category H" Inves; Inves that were formerly human:
However, it can be used as an alternative food source if a person holding a Lockseed inserts it in a Sengoku Driver without transforming, allowing the wearer to gain nourishment from Lockseeds without the risk of mutation.
Other kinds of kaijin like a non-humanoid type, like Beast Chimera, can survive eating the fruit without any side effects, while an intelligent, humanoid kaijin type like Overlord Demushu has an effect of entering their evolved states.
Classes
Lockseeds are given ranks, from D to A, but it is unknown if either the number of the Lockseed, the chance of rarity of such a Lockseed being found, or a combination of the two makes the Lockseed's ranking.
A-Class Lockseeds are normally unbreakable (though they can be devoured by an Inves or destroyed by powerful attacks). Given their powerful nature, they are useful for both transformation as an Armored Rider or to summon a high-class Inves. One drawback is that the summoned Inves is in its Advanced State, and if said Inves consumes a Lockseed that summoned it or an entirely different Lockseed, it will evolve into a second form of itself called an Strengthened State (強化体, Kyōka-tai).
Beyond the normal variety of Lockseeds, there exists another brand of Lockseed in the form of Lock Vehicle Lockseeds (ロックビークルロックシード, Rokku Bīkuru Rokkushīdo). They are indicated by their rougher design and their theme being based on flowers. Once unlocked, the Lock Vehicles will unfold from their Lockseed Modes into their Vehicle Modes, and have the capacity to breach into the Helheim Forest by forming a crack(either at a certain speed or with a beam). Due to these Lockseeds being made mainly as a mode of transportation, Lock Vehicle Lockseeds do not have a Lockseed ranking. They are quite rare to appear naturally, as Yggdrasill's mass picking for R&D might have made a hit to the appearance of Lock Vehicle Lockseeds.
Yggdrasill has managed to create fully functional artificial Lockseeds called Energy Lockseeds (エナジーロックシード, Enajī Rokkushīdo), more powerful Lockseeds that sacrifices the ability to summon a normal Arms Weapon when used in a Driver, instead summoning a Sonic Arrow (with the exception of Kurokage Shin and Gaim Yami). These particular Lockseeds can only be used by a New Generation Rider with a Genesis Driver, though there is a roundabout way Sengoku Driver-wearing Armored Riders can use Energy Lockseeds. In terms of rankings, Energy Lockseeds are given the general rank of Class S, outranking even the more powerful nature-converted Lockseeds (except skilled users of the Suika Lockseed). Like A-Classed Lockseeds, they are normally unbreakable, though Rosyuo was able to easily dissolve Sid's Cherry Energy Lockseed with a force-based attack.
Armored Rider Lockseeds
New Generation Rider Lockseeds
Other Lockseeds
Lock Vehicle Lockseeds
Legend Rider Lockseeds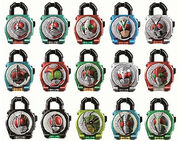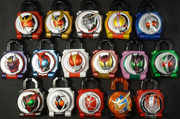 Listed as movie sets in some sources, the Legend Rider Lockseeds (レジェンドライダーロックシード, Rejendo Raidā Rokkushīdo) contain the power of a Kamen Rider that they are based on. The first set contains the Double and Wizard Lockseeds, while the second set includes the OOO and Fourze Lockseeds. The Arms of these Lockseeds are based off of the Rider it is based on, but doesn't exactly offer much of that form's abilities.Unlike regular lockseeds these ones have no codes or classes.
Like normal Lockseeds they contain images when opened, the inside image depicts the Rider's Transformation Belt while the image on the backside of the lid usually depicts the item which is inserted to commence transformation, or something else related to the Rider, denoting them as the ingredients that make the represented Rider.
These new armors for the Riders appeared in the Movie War film, Kamen Rider × Kamen Rider Gaim & Wizard: The Fateful Sengoku Movie Battle. These sets were released in December.
Legend Rider Lockseeds later appear in Heisei Rider vs. Showa Rider: Kamen Rider Taisen feat. Super Sentai where they are used by the villainous Kamen Rider Fifteen.
In the Movie War, the Legend Rider Lockseeds were created with the fusion between the transformation items belonging to four of the most recently defeated Bujin Riders (the Joker Memory, a Taka Medal, the Rocket Astroswitch, and the Flame Style Wizard Ring) and Helheim Fruit. In Kamen Rider Taisen, the Heisei Riders and Showa Riders are turned into Lockseeds when they are defeated, transported to the Badan Empire's lair before they are freed by ZX and Gaim.
When transforming into these Rider Arms, it may also change the user's personality into those of the Rider's, as Kamen Rider Zangetsu almost lost grip of his personality while in Fourze Arms. The same case can go for when the Showa Lockseed or the Heisei Lockseed is used, as Kamen Rider Gaim announced out "Rider Kick" when he did his finishing attack in 1 Arms, when he normally doesn't say anything when doing a finishing attack.
In addition, Legend Rider Lockseeds based on non-main forms will announce its form name when activated/unlocked instead of its Rider name and usually has the same style as its main form Legend Rider Lockseed with a few exceptions (Ryuki/Ryuki Survive, Faiz/Faiz Blaster, and Fourze/Fourze Cosmic).
Behind the Scenes
Portrayal
The voice of the Lockseeds, as well as the Sengoku Driver, Musou Saber and DJ Gun, is provided by Seiji Hiratoko (平床 政治, Hiratoko Seiji). The Energy Lockseeds, as well as the Genesis Driver and the Sonic Arrow, is provided by Shin-ichiro Miki (三木 眞一郎, Miki Shinichirō).
Conception
An interview with Kamen Rider Gaim producer Naomi Takebe in Hyper Hobby revealed the inspiration for the Lockseeds arising in early design meetings, with the sentences "Opening a new world" and "Unlocking potential" in mind. After some research it was decided that locks were the best choice, being something that has never been used in Kamen Rider. This decision was made at a very early point, with Takabe noting that they had no idea what the story was even going to be like then.[1]
Notes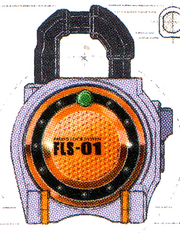 As seen in concept art, the Lockseeds were originally coded "FLS-(number)", which stands for "Fruits Lock System", with the Orange Lockseed being the first to be numbered.
It is confirmed that the Lockseeds used by Armored Riders are originally the Helheim fruits "converted" for human use by Ryoma Sengoku, and the Lock form has never existed in Helheim's nature before as he states that the sound/quote in the Lockseeds was the doing of his "guilty pleasure ".
Seeing how all Lockseeds work the same way in what is essentially the same Belt, it can be assumed that Riders can use the Lockseeds of others, in an extension of the last two series's practice of allowing the main character to use the collectible devices of the secondary Rider in one form or another. This is confirmed in that the Suika Lockseed used by Gaim was originally intended to be used by Zangetsu and demonstrated when Gaim uses the Banana Lockseed normally used by Baron in episode 13.

Presumably, the second Lockseed-using Driver, the Genesis Driver, can be used in a similar way with Riders exchanging Arms, although to date there have been no demonstrations of a non-energy Lockseed being used in the Genesis Driver. Conversely, the only viewed attempts to use an Energy Lockseed in the Sengoku Driver revealed they simply do not function.

The zipper-like dimensional rips Lockseeds create resemble the powers of Bruno Buccellati's Stand, Sticky Fingers, from the manga JoJo's Bizarre Adventure Part V: Vento Aureo.
Lockseeds share elements of the Gaia Memories, Astroswitches, and Rider Gashats in design and function:

Like the Astroswitches, Lockseeds seem to have limitations in how many times they can be used and must recharge after heavy use. This is first seen after Kouta used his Suika Lockseed for the first time. When Mitsuzane held the Lockseed in the next episode, it was no longer functional until it fully recharged. This process is similar to the Kyoryugers' Zyudenchi, as they need to be recharged sometime after each use.
Gaia Memories, Lockseeds, and Rider Gashats all have buttons that, when pressed, declare the name of the individual device. Astroswitches declare their name when inserted into the Fourze Driver.
They are all used by villains. Dopants use Memories to transform, Zodiarts use Zodiarts Switches to transform, Inves use Lockseeds to become more powerful, and Bugsters are born from games that have been made into Gashats, as well as the Collabos Bugsters using Gashats directly to gain armor.
Particularly powerful instances are much larger and sometimes come with unique functionality, such as the Fang Memory which transforms into a dinosaur and has its own Sengoku Driver-like finishers, the N and S Magnet Switches that combine into the NS MagPhone and can be used as gun triggers in Magnet States, the Kiwami Lockseed which connects to the Kachidoki Lockseed and can be turned to summon weapons, and the Gashat Gear Dual which contains two games, functions on its own, and can be used in the Gamer Driver for a super form.

The Kiwami Lockseed and Hyper Muteki Gashat mirror each other by both being final form devices that combine with a super form device to activate the final form.

Lockseeds are also an homage to the Poké Balls from Pokémon, as they summon Inves to fight against other Inves.
Lockseeds can be removed from an active Driver by people other than the user, proven when Kouta managed to steal Yoko Minato's Peach Energy Lockseed from her Genesis Driver after she was transformed as New Generation Rider Marika.
The temptation to eat a Helheim fruit as shown with Yuya Sumii (Byakko Inves), the maintenence worker, and Ryoji Hase (Hekija Inves) is similar to the biblical motif of the Temptation of Eve, where Eve was tempted to eat the fruit from the Forbidden Tree of the Garden of Eden, although she was tricked by a serpent, leading to her expulsion from the Garden whereas Helheim fruits seem to lure in victims to eat them unless the victim has bonded to a Driver, possesses strong mental fortitude, or has outside help to bring them to their senses.

In the lyrics of Just Live More, just before the chorus hits, there is the line "forbidden fruit" (

禁断の果実

Kindan no Kajitsu

), furthering the motif.
Later episodes in Kamen Rider Gaim also allude to the motif.

In Episode 23, a conversation held between the Priestess of Fate and DJ Sagara ends with the latter asking who will attain the forbidden fruit.
In Episode 24, DJ Sagara is later shown to be serving as a personification of the serpent in the series, in which he takes the form of a Snake while talking to Demushu and Redyue.
In Episode 28, DJ Sagara also entices the other three New Generation Riders into seeking the forbidden fruit (sans Duke, who was already enthralled by the idea alone and aware of its existence); as a result, he successfully convinces Sid to seek the forbidden fruit by the end of the episode to the point of betrayal.

The Suika Lockseed is the only known natural Lockseed whose Arms Weapon changes between users.

Speaking in terms of all Lockseeds, the Fourze Lockseed is the only Rider Lockseed that gave different weapons. Zangetsu gained the Rocket Module, while Fifteen gained the Barizun Sword and Billy the Rod.

The DX Kachidoki Lockseed's Kiwami Arms artwork can be flipped open without the DX Kiwami Lockseed by pressing the button in the keyhole with an item small enough to fit inside it, such as a screwdriver. However, doing this plays an incomplete transformation announcement, as it is meant to be played together with Kiwami.

The DX Kiwami Lockseed can also be used with the DX Senyo Joint by itself, without the Sengoku Driver.

The DX Kiwami Lockseed's lock can actually open, allowing it to activate in the main Lockseed slot in the Sengoku Driver and Genesis Driver, However, the resulting sounds are the same for all attempts at activating it by itself.

The Kiwami Lockseed and the Infinity Ring from Kamen Rider Wizard share a few similarities. They are both used to access their respective Rider's final forms , and also share the same designation/name, as the Kiwami Lockseed's number is Infinity.
If one looks carefully at the Heisei Rider Lockseed's core image, there are 15 divided "parts" which has one orange part that is bigger than the others. Also, the color on each part seem to be a reference to the colors of each of the 15 Heisei Riders' main forms.
When Armored Rider Knuckle first appeared on the show, the Kurumi Lockseed appeared on TV-Asahi's website with a blank bottom flap. This has since been revised to only show the closed version. Due to it featuring some holes where screws would be present on the toys, it may be an unfinished prop that was shown by mistake.
Many of the Lockseeds that appear on the show feature a tab-like protrusion underneath their emblem. This is a characteristic of the Capsule-Toy/Candy-Toy versions of Lockseeds featured in the toyline, which served as props.
In the toyline, Energy Lockseeds can be used on the Sengoku Driver without the need of the Genesis Core, by simply cutting it like a normal Lockseed. However the opening shape of the Energy Lockseeds differ from the regular ones, so the knife wouldn't cut the Energy Lockseed properly.

In contrast, when Kouta attempts to use the Lemon Energy Lockseed in the Sengoku Driver in the show, it doesn't open. In future attempts, the Energy Lockseed simply ejects from the dock with no result.
The same would happen with the DX Genesis Driver, which does not have a knife to cut open a regular Lockseed, and relies on some special mechanics that are made for opening Energy Lockseeds.

Ironically in Ganbarizing, said Driver can use Legend Rider-type Lockseeds, which are modeled after normal Lockseeds, for some unknown reasons.

The style of transformation announcements for each Rider's set of Lockseeds follow some type of pattern.

Gaim, Kurokage (Troopers), Bujin Gaim, Kamuro, & Saver: Mix of Japanese words and English words.
Zangetsu & Mars/Jam: Pure Japanese.
Baron, Gridon, Duke, & Idunn: Pure English that is sung in a chorus-like manner. Notably, both of Baron's standard Lockseeds also have a "[Noun 1] of [Noun 2]" theme, which is applied to numerous Legend Rider Lockseeds. For Duke, it is only sung in techno voice and announcing its creator's first name ("Incredible Ryoma"). For Gridon, it is only sung in a quote ("Never Give Up") while raising the singing voice. For Idunn, it is sung in three words without an "of" ("Desire Forbidden Fruits").
Ryugen (Yomi): Either divided into three parts or ends with a fighting grunt ("Ha-Ha-Ha" or "Sei-ya Ha").
Bravo & Knuckle: Pure English with a "Mr. [Adjective/Noun]" theme.
Bujin Gaim, Ryugen Yomi, & Saver: Distorted and deeper voice.

If a DX Lockseed is used in the Genesis Core without a Lockseed in the main slot, the Lockseed will announce a specific word or shout before announcing Lockseed calls.

Orange: Maicho
Pine: Maicho
Ichigo: Oi Oi Yoi
Matsubokkuri: Asore!
Suika: Dosukoi
Banana & Mango: Okay!
Kurumi: Welcome!
Budou: Ya
Kiwi: Sei
Durian : Encore
Melon: Yoh
Golden Ringo: Kin
Silver Ringo: Gin
Black Ringo: Kuro
Fifteen: Ha
Showa Rider: Showa
Heisei Rider: Heisei
Lemon: Lemon
Zakuro: Zakuro

The Dragon Fruits Energy Lockseed is the first and only Lockseed to have two different Lockseed codes, ELS-HEX and ELS-PROTO.
There is also some, but limited playability for the Lockseeds without Sengoku (or Genesis) Driver.

On the back of the DX Lockseeds (particularly the regular ones), on the bottom of the Inves Game button are two small black buttons. When each of them are pressed individually, the Lock On sound is played (but not the phase itself). While the top button is held and the user presses the Inves Game button, the knife-cutting sound will play and the Lockseed will shout out "(Lockseed) Charge!" While the bottom button is held and the user presses the Inves Game button, the Lockseed will shout out its transformation phase. A certain number of presses on the Inves Game button will activate the Squash, Au Lait, and Sparkling functions respectively. Once the buttons have been released, the Lock Off sound will play (but not the phase itself). Also, while those buttons are held, and the user opens up a Lockseed, the Lock will open with the opening sound, but it will not announce the Lockseed name.
The DX Energy Lockseeds have a similar play-around as well. Unlike the regular ones, the Energy Lockseeds have one more function. By pressing down the two small buttons simultaneously and pressing the game button, the Lockseed will shout out its' Jimba Arms transformation sound.

It is unknown how Duke's version of the Dragon Fruits Energy Lockseed exists, as Ryoma himself says that Megahex created the Lockseed from memories copied from Kouta, when Kouta had never fought against a Rider with that Energy Lockseed in the first place, but it was Kaito who had.
Due to the Lemon Lockseed being numbered LS-99, it implies there are at least 100 standard numbered Lockseeds, with those numbered LS-14 to LS-98. What these Lockseeds are though, is currently unknown, though likely will never be mentioned.

Incidentally, the total number of all known Lockseeds in the Gaim series (i.e. including standard Lockseeds, Energy Lockseeds, special Lockseeds, Legend Rider Lockseeds & toy-exclusive Lockseeds), amount to over 100, to a total of 104.
Alternatively, Professor Ryoma simply gave his personal Lockseed a custom number of elevated importance, which would line up with the transformation announcement he gave it.

List of the recolored normal and Energy Lockseeds:

Orange: Fresh, Blood Orange, Yami, Kabi
Pine: Fresh
Mango: Watermelon
Budou: Yomotsuheguri
Kiwi: Lemon
Peach Energy: Marron Energy
Suika: Blood Zakuro (LS-MESSIAH) and its duplicate versions (code-less)
Apples (mostly from Golden first, then Silver): Darkness, Ringo
Dragon Fruits: The ELS code is changed from HEX to PROTO

Non-shown sounds

Basic Lockseeds: "You Lose", "Rank Up", "(Lockseed) Power!" (used in a Lockseed compatible weapon after the Charge finisher has been performed)
Energy Lockseeds: "Energy Standby", "Energy Shutdown", and "System Start".
Kachidoki Lockseed: Various sounds. (Often battle cries or music)
Kiwami Lockseed: Various quotes from Kouta and Mai as the Woman of the Beginning.
DX Legend Rider Lockseeds: "Legend Rider Battle Start", "(Rider) win", and "Try again". The Charge/Power finishers from the basic Lockseeds are present as well.
Drive Lockseed: "Max Flare", "Funky Spike, "Midnight Shadow" and "Tridoron".
Apple Lockseeds: Crack opening and closing sounds.
Fifteen Lockseed: Bone crackling sounds in addition to the crack opening and closing sounds.
Yomotsuheguri Lockseed: Various quotes from Mitsuzane while corrupted.
Forbidden Apple Lockseed: Lord Baron transformation sound, as well as quotes from Kaito as Lord Baron.
Watermelon Lockseed: Various quotes by Takatora.
Dragon Fruits Energy Lockseed: Various quotes by Ryoma.
Lemon Lockseed: Quotes by Ryoma and Takatora.
Marron Energy Lockseed: Various quotes by Zack and Kaito.
Zakuro Lockseed: Quotes by Ryoma and Kugai.

This is the first transformation device since W's Gaia Memories that wasn't compatible with Kamen Rider Battle: Ganbaride.
References
Ad blocker interference detected!
Wikia is a free-to-use site that makes money from advertising. We have a modified experience for viewers using ad blockers

Wikia is not accessible if you've made further modifications. Remove the custom ad blocker rule(s) and the page will load as expected.