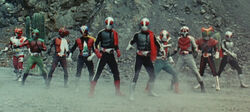 The Masked Rider Warriors are the previous Edenoi champions who used the powers of the Masked Rider, summoned through time to help Dex Stewart battle the super-monster Bruticon. Their varied appearances suggest the Masked Rider armor somehow changes with each user.
Two additional Masked Rider Warriors appeared but were not named. One looked like the Warrior Leader, but had red gloves and boots (Kamen Rider 2). The other had an interchangeable arm weapon and wore a blue helmet that exposed the lower half of his face (Riderman) The reason for the changes of their various names was because the names of these two were omitted, and then the names were read off in chronological order, not with regard to the order the Riders appeared onscreen.
See also
Ad blocker interference detected!
Wikia is a free-to-use site that makes money from advertising. We have a modified experience for viewers using ad blockers

Wikia is not accessible if you've made further modifications. Remove the custom ad blocker rule(s) and the page will load as expected.