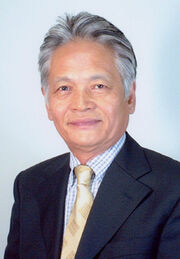 Minori Terada (寺田 農, Terada Minori) played Ryubee Sonozaki in Kamen Rider W, a role which he reprised in the W Chapter of Kamen Rider Ghost: Legendary! Riders' Souls!, and Amagi Kureshima in Kamen Rider Gaim Gaiden: Kamen Rider Zangetsu. He is best known for his voice-role as Colonel Muska from Castle in the Sky.
Ad blocker interference detected!
Wikia is a free-to-use site that makes money from advertising. We have a modified experience for viewers using ad blockers

Wikia is not accessible if you've made further modifications. Remove the custom ad blocker rule(s) and the page will load as expected.