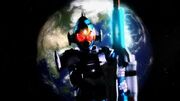 The Rider Slash (ライダースラッシュ, Raidā Surashhu) is a finishing move from the Kamen Rider Series. It has traditionally consisted of a powered slash from a Rider's blade, traditionally in the form of a sword, but any weaponry can be utilized as long as it is sharp, including beam-swords and projectile attacks from swords. The only exceptions are blades that are attached to pole arm-typed weapons. It can cause grievous harm and is used against the monster after it has been weakened from fighting with the Rider.
The Rider Slash was first used by Riderman, reemerged with Kamen Rider BLACK RX, and since then, it has been used commonly by the succeeding (Neo) Heisei-era Kamen Riders.
List of Rider Slashes
Ad blocker interference detected!
Wikia is a free-to-use site that makes money from advertising. We have a modified experience for viewers using ad blockers

Wikia is not accessible if you've made further modifications. Remove the custom ad blocker rule(s) and the page will load as expected.