"Sorry Kamen Riders, this article is too small for the people to read."
This article is a stub, meaning it needs more info. You can improve this Kamen Rider Wiki article by expanding it.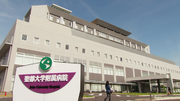 Seito University Hospital (聖都大学附属病院, Seito Daigaku Fuzoku Byōin) is a medical facility and the workplace of some of the protagonists of Kamen Rider Ex-Aid.

Staff
Notes
The mascot of Seito University Hospital is a walrus.
References