Shingo Tsurumi (鶴見辰吾, Tsurumi Shingo) is a Japanese actor known for playing Mitsuaki Gamou, aka "the Red Eyed-Man", in Kamen Rider Fourze. He later appearance in Kikaider REBOOT (2014)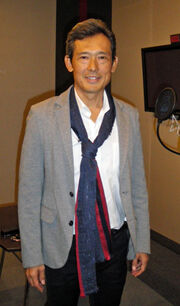 He reprised his role as the Sagittarius Zodiarts in Kamen Rider Battride War[1] and in the Fourze Chapter of Kamen Rider Ghost: Legendary! Riders' Souls!.
Filmography
Films
Television
References
External Links
Ad blocker interference detected!
Wikia is a free-to-use site that makes money from advertising. We have a modified experience for viewers using ad blockers

Wikia is not accessible if you've made further modifications. Remove the custom ad blocker rule(s) and the page will load as expected.