Shouma Yamamoto (山本 匠馬, Yamamoto Shōma) or also known as Kousuke Yamamoto (山本 光将, Yamamoto Kōsuke) is a Japanese actor.
In Kamen Rider Kiva, he portrayed Taiga Nobori. He also portrayed Takato Shiramine in Kamen Rider Kiva: King of the Castle in the Demon World. Later, he voiced Brad Barrett in the Japanese dub of Kamen Rider Dragon Knight.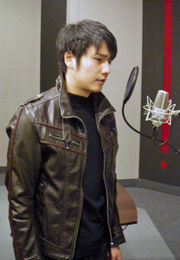 He reprised Kamen Rider Dark Kiva (Taiga Nobori) in Kamen Rider Battride War. [1]
In Garo series, he played Tsubasa Yamagatana, Dan the Knight of the Midnight Sun.
Filmography
TV
Film
In Archive Footage
Discography
External Links
References
Ad blocker interference detected!
Wikia is a free-to-use site that makes money from advertising. We have a modified experience for viewers using ad blockers

Wikia is not accessible if you've made further modifications. Remove the custom ad blocker rule(s) and the page will load as expected.