Snake-Man with a Machine Gun! (機関銃を持ったヘビ人間!, Kikanjū o Motta Hebi Ningen!) is the fifth episode of Kamen Rider V3.
Synopsis
An eminent biologist, Dr. Murayama, discovers a new clean energy source, and Destron's Machinegun-Snake is sent to seize the data. Failing to grab the doctor, he kidnaps assistant Nishizaki Michiko. When she refuses to talk, Machinegun-Snake targets Tsutomu, her son. Kazami Shiro is injured by the mutant! Can V3 protect Tsutomu, his friend Mamoru, and rescue his mother?
Plot
to be added
Cast
to be added
Notes
DVD Releases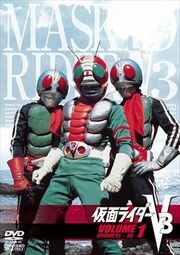 Kamen Rider V3 Volume 1 features episodes 1-6.[1]
The complete Kamen Rider V3 series was released in a boxset by Hawaii's Generation Kikaida, with English subtitles provided by JN Productions.[2]
References
Ad blocker interference detected!
Wikia is a free-to-use site that makes money from advertising. We have a modified experience for viewers using ad blockers

Wikia is not accessible if you've made further modifications. Remove the custom ad blocker rule(s) and the page will load as expected.