Takamasa Suga
Talk

0
5,191pages on
this wiki
Takamasa Suga (須賀 貴匡, Suga Takamasa?) is Japanese actor. He well known for potrayed as Shinji Kido, the titular rider of Kamen Rider Ryuki (2002). He also potrayed as Mirror World version of Shinji Kido, Dark Shinji in Kamen Rider Ryuki: Episode Final.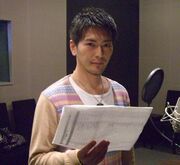 Although Takamasa Suga has not reprised his role on-screen, but ten years after Ryuki's series ended, he reprised his role as both Ryuki and Ryuga, alongside several other Kamen Rider alumni, in the video game Super Climax Heroes, which was released on November 29, 2012. [1]
He recently reprised Ryuki in Kamen Rider Battride War. [2]
Takamasa Suga is the first Kamen Rider actor that played as multiple Kamen Riders, Shinji Kido (Ryuki) & Dark Shinji (Ryuga). Followed by Kenji Matsuda as Zaomaru Zaitsuhara (Zanki) & Tohki from Kamen Rider Hibiki as well as Jiro (IXA) in Kamen Rider Kiva, Hiro Mizushima as both Souji Tendou (Kabuto) and Souji Kusakabe (Dark Kabuto) in Kamen Rider Kabuto, and Shouma Yamamoto as Takato Shiramine (Rey) and Taiga Nobori (Saga/Dark Kiva) in Kamen Rider Kiva

However, Shiramine's roles in Kiva are split between one character in the movie and one in the series, while Matsuda's roles are split between two series, with Tohki being a movie-exclusive Rider. By comparison, Mizushima and Suga's roles are both in the same series with one Rider being explicitly stated to be an evil/anti-heroic counterpart to their other role.

Takamasa Suga once stated that he actually want to appear as cameo role on Kamen Rider 555 movie: Lost Paradise, but his request was turned down by the producer that answering by crossing his fingers.
References
Edit
External links
Edit