The Fury of Rider V3's Special Training (ライダーV3 怒りの特訓, Raidā Buisurī Ikari no Tokkun) is the seventh episode of Kamen Rider V3.
Synopsis
Destron blows up the research facility of Professor Kawai, in order to secure his artificial heart technology in order to strengthen their mutants. Kawai's subject comes back to life, and as Knife-Armadillo, stalks the professor for revenge. The resilient mutant even repels V3 in battle! To improve his strength, will V3 survive the harsh rigors of his own brutal training session?
Plot
to be added
Cast
to be added
Notes
DVD Releases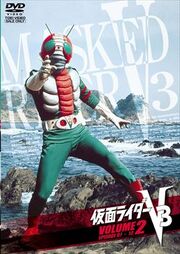 Kamen Rider V3 Volume 2 features episodes 7-12.[1]
The complete Kamen Rider V3 series was released in a boxset by Hawaii's Generation Kikaida, with English subtitles provided by JN Productions.[2]
References
Ad blocker interference detected!
Wikia is a free-to-use site that makes money from advertising. We have a modified experience for viewers using ad blockers

Wikia is not accessible if you've made further modifications. Remove the custom ad blocker rule(s) and the page will load as expected.