The Japanese Islands Fragmentation Plan! (日本列島ズタズタ作戦!, Nihon Rettō Zutazuta Sakusen!) is the sixth episode of Kamen Rider X.
Synopsis
A mysterious bus falling accident. Sachiko, a girl who lost her parents due to the accident. Pittying Sachiko who was full of sadness, Keisuke Jin investigates the cause. Hovewever Sachiko was kidnapped by someone.
Plot
to be added
Cast
Notes
DVD Release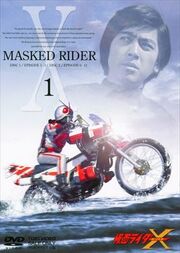 Kamen Rider X Volume 1 features episodes 1-11.[1]

References
Ad blocker interference detected!
Wikia is a free-to-use site that makes money from advertising. We have a modified experience for viewers using ad blockers

Wikia is not accessible if you've made further modifications. Remove the custom ad blocker rule(s) and the page will load as expected.