The Strange Demon Extraterrestrials' Great Riot! (怪魔ET大暴れ!, Kaima Ī Tī Ō Abare!) is the sixth episode of Kamen Rider Black RX.
Synopsis
Shigeru befriends a strange extraterrestrial sent by Gedorian to impregnate and ultimately overrun Earth in their numbers.
Plot
to be added
Cast
to be added
Notes
to be added
Digital Releases
The DVD Release of Kamen Rider Black RX Volume 1 features episodes 1-11.[1]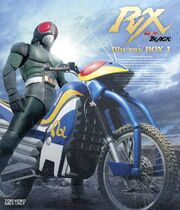 References
See Also
A Friend in Need - American counterpart in Mighty Morphin Power Rangers Season 3.
Ad blocker interference detected!
Wikia is a free-to-use site that makes money from advertising. We have a modified experience for viewers using ad blockers

Wikia is not accessible if you've made further modifications. Remove the custom ad blocker rule(s) and the page will load as expected.