Timeline
Talk

5
5,927pages on
this wiki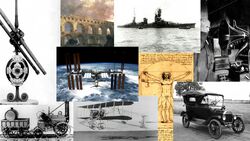 A timeline of events in the Kamen Rider Series.
Ancient History
65 million years ago: The parasitic lifeform Fog Mother arrives on Earth to feed and spawn her offspring, resulting in the extinction of the dinosaurs. Kamen Rider J
50,000 years ago: The Creation King starts his 50,000 year reign as the leader of Gorgom. Kamen Rider Black
Over 30,000 years ago: OverLord the twin entities, embodiments of Light & Darkness battled to settle who will rule over their creation, Before dying by his brother's hand, The OverLord of Light bestows his essence to humans so that someday they will be able to awaken his power within them. The OverLord of Darkness then created his emissaries as protectors of humanity but they must eliminate humans who possess the Seed of Agito. Before he passed away, the OverLord left his very own DNA model in the mysterious puzzle artifact. Over 30.000 years later, some scientists solved the puzzle and using his DNA model to recreate him. Puzzle Decoding
10,000 years ago: The Undead are created by God in the form of a stone slab called the Stone of Sealing, to kill each other in a free-for-all battle royale known as the Battle Fight, with the winner granted a wish to alter the world. The 52 Undead represented 52 different species and battled so they can wish for the species they represent to rule the Earth, while the Joker represented death. While the other Undead were sealed by the Monolith, the winner of that battle was the Human Undead and the world has been populated by humans ever since. Kamen Rider Blade
Early human civilization: The Gurongi, a mysterious ancient civilization consisting of beings that can transform into monsters to kill people for their ruthless game, which is translated into the Gurongi Language as the "Gegeru", attack their rival civilization the Linto. The original Kuuga defeats the leader of the Gurongi and seals all 200 of the Gurongi away. Kamen Rider Kuuga
1211 A.D: The Greeed are created from the fifty Core Medals by humans who attempt to create life under the will of the King, the First Kamen Rider OOO, as part of his plan to achieve godhood. Though originally mindless, the five Greeed gained wills of their own after one Medal in each of the five sets was destroyed. They are beings without true life that crave endlessly, cursed with a void in them that can never be filled. They lack proper senses, resulting in bleak sensory input (e.g., colors are washed out, taste is nonexistent, sounds are muffled and distorted), as well as the inability to feel deeper emotions such as love. As such, the four other Greeed became bent on filling the void left in them by consuming everything obsessively in an attempt to experience what humans normally take for granted. However, they and part of Ankh were sealed by the King when the Core Medals consumed him and transformed him into a stone coffin. Kamen Rider OOO Kamen Rider OOO (novel)
Ancient past: Amadum, an ancient wizard, commited a crime and was sealed away in the World of Monsters, a world within a magic stone, where the souls of dead monsters go after they're killed.Neverending Story
Sengoku Period: The organization Takeshi is founded to assist the Oni in their battle aganst the Makamou. Kamen Rider Hibiki & The Seven Senki
The Edo Period:
Recent History (pre-1971)
During Kamen Rider
1971
Kamen Rider
Other Events
The Natives, a species of Worm, arrive on Earth. They develop the Masked Rider System on April 3rd. Kamen Rider Kabuto
The O Medal Paradox: Due to Ankh stepping off the Den-Liner and leaving behind a Cell Medal for a Shocker combatant to find, Shocker is able to create the Shocker Greed and defeat the Double Riders Ichigo and Nigo. The Shocker scientists complete the brainwashing procedure on the two and Hongo and Hayato become Shocker's elite enforcers. With no one to stop them, the world soon slowly falls under Shocker's control.....Let's Go Kamen Riders
1972
Kamen Rider
1973
Kamen Rider
V3
Kazami Shiro watches in horror as his family is killed right in front of him by Destron's Scissors Jaguar. Before he is about to be killed himself, the Double Riders Ichigo and Nigo burst in to save him. Angry at was has happened, he begs the Riders to make him a cyborg too so that he can have his revenge. Hongo and Hayato refuse stating that he would never be truly human again and that fighting for revenge is meaningless. During a stakeout at a Destron base, the Double Riders fall into a trap set by the Great Leader who reveals he survived his last encounter with them and uses an "anti-cyborg ray" to kill the Riders. Seeing Hongo and Hayato suffering, Kazami leaps into the path of the beam saving them. Wounded and dying, the Riders have no choice but to grant Kazami's wish to become a cyborg and thus Kamen Rider V3 is born Rider No. 3: His Name is V3!
1974
V3
X
Amazon
Other Events
1975
Amazon
Stronger
Yuriko Misaki dies battling Doctor Kate as Tackle Goodbye,Tackle! Her Last Activity!!
Other Events
1976
It was not shown how Captain Marvelous managed to travel to 1976 before the Den-Liner. However, it can be assumed that he used GoZyuDrill, the greater power of the Timerangers.
1977
1978
1979
New Kamen Rider (Skyrider)
Other Events
1980
Cho Kamen Rider Den-O & Decade Neo Generations: The Onigashima Warship
New Kamen Rider (Skyrider)
Super-1
The International Space Development Program begins testing "Project S-1" a new cybernetic system that would allow human astronauts to survive and explore deep space without the need of regular spacesuits.
1981
Super-1
Other Events
1982
1983
1984
ZX
Aircraft pilot Ryo Murasame takes his sister out on a ride along the Amazon when they were shot down by a UFO. They survive, captured by Badan Empire with his sister killed while Ryo became the Combat Roid known as ZX. His memory is erased by the Badan Empire and he works as their agent of evil. This does not last long as an accident occurs which causes Ryō to regain his memory and escapes Badan. A year later, Ryō begins his attack on Badan as they finish the preparations on their doomsday weapon: the Space Break System. However, a coordinated attack by the Kamen Riders disables the Badancium 84 supplies needed for Space System to work. When Ryō arrives, he thinks Kamen Rider V3, Riderman and Kamen Rider Super-1 are enemies until they get him to listen as only one truck full of Badancium makes it to the Badan's base run by Ambassador Darkness. After being shown a video detailing the history of Kamen Riders 1 to Super-1, Ryō is amazed that there are others like them before joining the Kamen Riders in raiding the base. However, he encounters his former comrade Eisuke Mikage who forces him to fight as Tiger Roid. After being forced to kill his friend, ZX joins the Kamen Riders as they battle not only Ambassador Darkness and the Combat Roids, but also monsters from the previous organizations. When Ambassador Darkness uses the Space Break System on the Kamen Riders, they synch their powers with ZX using his ZX Kick to kill Ambassador Darkness and destroy Badan's base as its Great Leader appears and bids the Riders farewell. Soon after, ZX joins the Kamen Riders as their 10th member. Birth of the 10th! Kamen Riders All Together!!
Other Events
1986
Kiva
1987
Kiva
Black
Other Events
1988
Black
RX
1989
RX
1990s
Other Events:
1999 Alternate*: The meteor that fell in the Shibuya district was much larger, bringing more Worms and evaporating Earth's oceans. The Worms begin slaughtering humans and mimicing their forms  *This event and what followed in 2006 Alternate, was undone by a time-traveling Tendou Soujii from the alternate timeline by pushing the meteor into another meteor destroying most of it and breaking it up into a smaller fragment which hits the Shibuya district. The Alternate Souji gives his younger self from the main Timeline his belt before fading out of existence, leading to the events of the TV seriesKamen Rider Kabuto: God Speed Love
2000
Kuuga
January 1st 2:02 pm: Archeologists uncover an ancient tomb in the Kurougatake ruins during an excavation
11:30 pm: The Archeologists accidentally undo the seal on the tomb freeing the Gurongi. The Gurongi then kill all the researchers and prepare for a new Gregeru game on the descendants of the Linto tribe. Revival
Other Events
2001
Kuuga
Agito
2002
Agito
Ryuki
2003
Ryuki
555
2004
555
Blade
Other Events
December 24: Tetsuo, who would become the contract holder of the Bat Imagin, loses his mother, not being by her side when she died. The Bat Imagin, having traveled to the past, possessed Tetsuo's body and begins causing havoc until Kamen Rider Den-O appears and forces him to abandon Tetsuo. And he is destroyed by Den-O, he then becomes Gigandeath Heaven and is ultimately defeated by DenLiner Gouka. After the Gigandeath is destroyed, Ryotaro decides to make a slight change: using the DenLiner to take Tetsuo to be with his mother at her final moments. Kamen Rider Den-OGet Out, Oni! I'm Serious
2005
Blade
Hibiki
2006
Hibiki
Hibiki commences a ceremony to seal Orochi and prevent it from awakening while Zanki and Todoroki fend off hundreds of Makamou. While the events during the ceremony were not fully shown, it was revealed that all of them survived and successfully sealed Orochi away. One year later, Asumu has become a doctor's assistant and Hibiki has accepted Kyosuke as his student, training him to be an Oni.Dreaming of Tommorrow
Kabuto
Other Events
2006 Alternate:
March 15: When he travels to the past, the Chameleon Imagin begins to destroy various cars while possesses Yamagoshi. The Chameleon Imagin overpowers Den-O Plat Form until Momotaros apologizes for his earlier squabble with Ryotaro and assumes Den-O Sword Form, slicing the Imagin in half at the waist with his Extreme Slash and destroying him. Kamen Rider Den-ORide on Time
May 21: Shinji Kikuchi won a karate tournament against Masaru Honjō by default because Honjō suffered from a heart attack before the match could commence. When he travels to the past, the Rhino Imagin destroys the karate arena, and is confronted by Den-O's Sword Form and manages to have the upperhand until Kintaros forms a contract with Ryotaro, turning Den-O to Ax Form. Despite his best attempts, the Rhino's mace is shattered by Den-O's brute strength, allowing him to be struck down by the Dynamic Chop. He then reforms into Gigandeath Hell and is destroyed by DenLiner Rekkou. Kamen Rider Den-OHana in a Stormy Singularity Point
July 24: Tomoya Ōbayashi and Yumi Saitō were to be married, but Yumi left her fiance at the altar. The Crow Imagin travels to this date, once in the past, he "erases" all of the members of Yumi and Toyama's wedding party. The Crow Imagin is defeated by Den-O Sword Form after Rod Form manages to counter his flight ability. Kamen Rider Den-OSad Melody, Loving Memory
October 15: The Crust Imagin travels to the past on this date when Daiki Saitō lost a soccer game, alienating him from his teammates. The Imagin begins attacking the soccer stadium. When destroyed by Den-O Rod Form, the Crust Imagin becomes Gigandeath Hades and is then destroyed by DenLiner Isurugi. Kamen Rider Den-OA Swindler's Dignity
November 8: Kensaku Kobayashi kicked his daughter Kasumi out of the house. The Ivy Imagin arrives and destroys the Kobayashi's hometown. When Kintaros tries to make the father and daughter make up in the past prior to actually fighting the Ivy Imagin, he endangers the flow of time as a result and is to be banished off the DenLiner. However, Kintaros' act of informing Kasumi of her father's true feelings alter time so that Kasumi and Kensaku are able to reconcile prior to Kasumi's meeting with Ryotaro and Kensaku's meeting with the Imagin. This time paradox negates Kintaros' banishment from the DenLiner, for the cause of the banishment never existed. Kamen Rider Den-ORun Taros!
2007
Kabuto
Den-O
2008
Den-O
Kiva
Other Events
Begins Night: Private detective Soukichi Narumi and his young partner Shotaro Hidari search a building controlled by the Sonozaki Family.  Disobeying Soukichi's orders to wait for his return, Shotaro encounters a mysterious man running a project tied to the distribution of GaiaMemories. When Sonozaki forces lead by the Taboo Dopant attack, Soukichi sacrifices himself in order to save both Shotaro and the man, who he dubs "Philip". The duo use the hidden DoubleDriver to become Kamen Rider W for the first time, but Philip ultimately uses his own personal Fang Memory to allow for the duo to escape the Sonozaki's grasp.Kamen Rider W
2009
Kiva
Decade
The world starts collapsing due to numerous parallel Earths slowly colliding into each other. The nine Heisei era Kamen Riders use their powers to try and hold the world together. Wataru (Kiva) tells an amnesiac named Tsukasa Kadoya that he must travel to many different worlds so that the merging of the worlds does not happen. Tsukasa finds a belt with cards and uses them to become Kamen Rider Decade, the prophesied destroyer who will initiate The Rider War and annihilate the multiverse.
After regaining all of his memories, The A.R. Worlds (except the supposed Den-O's World, but a main Kamen Rider world) are destroyed and becomes a destroyer at the end, Tsukasa decided to destroy any Riders left except Kaito, Yuriko and recently Natsumi, whom recently used her to kill him without hesitating himself to restore the A.R. Worlds. He is later revived and reformed.Kamen Rider × Kamen Rider W & Decade: Movie War 2010
W
2010
W
Foundation X cuts their funding of Gaia Memory research upon the Utopia Dopant's defeat to study a new power source.
OOO
2011
OOO
Fourze
Other Events
2012
Fourze
Wizard
2013
Wizard
While coming to the aid of a strange new Gate called Kosuke Nitoh when he is attacked by the Phantoms, Haruto is poisoned by the Phantom Manticore whom, assuming his human identity as a fortune teller, desperately tries to find Kosuke's strength so he can make him despair, only to find out that Kosuke is rather optimistic, believing that pinches and chances are sides of the same coin, considering hope and despair the same thing. When a very weak Haruto tries to save Kosuke, the man reveals that he is in fact a magician himself, Kamen Rider Beast. He cures Haruto of his poison and destroys Manticore and his Ghouls, revealing his ability to absorb their mana for food. Assuming that Haruto can consume mana like he can, Kosuke believes Haruto to be his rival as he takes his leave. Another Magician
Gaim
The Future
2017 (Movie War Ultimatum)
The rest of the Kamen Rider Club has moved on with their lives. The Fourze Driver is destroyed.
Kamen Rider × Kamen Rider Wizard & Fourze: Movie War Ultimatum
2031 (New Kiva)
The active Kamen Rider at this point in time is Masao Kurenai, Kamen Rider New Kiva, son of the original Kiva, Wataru Kurenai. Masao fights against the Neo-Fangire, a new race of Fangire that attempt to invade Wataru's present (2009). To oppose this invasion, Masao bursts into the reception of the wedding of Megumi Aso's and Keisuke Nago, just as Wataru prepares to play his violin for the newly weds. He tells Wataru he is his son from 22 years in the future. He has come to get Wataru to help him fight the Neo-Fangire menace who have started to appear in 2009, showing up as a vortex in the sky above the church as Taiga arrives to the wedding late. Wataru, Nago, Taiga, Masao, Jiro, Ramon, and Riki transform into Emperor Form, Rising Ixa, Dark Kiva, New Kiva, Garulu, Basshaa, and Dogga to face this new threat. Finale: The Inheritors of Kiva
2051 (Aqua)
2305 (Blade)
Alternate Movie Timeline
The events in these movies are alternate interpretations of their respective Kamen Rider series.
Kamen Rider Ryuki: Episode Final
Kamen Rider 555: Paradise Lost
Kamen Rider Blade: Missing Ace
Kamen Rider Hibiki & The Seven Senki
Kamen Rider Kabuto: God Speed Love
Kamen Rider: The First
Kamen Rider The Next
Alternate Worlds
The events in these timelines take place on parallel worlds. The World of Den-O (Episode 14,15 in Decade and Cho Den-O & Decade Neo Genaration: The Onigashima Warship), The World of the Rider War (Movie Wars), Diend (Cho Den-O: Episode Yellow), and Shinkenger/Super Sentai (Super Hero Taisen) have connections with the main timeline.
World of Kuuga
World of Kiva
World of Ryuki
World of Blade
World of Faiz
World of Agito
World of Kabuto
World of Hibiki
World of Negatives
World of Diend
World of Shinkenger
World of Black RX
World of Black
World of Amazon
World of X-Rider
World of Kamen Rider
World of Stronger
World of the Rider War
World of Decade
World of TeleviKun
World of Net
World of G
See also