TryChaser 2000
Talk

0
5,191pages on
this wiki
The TryChaser 2000 (TRCS 2000) (トライチェイサー2000 Torai Cheisā Nisen) is Kuuga's personal bike. A new model of police motorcycle, it was designed to be faster and powerful than the conventional bikes utilized by the police force.
Its other unique feature is its activation: To activate it requires both the Try-Acceler Rod, the bike's right grip that functions as a start-up key, and a four-digit keycode. Ichijo would give the prototype to Yuusuke, believing he is the only one who can successfully beat the Unidentified Life Forms. Yuusuke would later alter TryChaser's color scheme via a keycode, giving it its signature red, white, and gold look.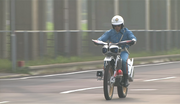 It's control panel would consist of analog buttons and levers (later changed to a digital one due to damage caused by his fight with Me-Gadora-Da) and a voice sensitive radio.
In his fight with Go-Badaa-Ba, it was stolen and used against him in the middle of the series and broke when Go-Badā-Ba tried to injure Kuuga with it.
Mass produced TryChasers are utilized by the police force bearing codes starting with TR (generally referred as TryChaser 2000A). Unlike Yuusuke's TryChaser, the mass-produced versions' Top Speed is 190km/h only and has custom police trunkbox attached in each side of the rear wheel.
TRCS 2000's Statistics:
Length 2.4m (7.87ft)
Height 1.25m (4.1ft)
Top Speed 300km/h (186mph)
TryGouram's Statistics:
Length 3.2m (10.49ft)
Height 1.25m (4.1ft)
Width 1.1m
Top Speed 400km/h (248.55mph)
The TryGouram (トライゴウラム Torai Gōramu?) is what ultimately results when the Gouram finally finds Kuuga. It attaches itself to the TRCS 2000 as armor. While in this form the bike is faster and capable of ramming opponents via the Try Gouram Attack in a similar manner to Kuuga's Mighty Kick.

External Links
Edit