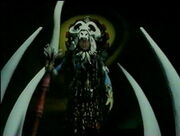 The Fang Tribe (キバ一族, Kiba Ichizoku) is the second group of Destron Inhumanoids. This is the Destron group led by Baron Kiba. Its members were cultists practing an evil magic called Doovoo (not to be confused with Voodoo or Hoodoo magic).
Kaijin
Appearances
Ad blocker interference detected!
Wikia is a free-to-use site that makes money from advertising. We have a modified experience for viewers using ad blockers

Wikia is not accessible if you've made further modifications. Remove the custom ad blocker rule(s) and the page will load as expected.