Warriors, Those Bonds (戦士その絆, Senshi Sono Kizuna) is the forty-sixth episode of Kamen Rider Agito.
Synopsis
Shouichi Tsugami takes solace knowing that he is no longer Agito and that he is free from a fate that could be much like his sister's. But with Agito, Gills, and Another Agito out of commission who will save Mana when she is attacked?
Plot
to be added
Cast
Guest Cast
Forms Used
G3-X
Agito
Gills
Another Agito
Errors
to be added
Notes
Digital Releases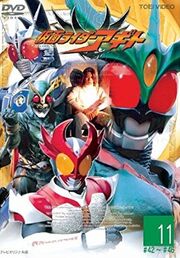 The Blu-ray Release of Kamen Rider Agito Volume 3 features episodes 36-51.[1]

References