Where's Nobuhiko? (信彦はどこに?, Nobuhiko wa Doko ni?) is the tenth episode of Kamen Rider Black.
Synopsis
Kohtaro investigates suspicious auto accidents leading to the victims being used for Golgom's army for causing chaos throughout the world.
Plot
to be added
Cast
to be added
Errors
Notes
Digital Releases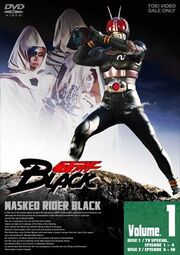 The Blu-ray Release of Kamen Rider Black Volume 1 features This is Kamen Rider Black & episodes 1-17.[2]

References
Ad blocker interference detected!
Wikia is a free-to-use site that makes money from advertising. We have a modified experience for viewers using ad blockers

Wikia is not accessible if you've made further modifications. Remove the custom ad blocker rule(s) and the page will load as expected.