For the actor who appeared in Kamen Rider Den-O, see Yuki Sato (actor, born 1995).
Yuki Sato (佐藤 祐基, Satō Yūki, also written as Yuuki Sato) is a Japanese actor, who is best known for portraying Arata Kagami/Kamen Rider Gatack in Kamen Rider Kabuto.
Yuuki Sato reprised his role as Kamen Rider Gatack, alongside several other Kamen Rider alumni, in the video game Super Climax Heroes, which was released on November 29, 2012. [1]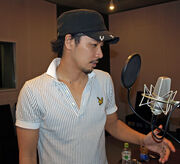 He also reprised Gatack in Kamen Rider: Battride War.[2]
At one point he briefly used the stage name of Tomohito Sato (佐藤 智仁, Satō Tomohito); at present he is performing under the stage name of Jin Sato (佐藤 汛, Satō Jin).
References
External links