Yukina Sawaki (沢木 雪菜, Sawaki Yukina) was a young psychic woman who became the very first Agito (アギト, Agito). She is the sister of Tetsuya Sawaki, who would become the second Agito and take on the name of Shouichi Tsugami, a name formerly used by her boyfriend now known as Tetsuya Sawaki.
History
She was involved in a paranormal research project conducted by Professor Kazaya at Jyohyoku University. These experiments severely traumatized her, unable to control her ability of Agito, she killed Kazaya unconsciously. This drove her insane and she committed suicide, although her boyfriend Shouichi tried to save her, he eventually agreed with Yukina, to let her die in peace. She left behind her younger brother Tetsuya, who would later become the next Agito.

In other media
Kamen Rider Kuuga manga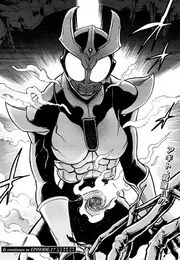 Yukina appears in the third volume of the 2015 Kamen Rider Kuuga manga. In this version, her birth name is Yukina Tsugami (津上 雪菜, Tsugami Yukina) and she is still alive during the events of Kuuga. She is a murder suspect in a police case and was imprisoned until her abduction. Yukina was in reality framed for the murder. She uses her powers to defend herself from the Gurongi after being kidnapped, awakening them for the first time. Yukina is being manipulated by the Rose Gurongi who used a plant embedded inside her brain to control her to attack Kuuga.
Much like her SIC toy figure version, this version of Agito is shaped to her female form rather than reuse the male Agito design her brother has.

Forms
Ground Form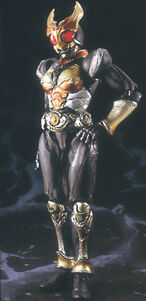 The Ground Form (グランドフォーム, Gurando Fōmu) is the first of a pure Agito's forms. This form harnesses the power of the earth, turning Yukina's entire body into a lethal weapon, with bone-crushing blows and crippling locks. Of all the forms, the golden Ground Form is the most balanced, with power, speed and strength working in harmony to make the most of its capabilities.
However, as Yukina was turning into an Agito, she lost control of her powers and committed suicide. Had she lived, it is assumed she would have developed the same abilities as her brother.

Behind the Scenes
Portrayal
Yukina Sawaki was portrayed by Ayumi Kasama (笠間 あゆみ, Kasama Ayumi).
Notes
Appearances