Zubat
Talk

0
5,191pages on
this wiki
| | |
| --- | --- |
| | This article is about a/an crossover character who appeared in an anniversary movie in the Kamen Rider Series. |
Zubat (ズバット, Zubatto?) is a hero from one of Shotaro Ishinomori's other works. Zubat has a cameo in OOO, Den-O, All Riders: Let's Go Kamen Riders where he teams up with Kikaider, Kikaider 01 and Inazuman to destroy General Shadow as he attempted to escape from the riders.
to be added
In a combination attack which Zubat called the "Zubat finish", all four heroes used their special attacks on General Shadow. Zubat was the last to go, using his "Zetto Zetto Zetto" attack.
Behind the scenes
Edit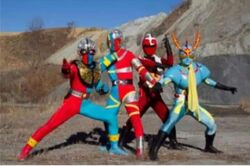 Appearance
Edit
While OOO, Den-O, All Riders: Let's Go Kamen Riders primarily commemorated the 40th anniversary of the Kamen Rider Series, the film also marked the 60th Anniversary of the Toei Company and to commemorate it, the film featured characters from other works of Shotaro Ishinomori: Kikaider, Kikaider 01, Inazuman, and Zubat.
Portrayal
Edit
In his appearance in OOO, Den-O, All Riders: Let's Go Kamen Riders, Zubat was once again voiced by tokusatsu veteran Hiroshi Miyauchi, making Zubat the only one of the four special heroes in the movie to be voiced by his original actor. Hiroshi Miyauchi is of course known for playing Shiro Kazami, the titular rider of Kamen Rider V3, a role which he also reprised via voicework in this movie. He also played Akira Shinmei/AoRenger and Soukichi Banba/Big One in Shotaro Ishinomori's original two Sentai series, Himitsu Sentai Gorenger and J.A.K.Q. Dengekitai respectively. He reprised both of these roles in the Super Sentai 35th anniversary movie, Gokaiger Goseiger Super Sentai 199 Hero Great Battle, which premiered only a few months after Let's Go Kamen Riders, making 2011 the year in which Hiroshi Miyauchi reprised all four of his major tokusatsu roles.
In this brief appearance, Zubat's suit actor was Fumiya Touei.
Zubat originated in Kaiketsu Zubat (快傑ズバット, Kaiketsu Zubatto?), translated into English as Swift Hero Zubat, Extraordinary Zubat or Vigilante Zubat, a tokusatsu superhero series that aired in 1977. Created by Shotaro Ishinomori, this 32-episode series (which aired on TV Tokyo from 2/2/1977 to 9/28/1977), harkened back to tokusatsu superhero shows of the 1950s, but with a late-1970s twist.
External links
Edit